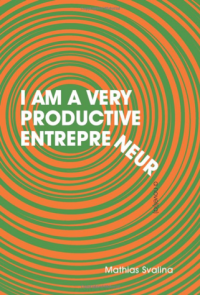 I Am A Very Productive Entrepreneur
by Mathias Svalina
Mud Luscious Press, 2011
67 pages / $12.00 Buy from Mud Luscious Press
Rating: 8.7
When I received Mathias Svalina's novella, I Am A Very Productive Entrepreneur in the mail, I didn't quite know what to expect. I tore open the padded manila envelope and found myself staring at a green and orange cover with the words "a novel(la)" printed on it. Ok. Then I did a preliminary flip through of the book and didn't see a novella at all. The book seemed to be filled with short poems, prose poems and pieces of what some would call flash fiction. Ok. I was hoping the book wasn't going to be some failed attempt at "experimental fiction." But, coming from Mud Luscious Press, I wasn't exactly surprised that this book was, at first impression, well, weird. J.A. Tyler and his Mud Luscious Press have been putting lovely oddities into the world for a few years now, and I Am A Very Productive Entrepreneur stayed the Mud Luscious Press course, and did not disappoint.
The most basic premise of the novella is the narrator's explanation of different entrepreneurial ventures that she/he has started over the years. There are no chapters or sections, no titles. There are lyrical jaunts that each begin, "I STARTED THIS ONE BUSINESS." Using this prompt as a diving board, Svalina takes the reader on a swim that can be likened to Richard Brautigan's Trout Fishing In America in both the work's fantastic lyrical quality and unapologetic magical realist settings. The effect is whimsical, nauseating, and philosophical, like riding a rollercoaster with no safety belts.
The narrator tells of a business that installed padlocks in clouds (but did not lock or unlock them), a business that erected skyscrapers in the likenesses of paying customers, a business that painted a client's car a new color each night, and about fifty others. One of the more pleasantly perplexing businesses "took photographs of hamburgers & gave them out to hungry people in war-torn, famine-struck parts of the world." The logic being that it wasn't famine that produced wars but people's ability to understand or misunderstand each other. This piece in particular struck me as a meditation on what a post-capitalist earth would look like in the future.
Another business that took me from prose to post-structuralism was the business that "determined the opposite of any thing." At first glance, this concept seemed basic, like the difference between night and day. But, Svalina's narrator deconstructs that very example, "Night & day are both descriptions of periods of time, therefore they are equivalent, not opposite. To find the opposite of night, one would have to come up with the thing that in no way references night by association…" By the end of the piece, the narrator acknowledges that the client would never know the opposite of what he brought into the store. Ok. Real Talk.
There wasn't much not to like here. I did, like in a workshop, "want more," though. Read this small gem, for real. Your small business could save us.
Tags: I Am A Very Productive Entrepreneur, Mathias Svalina, mud luscious press