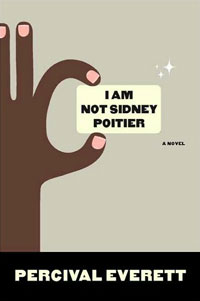 I Am Not Sidney Poitier
by Percival Everett
Graywolf Press, 2009
270 pages / $16.00 Buy from Graywolf Press
Rating: 8.4
Adjectives frequently used to describe Percival Everett include "intelligent" and "hilarious," and are also apt descriptors for his seventeenth (!) novel, I Am Not Sidney Poitier. It is difficult to imagine a funnier book dealing with issues of race and identity, or a more sophisticated comic romp. The humor (and confusion) begins with the title, which refers to the novel's main character, literally named Not Sidney Poitier. The "ill-starred fruit of a hysterical pregnancy" that lasts two years, Not Sidney is an orphan raised by Ted Turner who comes to resemble the actor Sidney Poitier. The unexpected death of Not Sidney's mother leaves him with incredible wealth in the form of shares in the Turner Broadcasting Corp.
The Ted Turner of the novel is kind, but somewhat laissez-faire in his approach to parenting, and Not Sidney is raised by a series of nannies. Turner despises what he believes is the televisual "model of the black child being raised by some great white father," what he calls "pernicious and deleterious rubbish, the Arnold and Webster model." He also speaks almost entirely in non-sequiturs, such as "Did you know that horses can't throw up?" "I find it simply strange that the skin they pack sausages in is edible," or "My damn toenails need trimming again."
When Not first leaves home he is immediately pulled over by racist police in Georgia. The Sheriff, a "nine-foot-tall, large-headed, large-hatted, mirror-sunglassed manlike thing…one hairy-knuckled suitcase of a hand resting on his insanely large and nasty-looking pistol, the knuckle of the other hand dragging along the ground," arrests him for "sassin' an officer of the law." Not encounters similar characters on his journey of self-discovery, and Percival Everett spares no one—characters include a college professor named Percival Everett. Bill Cosby appears to make a speech to students at Morehouse College: "You're all pathetic. You're pathetic until you're not pathetic, until you do something strong and good and not until you do that…Pound cake. I'm on television." The speech continues to hilarious effect. The humor throughout in no way detracts from the sense of unease however, a sense evoked by the universal question "Who am I?" One answer being, of course, not/Not Sidney Poitier.
Consistently nimble and humorous, the novel is not immune to the occasional flat technique: "screams filled the street like screams," for instance. Some of the dream sequences too, are unnecessarily announced as such and threaten to telegraph themes handled so deftly elsewhere. I Am Not Sidney Poitier is thankfully not about anything; it is a playful text, an arouser of thought and feeling, namely the sense of unease mentioned earlier. The novel's final sections gradually escalate this effect, introducing moments of doubt and apprehension followed by an ending that somehow surprises and emerges naturally from all that precedes it, producing nothing short of revelation.
Tags: Graywolf Press, I am Not Sidney Poitier, Percival Everett