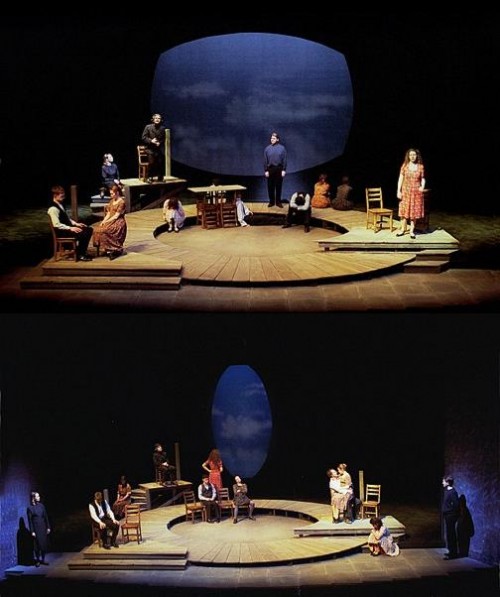 i don't remember when i first read dylan thomas' UNDER MILK WOOD. but i have read it three or four times. which means it's tied for most-read book with the instruction manual for the nintendo game BUBBLE BOBBLE. i don't really like dylan thomas' poetry but UNDER MILK WOOD is trill fucking good. i think if i took a picture of my face while reading it, i would look a lot like Squeaky Fromme when she was in court. UNDER MILK WOOD is a play about a small town and all the people in it. in order to account for things that can't be shown, dylan thomas institues random voices to help narrate shit. i don't want to spend a lot of time coming up with a review because that might ruin the book for me. so here are some random excerpts and my reactions.
(reactions after jump, take a peek!)
(PREFACE: don't worry about understanding what's going on. i am pretty sure there is no plot.)
EXCERPTS:
1. a section where drowned mariners talk to each other
FIRST DROWNED: I lost my step in Nantucket
SECOND DROWNED: Do you see me, Captain? the white bone talking? I'm Tom-Fred the donkeyman…we shared the same girl once…her name was Mrs. Probert.
WOMAN'S VOICE: Rosie Probert, thirty three Duck Lane. Come on up boys, I'm dead.
THIRD DROWNED: Hold me, Captain, I'm Jonah Jarvis, come to a bad end, very enjoyable.
FOURTH DROWNED: Alfred Pomeroy Jones, sealawyer, born in Mumbles, sung like a linnet, crowned you with a flagon, tatooed with mermaids, thirst like a dredger, died of blisters.
FIRST DROWNED: This skull at your earhole is.
MY REACTION: Alright, so first there's dead people talking from out of nowhere. pretty fucking awesome. also, anytime a character says, "i'm dead" i think that's pretty funny. i also likethat for the most part, the characters aren't listening to each other. that is funny and realistic to me. lastly, the line, "this skull at your earhole is," i mean shit dude. for real. i mean shit.
***
2. random narration of people in town, told by a voice
FIRST VOICE: Alone until she dies, Bessie Bighead, hired help, born in the workhouse, smelling of the cowshed, snores bass and gruff on a couch of straw in a loft in Salt Lake Farm and picks a posy of daisies in Sunday Meadow to put on the grave of Gomer Owen who kissed her once by the pigsty when she wasn't looking and never kissed her again although she was looking all the time.
MY REACTION: Ok. First, the way this shit flows, it's like TWISTA (rapper from Chicago) when he says, "get the philly split/and fill it wit/tha killa shit/so i can really spit." i mean, dylan thomas, with the syntax here, split the philly and started shittin on fools. check out the long o sounds! check out the long a sounds! then there's the popping of the p's the hiss of the s. i mean, fuck dude, i feel like i'm getting lit up by a serious jab jab cross uppercut combo. however, most important about this section is the last few ideas. let's start with Gomer. anybody that knows a Gomer is like, fucking money and shit. it's like, if you called your friend to come out, and you were like, "hey we're at a party you should stop by." and then your friend goes, "who's there" because he or she wants to get pussy/dick, and then you go, "oh Gomer's here." i mean, you're going to that party. because GOmer could do anything right? finally, the last idea of,"kissed her once when she wasn't looking and never kissed her again even though she was looking all the time." dude, for real, that shit makes me heart get all jumpy like i'm watching GILMORE GIRLS and Lorelai won't tell Luke how much she loves him. that shit is romantic. it's like it makes me want to kiss a girl when she's not looking and then ignore her forever. kna'm'sayin?
***
3. here we find the Reverend Eli Jenkins, one of the recurring characters in the book. peep this shit and see if you ain't sold yet. it's narrated by one of the voices.
SECOND VOICE: The reverend eli jenkins, in bethesda house, gropes out of bed into his preacher's black, combs back his bard's white hair, forgets to wash, pads barefoot downstairs, opens the front door, stands in the doorway and, looking out at the day and up the eternal hill, and hearing the sea break and the gab of birds, remembers his own verses and tells them softly to empty coronation street that is rising and raising its blinds.
MY REACTION: Again there is some pretty dope ass language here but what's more important to me is the sadness. first, he gets up alone. when i get up in the morning alone, it's like, i have to keep going, "just do whatever you have to do today so you can come back and go to sleep." pretty f-in sad dude! i know! then he "forgets to wash." yo, been there. my armpits right now smell like a pair of underwear in which the wet dreams of a million ogres was had. then, reverend eli jenkins stands in front of the town. it's like, just him against the world. a la tupac. but then, he hears the sea (beautiful anyone?) and then the "gab of birds." gabbing birds?" ok dude, i'm with you i guess. but wait, what's more is, he remembers his own verses after hearing the birds. shit yeah! so many times i feel like a lost human and then i see something happen in nature that reminds me of a lesson (yo Emerson anyone?) fuck yeah.
***
4. here's a scene with the Beynon Family eating dinner.
[Mrs Beynon slips the gristly bits under the tasseled tablecloth to her fat cat, cat purrs]
MRS BEYNON: She like the liver, Ben.
MR BEYNON: She ought to, Bess. It's her brother's.
MRS BEYNON: Oh, d'ya hear that, Lily?
LILY SMALLS: Yes, mum.
MRS BEYNON: We're eating pusscat.
MY REACTION: dude, if you don't like reading about a family who butchers a cat and then feeds that cat's organs to its sibling, well, then fuck you.
***
5. a random narration from a voice, of a woman in her garden.
SECOND VOICE: Down in the dusking town, Mae Rose Cottage, still lying in clover, listens to the nannygoats chew, draws circles of lipstick round her nipples.
MY REACTION: "dusking town." ok mang. fo sho. s'like, instead of saying, the town at dusk or some shit, dylan thomas was like, "no, the town was dusking." the town was undergoing a change. fuck yeah! and finally, as with family's feeding cats to each other, if you don't like the idea of a woman or anyone, lying in a field of clovers, drawing circles around his/her nipples with lipstick, then you're fucking stupid.
***
Conclusion:
UNDER MILK WOOD. believe the hype.  remember that game "crossfire" where it was like, two kids playing the game in a nebulous void where there was lightning surrounding them?  that's what it feels like to read this shit.
(author's note:  i think i got all the typos/grammar problems worked out.  let me know if i missed anyone.  you'll impress people online with how adept you are at editing!)
Tags: dylan thomas, squeaky fromme, under milk wood