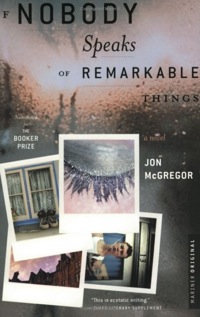 If Nobody Speaks of Remarkable Things
by Jon McGregor
Mariner Books, 2003
275 pages / $13.95 Buy from Powell's
Rating: 7.3
It's been close to a decade since Jon McGregor wrote his debut novel If Nobody Speaks of Remarkable Things, published when he was twenty-six. He was the youngest and only first-time novelist to be long-listed for the Booker Prize, and he won both the Betty Trask Award and the Somerset Maugham Award.
In interviews McGregor has said that he was bothered by the public reaction and media frenzy regarding Princess Diana's death when people die every day (McGregor has said that around the same time as Diana's death, a man in his own neighborhood was shot dead and the event of which largely went by unnoticed). One life shouldn't be more valued than another, shouldn't be considered to be more tragic than another. In response, McGregor wrote If Nobody Speaks of Remarkable Things. Told in an intensely poetic style, the novel centers around the inhabitants of a London street on an ordinary day (the same day as Princess Diana's death, the date mentioned only once). None of the characters are named, instead identified only by the building in which they live or by personal descriptions, as in "the man with the carefully trimmed moustache" or "in the bathroom of number eighteen, the young man with the dry eyes." This stylistic choice can be confusing to read at times. However, over the course of the novel as more is given about each character, this problem disappears. We're told their intimate, heartbreaking stories, and in the process these people become more familiar than if McGregor had chosen to give us names.
Interspersed with these stories is the first-person narration of a woman who recently discovers she is pregnant. Her tale helps as well to anchor the book, and as she begins to come to terms with her unwanted pregnancy we discover how her story fits in relation to all the others.
Like I mentioned, it's been almost ten years since the publication of If Nobody Speaks of Remarkable Things, but I thought of it again when on July 22nd two terrorist attacks were committed in Norway, taking over ninety lives. The following day, the news media reported British singer Amy Winehouse had died. Despite the multitude of Twitter and Facebook notifications that suggested otherwise, one tragedy does not hold more importance over the other. The scale of one does not give it more weight, just like a celebrity death isn't granted more significance. Tragedy happens. It happens in big and small ways. Right now, somewhere, there is a war. People are being murdered, raped, brutalized. Right now someone is being diagnosed with cancer. Someone has died, is dying, is experience grief.
Tags: If Nobody Speaks of Remarkable Things, Jon McGregor, Mariner Books