Visual artist Naiza H. Khan was born in Pakistan in 1968. And though her career has circled the globe (she has held positions in the US and UK, and came up in the Ruskin School at the University of Oxford) Pakistan remains central in her artistic imagination. A new monograph out from ArtAsiaPacific gives an exciting look at twenty-five years of Khan's compelling and explicitly feminist work.
Over the course of her career, Khan repeatedly returns to themes of patriarchy, especially as Pakistan continues to move towards a stricter and stricter Wahhabism. She often incorporates text in her paintings (English and Urdu) challenging a culture of edict. Her 2003 project "Henna Hands," brought her work into the streets of Karachi. Using a plastic stencil of a female form, Khan painted a web of imagery and text directly onto walls and street corners, beside advertisements and graffiti. The result was a provocative performance of gendered bodies in a public space.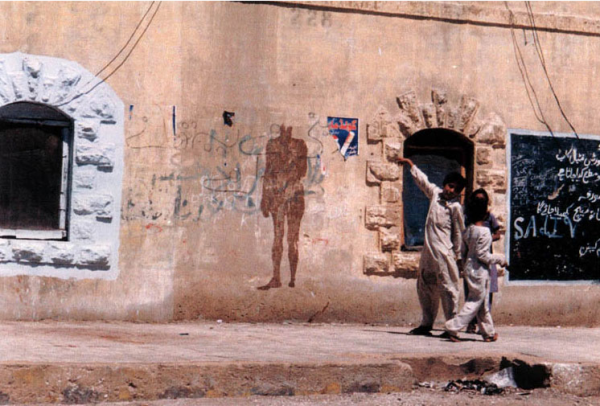 Khan continued this project through the mid 2000's with "Heavenly Ornaments" and "The Skin She Wears." In response to a defining socio-religious Urdu text that prescribes "appropriate" morals and behavior for young Muslim women, Khan fashioned lingerie, corsets, and chastity belts from sheet metal, creating fantastical and terrible sculptures. These sculptures implicate socially rigid societies as necessarily violent and dangerous.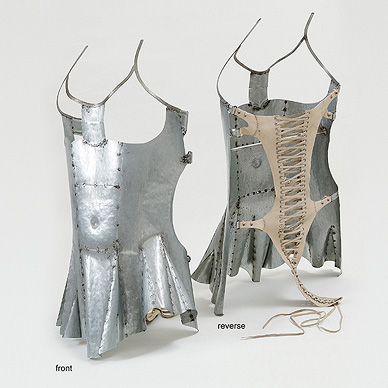 In "Heavenly Ornaments," Khan transposed her "lingerie armor" onto the Karachi seafront amidst the ruin and detritus of civil conflict. The images, again, are stark and multivalent.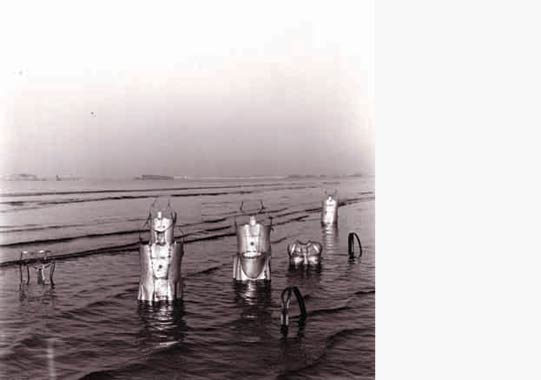 Presentations of incomplete persons, fragmented by civil violence and cultural domination sound a protest call against patriarchy and militarism.
Khan's most recent work has centered upon the island of Manora, a virtually abandoned site within the mega city of Karachi. Over the years, different settlements have shaped the island, turning it into a sort of palimpsest.

Khan constructed large-scale land art, as well as dreamscapes in an attempt to describe the island's iterative nature. The project also coincides with Manora's purchase by a large developer. Khan document's the Manora of people's dreams and memory and works to bring about a new, more socially equitable, reality for the island.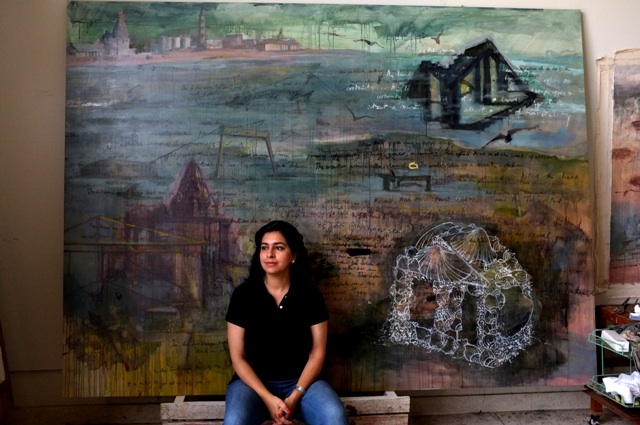 Khan has built an enormous body of work over the course of her career, and this monograph is an exciting and provocative collection.
Tags: ArtAsiaPacific, Naiza H. Khan