Michael Kimball still feels like a bit of a sleeper hit. It's not as if people aren't reading him, or discussing him, or heeding his presence in general on earth; but when you yourself pick him up and feel the various array of facial slaps he harbors in his repertoire, you can't help but think his work's been waiting around for you to discover and devour it.
Kimball's already been discussed, reviewed, and interviewed in and around the online literature sphere, so that's not what this will be. No. This is the result of one day having opened in congruence Kimball's Twitter page, and a page of blurbs re: Big Ray. His Twitter avatar is a picture of him holding a cardboard sign that reads MICHAEL KIMBALL WRITES YOUR LIFE STORY (ON A POSTCARD) in promotion of a series of posts on Kimball's blog where he writes the stories of various writer's/friend's in the space allotted by a postcard. The juxtaposition of this and the reviews of Big Ray made me realize: I want to review books on slabs of cardboard exactly like that, but weirder, maybe.
I tweeted to Kimball about the possibility (see below) and, solid dude that he is, he obliged. What follows are those reviews.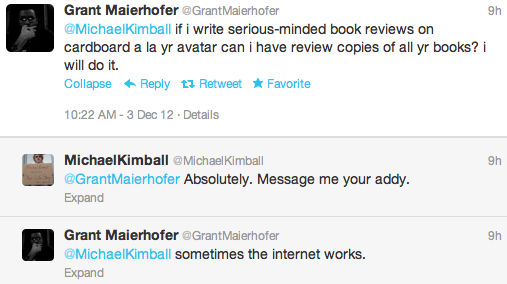 There will be two reviews, essentially; the first being a photograph of a large readable-from-a-distance review of the book without any corresponding text below. The second will be a smaller-but-still-fairly-large review of the book on the back of said cardboard with the text transcribed below.
Why the hell am I doing this? I guess from the get go I was never going to write normal reviews of anything. I'm terrible with journalism and essays have always eluded me. At best I can write a decent rant about shit I love, and this seemed an original way to describe art that I'm fond of while not getting too far outside the realm of reason.
Will this catch on? Who the fuck knows. I don't care. I'm doing this because it's fun and important and I dig the hell out of Kimball's writing and it seems like a nicer gesture than a Michio Kakutani love letter in the times. Fuck. Read on.
(Note: I've watched this idea develop from a once earnest pursuit wherein I'd simply write extremely long reviews on cardboard and mount them somewhere, to the current predicament where the size of the cardboard and the space allotted commingled with the interest in photographing the reviews out in the world somewhere has left the reviews a tad shorter than I initially hoped. I see this now as a kind of "idol worshiping" of Kimball and his works, and a strange appreciation for a contemporary master I've enjoyed reading very much.)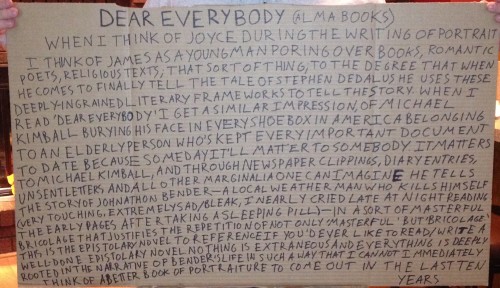 [WHEN I THINK OF JOYCE, DURING THE WRITING OF 'PORTRAIT,' I THINK OF JAMES AS A YOUNG MAN PORING OVER BOOKS, ROMANTIC POETS, RELIGIOUS TEXTS, THAT SORT OF THING; TO THE DEGREE THAT WHEN HE COMES TO FINALLY TELL THE TALE OF STEPHEN DEDALUS HE USES THESE DEEPLY-INGRAINED LITERARY FRAMEWORKS TO TELL THE STORY. WHEN I READ 'DEAR EVERYBODY' I GET A SIMILAR IMPRESSION OF MICHAEL KIMBALL BURYING HIS FACE IN EVERY SHOEBOX IN AMERICA BELONGING TO AN ELDERLY PERSON WHO'S KEPT EVERY IMPORTANT DOCUMENT TO DATE BECAUSE SOMEDAY IT'LL MATTER TO SOMEBODY. IT MATTERS TO MICHAEL KIMBALL, AND THROUGH NEWSPAPER CLIPPINGS, DIARY ENTRIES, UNSENT LETTERS AND ALL OTHER MARGINALIA ONE CAN IMAGINE HE TELLS THE STORY OF JOHNATHON BENDER—A LOCAL WEATHERMAN WHO KILLS HIMSELF (VERY TOUCHING, EXTREMELY SAD/BLEAK, I NEARLY CRIED LATE AT NIGHT READING THE EARLY PAGES AFTER TAKING A SLEEPING PILL)—IN A SORT OF MASTERFUL BRICOLAGE THAT JUSTIFIES THE REPITITION OF NOT ONLY 'MASTERFUL' BUT 'BRICOLAGE.' THIS IS THE EPISTOLARY NOVEL TO REFERENCE IF YOU'D EVER LIKE TO WRITE/READ A WELL-DONE EPISTOLARY NOVEL. NOTHING IS EXTRANEOUS AND EVERYTHING IS DEEPLY ROOTED IN THE NARRATIVE OF BENDER'S LIFE IN SUCH A WAY THAT I CANNOT IMMEDIATELY THINK OF A BETTER BOOK OF PORTRAITURE TO COME OUT IN THE LAST TEN YEARS.]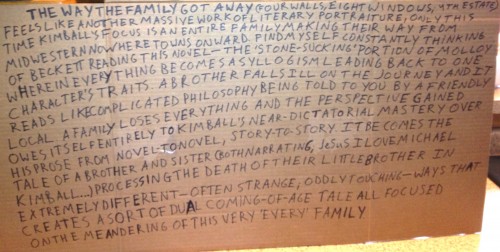 [FEELS LIKE ANOTHER MASSIVE WORK OF LITERARY PORTRAITURE, ONLY THIS TIME KIMBALL'S FOCUS IS AN ENTIRE FAMILY MAKING THEIR WAY FROM MIDWESTERN NOWHERE TOWNS ONWARD. FIND MYSELF CONSTANTLY THINKING OF BECKETT READING THIS NOVEL—THE 'STONE-SUCKING' PORTION OF MOLLOY WHEREIN EVERYTHING BECOMES A SYLLOGISM LEADING BACK TO ONE CHARACTER'S TRAITS. A BROTHER FALLS ILL ON THE JOURNEY AND IT READS LIKE COMPLICATED PHILOSOPHY BEIGN TOLD TO YOU BY A FRIENDLY LOCAL. A FAMILY LOSES EVERYTHING AND THE PERSPECTIVE GAINED OWES ITSELF ENTIRELY TO KIMBALL'S NEAR-DICTATORIAL MASTERY OVER HIS PROSE FROM NOVEL-TO-NOVEL, STORY-TO-STORY. IT BECOMES THE TALE OF A BROTHER AND SISTER (BOTH NARRATIVE; JESUS I LOVE MICHAEL KIMBALL..) PROCESSING THE DEATH OF THEIR LITTLE BROTHER IN EXTREMELY DIFFERENT—OFTEN STRANGE; ODDLY TOUCHING—WAYS THAT CREATES A SORT OF DUAL COMING-OF-AGE TALE ALL FOCUSED ON THE MEANDERING OF THIS VERY 'EVERY' FAMILY.]
US (Tyrant Books, 2011)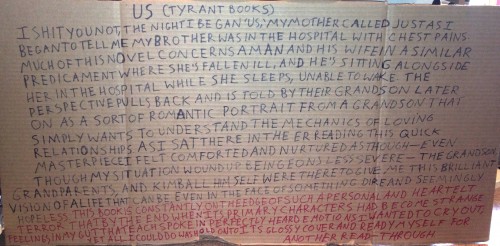 [I SHIT YOU NOT, THE NIGHT I BEGAN 'US,' MY MOTHER CALLED JUST AS I BEGAN TO TELL ME MY BROTHER WAS IN THE HOSPITAL WITH CHEST PAIN. MUCH OF THIS NOVEL CONCERNS A MAN AND HIS WIFE IN A RELATIVELY SIMILAR PREDICAMENT WHERE SHE'S FALLEN ILL, AND HE'S SITTING ALONGSIDE HER IN THE HOSPITAL WHILE SHE SLEEPS, UNABLE TO WAKE. THE PERSPECTIVE PULLS BACK AND IS TOLD BY THEIR GRANDSON LATER ON AS A SORT OF ROMANTIC PORTRAIT FROM A GRANDSON THAT SIMPLY WANTS TO UNDERSTAND THE MECHANICS OF LOVING RELATIONSHIPS. AS I SAT THERE IN THE ER READING THIS QUICK MASTERPIECE I FELT COMFORTED AND NURTURED AS THOUGH—EVEN THOUGH MY SITUATION WOUND UP BEING EONS LESS SEVERE—THE GRANDSON, GRANDPARENTS, AND KIMBALL HIMSELF WERE THERE TO GIVE ME THIS BRILLIANT VISION OF A LIFE THAT CAN BE; EVEN IN THE FACE OF SOMETHING DIRE AND SEEMINGLY HOPELESS. THIS BOOK IS CONSTANTLY ON THE EDGE OF SUCH A PERSONAL AND HEARTFELT TERROR THAT BY THE END WHEN ITS PRIMARY CHARACTERS BECOME STRANGE FEELINGS IN MY GUT THAT EACH SPOKE IN PERFECTLY HEARD EMOTIONS I WANTED TO CRY OUT; YET ALL I COULD DO WAS HOLD ONTO ITS GLOSSY COVER AND READY MYSELF FOR ANOTHER READ-THROUGH.]
BIG RAY (Bloomsbury Circus, 2012)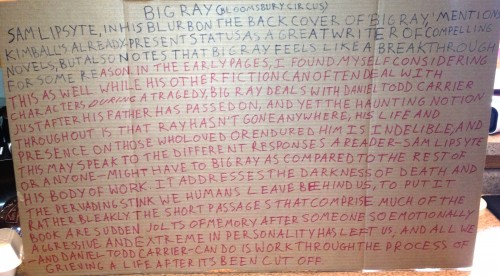 [SAM LIPSYTE, IN HIS BLURB ON THE BACK COVER OF BIG RAY, MENTIONS KIMBALL'S ALREADY-PRESENT STATUS AS A GREAT WRITER OF COMPELLING NOVELS, BUT ALSO NOTES THAT BIG RAY FEELS LIKE A BREAKTHROUGH FOR SOME REASON. IN THE EARLY PAGES, I FOUND MYSELF CONSIDERING THIS AS WELL. WHILE HIS OTHER FICTION CAN OFTEN DEAL WITH CHARACTERS DURING A TRAGEDY, BIG RAY DEALS WITH DANIEL TODD CARRIER JUST AFTER HIS FATHER HAS PASSED ON, AND YET THE HAUNTING NOTION THROUGHOUT IS THAT RAY HASN'T GONE ANYWHERE; HIS LIFE AND PRESENCE ON THOSE WHO LOVED OR ENDURED HIM IS INDELIBLE AND THIS MAY SPEAK TO THE DIFFERENT EMOTIONAL RESPONSES A READER—SAM LIPSYTE OR ANYONE—MIGHT HAVE TO BIG RAY AS COMPARED TO THE REST OF HIS BODY OF WORK. IT ADDRESSES THE DARKNESS OF DEATH AND THE PERVADING STINK WE HUMANS LEAVE BEHIND US, TO PUT IT RATHER BLEAKLY. THE SHORT PASSAGES THAT COMPRISE MUCH OF THE BOOK ARE LIKE SUDDEN JOLTS OF MEMORY AFTER SOMEONE SO EMOTIONALLY AGGRESSIVE AND EXTREME IN PERSONALITY HAS LEFT US; AND ALL WE—AND DANIEL TODD CARRIER—CAN DO IS WORK THROUGH THE PROCESS OF GRIEVING A LIFE AFTER IT'S BEEN CUT OFF.]
P.S. It should also be noted that Kimball's 'Postcards' will be released as a book sometime in the near future, according to his Twitter; which is extremely exciting.
***
Grant Maierhofer is the author of Ode to a Vincent Gallo Nightingale, he blogs at miredingriefmiredingrief.com and lives in the middle of nowhere in Wisconsin.
Tags: cardboard, Grant Maierhofer, michael kimball, postcards