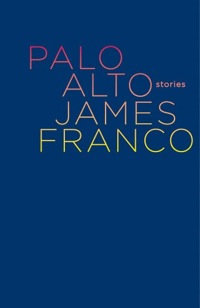 Palo Alto
by James Franco
Scribner, 2011
224 pages / $14.00 Buy from Powell's
Rating: 5.4
Last week, the Guardian posted their longlist for the year's best first book award, an award carrying a prize worth £10,000. Afterwards they asked booksellers and bloggers to submit their nominations. In response, Elizabeth Baines posted an article citing her own list of books she felt were missing, one of which was James Franco's debut story collection Palo Alto, recently published in paperback.
It's disconcerting when a book like Franco's garners such attention. Palo Alto received blurbs from literary powerhouses Gary Shteyngart, Amy Hempel, and Ben Marcus. Franco published his collection with a major press in a time where the phrase "story collections don't sell" is continuously repeated by publishers and agents alike. Yes, one could attribute the publication to Franco's celebrity status, but as a friend of mine put it—"what does it matter if it helps publishing, or if Franco's fans read the blurbs and end up discovering new authors because of it?"
Franco's Palo Alto isn't altogether a completely horrible collection. In comparison, a few of the stories are better than the average MFA student workshop draft (from my own experiences, at least). The problem though with Palo Alto, is these stories are just that—drafts. These are sketches, not stories, and they read like the beginnings of something that could have been good. Each story maintains the same flat tone. There is no emotional range in these stories. There is little, if anything, to distinguish the voice of one character from one story to the next.
The privileged youth in Franco's Palo Alto have no moral compass. They engage in gang-rape or kill animals with BB guns. They spout homophobic and racist thoughts and later go home to drink or smoke weed or play Nintendo, but the trope of the disaffected rich kid who commits gratuitous violence or has listless sex is a well-trodden one. Franco brings nothing new to the table, offers nothing that we haven't read better versions of someplace else.
I would have been somewhat satisfied if at least, on a sentence level, the writing had been good. Imagine the disappointment when I come across sentences like this one—"Howard was Jewish and I was Jewish because my mom was Jewish," or "Tom Prince had horrible face acne, which sprouted in small groupings, like piles of bat shit." The story "Jack-O" which was originally published in Esquire under the title "Just Before the Black," includes so many awful similes in such a short span of space that at one point I began counting them. My favorites include: "like life because I am racing," "like ketchup randomness," and "like a fat something-awful: hockey-player-pumpkin-cartoon-shithead."
I wonder, is this supposed to be the writing that Gary Shteyngart meant when he blurbed that Franco's "talent is unmistakable, his ambition profound?" I wonder, is this what Ben Marcus meant when he described Franco's "intense artistry?" I wonder, and I worry.
Tags: James Franco, Palo Alto