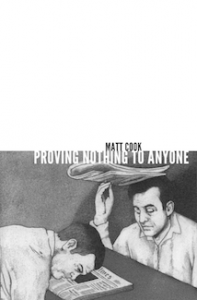 Proving Nothing to Anyone
by Matt Cook
Publishing Genius Press, July 2013
86 pages / $13.95  Buy from Publishing Genius
Matt Cook's newest collection of poetry opens with a telephone call: "The dry cleaner calls up and says he's taking responsibility for my pants." This line comes across as particularly mundane, even unpoetic, but starting a poem like you'd start a conversation has a long literary history. Back in 1959 Frank O'Hara wrote a whole manifesto about writing poetry this way. Of course, O'Hara was not  entirely serious when he wrote "Personism: A Manifesto," but the concept of directly placing the poem "Lucky Pierre style" between the poet and the reader has had a lasting impression on American poetics and Matt Cook's Proving Nothing to Anyone reflects this pedigree.
Much like the poetry of Frank O'Hara, the poetry in Matt Cook's Proving Nothing to Anyone has an air of artlessness to it, but this is a carefully calculated and constructed facade. Frank O'Hara's work, especially poems like "The Day Lady Died" are line after line of the banal, which abruptly shifts to the significant, creating a sense of the poetic sublime. The best of Cook's poems are doing a similar thing. Take Cook's "The Emotional Center" as an example. It starts off with the lines "Don't mess with me right now, I'm all stirred up with emotion, man. / I'm in a rage right now because I can't find my car keys" and continues to describe all the annoyances of life which are piling upon the speaker of the poem. The poem ends with this great description of anxiety:
It's like an emotional sandwich, man,
And you've got all these emotional condiments,
And you take one bite and all this emotion oozes everywhere,
And you've got emotion running down your chin and your arm. …
Even though the words seem off the cuff, the perceptiveness of the lines really strikes the reader. The poetry in this collection reads as if Cook is on the other end of the telephone, or Gchat, or whatever popular means of communication is the equivalent of Frank O'Hara's telephone analogy, and what Matt Cook has to say is really deep just as all 2 AM conversations have some element of deep importance beneath all the talk of bars and television.
Poems like "On The Road (with Wife)" and "Unpredictable Fallout" earn a further sense of intimacy with the reader by using clipped, fragmented lines. When Cook writes
Wife's big mouth leads to room upgrade,
Talked to religious man with yellow tinted shooting glasses,
Intermittent online checking of Wisconsin gubernatorial recall,
Talked to man whose father sold tires,
Talked to man who saved dog from criminal abuse,
Sat by charming cement water fountain.
in "On The Road (with Wife)" it's as if he has sent the reader a postcard or a text message updating a trip's progress to a close friend.
Other poems in Proving Nothing to Anyone show Cook's firm grasp of the poetic structures and his masterful deployment of the sestina in several of his poems. His "Sestina with Common Cold," about a blogging Abominable Snowman, shows how skilled this poet truly is.
Striking amounts of the poetry in this collection depict the sort of anxiety that is typified by the post-hipster academic male, as in the poem "They Probably Laughed" when Cook concludes: "I used to be young and drunk and stupid. / And then I became less young and less drunk and less stupid. / But I'm still pretty young and pretty drunk and pretty stupid." Poems like "You're a Minor Poet Standing Near the Frozen Spinach" encapsulate the unease of being a creative type in an uncreative world, capturing the worries of a generation of aging post-academics with aplomb. This is further reinforced by poems that depict the bar scene and the failing academics that inhabit it. In the poem "An Awful Sound" Cook writes "My wife's off somewhere raising awareness for something. / I'm not even sure what for. / I just know that she's raising awareness for something" in the same poem wherein he muses on the neighborhood squirrels, thus bringing up questions of the validity of art and the poet's purpose. The epigraph by Alexander Pushkin which begins the book further sets the contemplative, yet tongue-in-cheek tone of the collection by commanding that we "honor poetry," but cautions us not to "fall in love" with it.
After reading the collection, a reader will think I could have done that. This is often looked upon as a weakness, but it's actually the mark of a master poet. Cook's thoughts seem so natural because they are the thoughts we experience every day. The fears of inadequacy, the anxiety of having an advanced degree with little to show for it,  the bizarreness of everyday life—this is what Frank O'Hara was trying to get at with Personism. Poetry should be a means of expressing life and everyday experience, and if it seems accessible, that's because we all share the need to understand our own experiences.
The candor of Matt Cook's Proving Nothing to Anyone can cause the reader to double check that they're not reading their email or Disqus comments, but the book itself. Matt Cook's poems embody what Frank O'Hara called for so many years ago, for poetry to be "at last between two persons instead of two pages."
***
Quincy Rhoads teaches English for Austin Peay State University and for The University of Phoenix, Nashville. His work has appeared or is forthcoming in THE2NDHAND, The Fiddleback, and Zone 3.
Tags: Matt Cook, Proving Nothing to Anyone, Publishing Genius, Quincy Rhoads