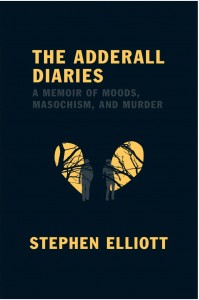 Head prognosticator of the ever-lovely Rumpus, one Mr. Stephen Elliott, author of, among other things, the amazing 'Happy Baby' that remains in my mind as one of the most brutal and visceral autobiographical novels I've read in the last 5 years, is offering folks potentially interested in checking out his new memoir forthcoming from Graywolf:
I have a few advance copies of my forthcoming true-crime/memoir The Adderall Diaries, to give out.

The book will be published in September, but if you send an email to adderall@therumpus.net I might send you an advance copy (I also might not, we'll have to see how this goes, I've only got a couple). Here's the hitch, if I mail you a book I'll also email you the address of the next person to send it to. You have a week to read it, then you have to send your copy to the next address. First class postage is $3.04. So this is not totally free.

In your email please include your address and a little bit about yourself. Priority given to people who are verifiably real.
Anybody interested in taking Mr. Elliott's fine offer up and reviewing the book for us here at the Giant, please contact Stephen and see if you can wrangle a copy, and let me know. :)
Either way, this is one to get excited about.
Tags: Stephen Elliott, the adderall diaries