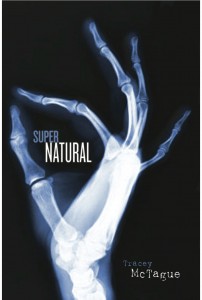 Super Natural
by Tracey McTague
Trembling Pillow Press, Jan 2013
116 pages / $15  Buy from Amazon or SPD
Composed in three sections – "Thirst," "Ancestor Midden," and "Contagion" —Tracey McTague's new volume of poems hinges on an exploration of prophecy and vision, and the correlations of these with history, science, magic, and (mis-)fortune.  This playful, satiric collection explicitly samples its sources in folklore, myth, and history, even as its subjects are the quotidian world of war, environmental collapse, sex, and children, "replete with nudie magazines / tarot cards, and dirty jokes."  McTague, riffing on language's cadences and sounds, plumbs both the longing for divine sight and the absurd state of the human-wrought world in the early 21st century, wielding parody and satire with a language tempered by music and a rich reading of the human past.
Super Natural opens with a quote from Chogyam Trungpa articulating the Buddhist notion of Drala: "the unconditioned wisdom and power of the world that are beyond any dualism….There is no fundamental separation or duality between you and your world." This explicit rejection of the Western separation of humankind from the rest of the world serves as the fundamental premise of the collection. The poisoning of the oceans, mass extinctions, "this age / of fever and ague / veiled black smoke / bottled for poison," these are the fuel for the fire burning at the heart of these poems – the human socio-religio separation from the world we inhabit and the chaos which has ensued. Of our carbon- and consumption-fueled "bender," McTague invokes a crow song—bird of death and prophecy—for us, trapped in a "straight-jacket  [nightmare] of our own making."
wild eyes ache
as black ink shines
in green sea's
swirling debris
below bright undertow
of invasive nest's
wing-tossed sky
the largesse of multitudes
get the shakes on
for a real bender
naming the night
unbridled and rising
spell of corvid's skull
ascent with song
Reading the present as much as the future, McTague's poems serially invoke the raven/crow, as the poet charts the "super" natural catastrophes spiraling around us. "Above" and "beyond" nature, humankind is the super in the title of McTague's book, our blind destruction of the one reality, this world.  Invoking vision—"macula witness"—she parodies both the human impulse for redemption and its blind traveling companion the capacity for contagion and destruction, even as she riffs on the Bard: "too hot the eye shines / but too numb to worry / as well-washed nun whispers / 'Get thee to a summary of want.'" What we think we want and how we end up wanting—for a world.
"Thirst", the book's first section, plays on the correspondences between envy and sight and the evil eye, and the interwoven associations of tip/tipple, toasting and drinking as antidotes to ill omens: "The evil eye is thought to cause a withering sickness." In this section, the crow/raven figures as both a harbinger of what we have wrought and a means of access to knowing/vision: "swig Burton's bourbon / to speak bird / light foretold in future." Just as thirst is her theme, the pollution of the oceans, the monstrous debris-tangles caught in its eddies, and the collapse of its fisheries figure centrally. Invoking Aquinas' assertion that "…a song is the exultation of the mind dwelling on eternal things, bursting forth as voice," McTague takes up her charge with withering satire and jubilant word play, strewing as she goes images of our strange, lovely, disintegrating world.
Poughkepsie keepsakes
& forgotten namesakes
pulled loose loop by loop
woof cup's bottom's up
threadbare shadows
for tomb vandals tag up
sfumato provenance
ignites weave while out
invisible scenes seen in web
nymph detainment center
call Minoan hotline
a tryst wrist kiss
on the pulse
McTague's project inherits its impulses from two Modern predecessors or at least shares their attentions: the inebriate, lyrical sound- and word-play of Mina Loy's Lunar Baedekker, and H.D.'s re-interpretations of mythology and explicit recuperation of cultural history via etymological archeology. McTague's language is a glorious feast, alliterative impulses spilling one into the next, driving the pulse and power of her arguments forward.  Like H.D., McTague draws her reader into the mysteries of words and the freight of history they carry within.  As H.D. in Trilogy recuperates the goddess Isis and her virtues of creating and sustaining life, McTague explores the linguistic and folkloric history of a nexus of words central to her own endeavor. As with the title of the middle section of Super Natural, "Ancestor Midden," McTague digs up the past, citing etymologies, the histories of saints, Levi-Strauss, Sir James Fraser, folklore, and voodoun as she cuts through the stinking ruin of our world—natural, supernatural, societal. Taking up malocchio or the evil eye, the poet integrates the origins of tip and tipple with toasts and drinking, the use of alcohol and other substances to induce altered/visionary states of mind, and the necessity of water to the fertility and survival of animals and plants. McTague excavates the cultural detritus, the debris and deluge of history, calling into question what and how we see.
oracle of disgrace
cat's eye marble trade
for Mr. Vertigo's pride
Bartleby's Wall Street
no way ichiban
platinum all the way
I prefer not to
that couch is my bitch
like if Pound rewrote the Breakfast Club
This midden, charged with signs and meaning, a jumbled, tangled "ruin still made more complete," its portents "dematerialize in defiance / convinced that twilight was down," to reveal "rude truths amid chaos."
Thirsting for health in a world of multiple contagions—ecological, spiritual, societal—McTague warns her readers not to get drunk on our desires but to open our eyes or "die with your shoes on and never know what hit you" from a contagion of our own making. Exuberant in its music and its play and damning in its insights, a book for our times, Super Natural is published by Trembling Pillow Press in New Orleans.
***
Marthe Reed is the author of four books: Pleth, a collaboration with j hastain (Unlikely Books 2013), (em)bodied bliss (Moria Books 2013), Gaze (Black Radish Books 2010) and Tender Box, A Wunderkammer  (Lavender Ink 2007). A fifth book of poems will be published by Lavender Ink (2014).  Her reviews have appeared in Galatea Ressurrects, Openned, Cut Bank, New Pages, and The Rumpus among others, and forthcoming at Rain Taxi.
Tags: Marthe Reed, Super Natural, Tracey McTague