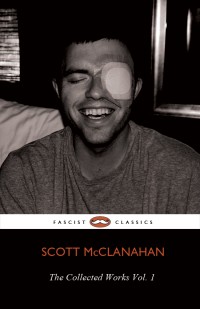 The Collected Works of Scott McClanahan Vol. 1
by Scott McClanahan
Lazy Fascist Press, 2012
132 pages / $10.95 buy from Amazon
Rating: 8.7
Scott McClanahan wonders about doing the right thing. Does he do the right thing? Is the right thing even important, with everything all twisted and evil? There are no great epiphanies in these stories. What you see are only glimpses. Traces of humanity in the smallest of details: being able to tell time, finding salvation in a gas station toilet, hating bologna sandwiches. Any attempt at rationalizing the entire universe is avoided. Rather, McClanahan does what any good writer should: he writes about what he knows. And he writes in a way that is so thoroughly enjoyable. I feel after reading this book I know McClanahan just a little bit better.
These are all short stories, yet the book reads like a long conversation. If someone transcribed a conversation they had with a high school friend, it might read a little bit like these stories. Some dive pretty deeply into McClanahan's childhood. Childhood is where one forms a worldview. Thus the jumping between his childhood (the past) and his adulthood (the present) makes sense. It shows how he comes to his decisions as an adult. Plus he captures living in West Virginia, much like he did in his previous book Stories V! Here the mood comes across even more clearly. McClanahan is virtually next to you yammering on. Do not interrupt him. He's about to come to the beautiful conclusion to the story. And the endings are worth it.
Beginnings occur in the middle of things. Maybe McClanahan cut the beginning from the stories. Who knows? Endings are what really matter. Whether it is about his parents (who get a nice amount of attention in this story) or his friends, one gets to know who he knows. McClanahan describes exactly what you need to know about them, with a well-developed sense of wit. The guy down the hall is a conspiracy theorist asshole trying to justify his own failures through a convoluted plot that involves the knowing evil of management. Randy is the cool kid grown up as a failure.
Expect to laugh at these stories. See the sandwich thrown down. Feel the pain McClanahan goes through from this encounter. Laugh at the ridiculousness of it. Laugh more because this probably happened to McClanahan. "Dad at the Race" is hilarious. Parts of it are so good I re-read them to people. They laugh too, confirming that my love for McClanahan's book is pure. Childhood develops a lot of his humor. See it through a play gone wrong and coal acting like coal. Even the disappointments in McClanahan's life have warmth to them. In fact, he captures other areas of the country quite well. Feel his section about Long Island is so painfully true it hurts.
I'm glad I know McClanahan even if it's through his books and the internet. The Collected Works of Scott McClanahan is the kind of book you are proud to loan to friends.
Tags: Lazy Fascist Press, Scott McClanahan, The Collected Works of Scott McClanahan Vol. 1