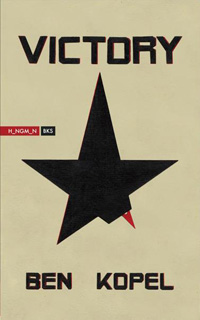 Victory
by Ben Kopel
H_NGM_N BKS, January 2012
112 pages / $14.95  Buy from H_NGM_N BKS
 
Ben Kopel is stupid. Ben Kopel deliberately refuses to believe that people may not always be inherently good at heart, despite the steady influx of evidence piling up at his feet. Instead, he declares Victory, his debut collection from H_NGM_N BKS, a book for which I have personally been waiting a very long time.
I first heard of Kopel while I was pursuing an MFA at Louisiana State, where he was an undergrad. He was a nice kid, and after hearing just a half dozen of his poems, I knew he would shape up into an excellent writer. There was no significant fault to find, so I hated him. When he got into the writing program at Iowa, we lost touch. I thought for sure that they would knock the joy right out of him, that he would turn into a bastard. Imagine my surprise when he finished his MFA and then went over to Amherst for a second one. Kopel not only survived Iowa, he found it an insufficient concluding point for his education. So finally arrived is the singular product of an unusual path for this son of the swampland, equipped with James Tate's sense of imagery, Dara Wier's gift for cadences, and a healthy confusion about the business of poetry born out of the midwest's most critically acclaimed bloodbath.
By all accounts, Kopel could have been a contender for any number of more prestigious first book prizes, but he cast his lot with an independent upstart. He could have sought a tenure track professorship, but he returned to New Orleans to teach high school English. By the good looks of him, with his black skinny jeans and pompadoured mohawk, he seems ripe for riding the next wave of hipster shock poetry. But Kopel doesn't have the stomach for it. Kopel is not vulgar, is not disdainful, and is not ultra cool. He is polite, awkward, and nerdy, and it is not a pretense or a shtick.
When Victory came out, I knew it would be good, and without bothering to flip through the book, I immediately invited Kopel to come and read with me in Atlanta. In some ways, I had been waiting for years to do it. He acted like he had won the lottery or something. His constant enthusiasm sometimes makes me want to throw up in my mouth a little bit. The rest of the time, I want to put him in my pocket and carry him around to protect him from…from I don't really know what. So he came and we did the reading, and then the obligatory post-reading trip to the bar.
We were on the patio, surrounded by precisely the kind of slick young hooligans that Kopel should have been schmoozing. But Kopel does not really understand how to do that. Kopel is not an actor. So he did what made him most happy. He went into the bar, where a townie karaoke extravaganza was going on, and signed up to sing Bruce Springsteen's "Thunder Road." He knows all the words by heart, and though Kopel is not a particularly good singer, he soberly belted out the whole thing as if this was just in case the world would end tomorrow. Then he came back outside and patiently soaked up the conversation of the cool kids, who themselves could not be bothered to remain quiet and observe the incredible, loving puppy heart on display while Kopel was singing.
You are likely wondering how we have come this far without my evaluating anything that is actually in the book. Victory is a portrait of Ben Kopel, so it is essential that you understand what a unicorn he is. When I say that this book reflects him completely, represents him more than adequately, you need some anecdotal background to have any sense of what I mean. Let's also get some points of comparison. Ben Kopel's first book is a genuinely emotive version of Heather Christle's early work. Ben Kopel's first book is a more personal version of Anis Mojgani's later work. Ben Kopel's first book is as optimistic as Bruce Springsteen's greatest hits. A tour of his wheelhouse must begin with his heart. Now we can turn to some specific pages.
The opening poem contains many of the recurring ideas. "Gymnasium of the Sacred Heart" is on its surface a plea to have sympathy for two Catholic school skinheads breaking into a car while high from huffing cleaning products. Ben Kopel is not an apologist for the criminal and evil elements that slide among us. He is making a Herculean gesture of commitment to silver linings. He appreciates that everyone is damaged. He cries out as a wounded animal on behalf of those too macho to do it themselves. "Don't disown your skinny fisted sons / locked inside the locker room. / They too are the father of you. / They too are mostly made of noise." Kopel is screaming, and it evolves into rocking out. He will "sing for the canary gassed beyond belief / in the basement of the Biology building." It's not that we move on or we look past. It's that we press on with this baggage on our collective sleeve. Why? The title of the poem that begins the book's second section: "because we must."
This poem features some kids who "have burned / down the Dairy Queen again." Kopel assures us "Everyone died warm / & no one was alone." Is it too childish to quietly hope for this, or even less practically to shout this at the sky? Nope. The third section begins with a conversation that juxtaposes the Holocaust and astronauts. This one hangs together under the title of "The Birthday Party." It's not Kopel's birthday. He's just a guest, falling in love with the spaceman's fiancé whose family tree was trimmed by world war. Still, they party. How?
This third section contains the first of only two literal mentions of victory in the book. In "Bar Fight #2," the events take place "Like clockwork. Part mutilation. // Part victory. Part garden." Time marches; we hurt; we carry on; this is innocent. The middle section begins with the fact that "We all recognize the need / to alter the ending." Ben Kopel doesn't turn off the movie before Old Yeller gets shot. He just envisions a better possible ending, a la Springsteen's "Badlands." Maybe it exists in another universe. Section five ends with "Teenage Victory Poem," that digs "Way down deep in the bored demographic." Somewhere, the kids are living happily ever after and they "made some great noises together."
Barreling into the end of this pitch-perfect ode to the bloody but unbowed, section six opens with a tiny poem that bears reprinting in it's entirety.
There is a Question I am Forever Waiting to be Asked
& the only answer
goes something like this–
In the attic of everything
there is a bird
with one wing
& his heart is true
& nothing like mine.
Can you believe in such a humble beast? In this same section, Kopel provides two variations of a poem titled "Why I am Not a Tiger," but the final section opens with "Invincible Coyote" and closes with "Amen," in which he dies someday with "A pillowcase / Full of coyote skulls // Tied loose / Round my neck." Kopel is a modern day superhero on the imaginative model of Napoleon Dynamite, or Saturday Night Live's Mary Katherine Gallagher. He has more in common with the classic lonely wonder of Maurice Sendiak's Max from Where the Wild Things Are than with the dark desperation of Wes Anderson's Max Fischer or other cutthroat anti-heroes of the mumblecorps.
So as it turns out, Ben Kopel does not need me to protect him from anything at all. Ben Kopel is scrappy. His eternal sunshine may tempt ruthless, unfeeling people to bust out the windows of his car, but that's alright. Kopel is more ready to be picked on than most of us. Perhaps he is not a tiger, but he believes in something: "If I could see myself at thirty / I would tell him // I will be good soon. Alright? // Alright." I too believe Ben Kopel will be alright. In fact, I believe he already is. On our way home from the bar full of cool kids, I told him that he makes me want to throw up in my mouth a little bit. He said I should spit it out in my hand and give it to him, that it was a good little gift to give. He got excited. He opened his eyes really wide and smile at me with his teeth. He pumped his skinny fist in the air and kept driving. There are no other poets like Ben Kopel. There are not even really any other people like Ben Kopel. I hate him.
***
Megan Volpert lives in Atlanta, where she teaches high school English. Sonics in Warholia (Sibling Rivalry Press, 2011) is her fourth book. She is currently editing an anthology on queer pedagogy. Predictably, meganvolpert.com is her website.
Tags: Ben Kopel, H_NGM_N BKS, Megan Volpert, Victory