April 19th, 2010 / 12:16 pm
Roundup
Justin Taylor
Back to the Grind: Your Monday Afternoon Roundup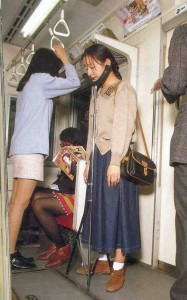 If I don't tell you about Molly Young writing about Charles Bukowski at the Poetry Foundation, the terrorists win.
You are also not going to believe that such a thing as not knowing about this great writer is something that happened to you in your life. – Giancarlo DiTrapano introduces a story by Harriette Simpson Arnow on the VICE blog. We probably linked this already, but I really like this sentence.
The Examiner has a list of fifty author-on-author put-downs. Here's Byron on Keats in 1820- "Here are Johnny Keats's p@# a-bed poetry…There is such a trash of Keats and the like upon my tables, that I am ashamed to look at them." And Katherine Mansfield on E.M. Forster's Howards End in 1915- "And I can never be perfectly certain whether Helen was got with child by Leonard Bast or by his fatal forgotten umbrella. All things considered, I think it must have been the umbrella." Thanks for this one go to Elliott David.
VIA FACEBOOK: Sara Faye Lieber refers us to this helpful guide to the trustworthiness of beards. Alice Townes is interested in this Observer article about Simon Singh, chiropractors, and the net-based popular uprising against Britain's insane libel laws. Is this because she is a 1L or because she is part-British? The world may never know.  Yennie Cheung, proprietor of the Hipster Book Club, has charts and graphs detailing The Music Industry & Online Piracy by the Numbers. Speaking of the Hipster Book Club, did I ever link to their "Reliving Your First Time" feature? Well whether for the first or the second time, here's that link now.
One of the best parts of experiencing a book for the first time is being thrilled, stunned, even moved to tears by its content. It's easy to read the book again and try to recapture some of that magic, but nothing quite compares to the first time. With that thought in mind, the HBC asked a few writers what books they would like to read again for the first time.
There are ten contributors including Junot Diaz, Dan Chaon, Steve Almond, Julie Klausner–and yours truly. It was a very cool thing to be part of; hope you'll give it a look.
via Gawker, who got it from the Rumpus!
Will Manley is a retired librarian. In 1992, while working for the Wilson Library Bulletin, he sent a survey to subscribers about sex. 5,000 librarians responded, but the prudish Library Bulletin wouldn't publish the results. They've finally been released! […] 22% believed that libraries should have condom dispensers in their bathrooms. 20% had "done it" in the library. 91% had read "The Joy of Sex."
Read the full results here.
And just to end up where we began–with terrorists–at Boing Boing, Xeni Jardin catches up with Trey Parker and Matt Stone to talk about the 200th episode of South Park and their ongoing battle with Comedy Central over whether they can depict the Prophet Mohammed on TV. Funny thing, the boys point out that SP actually did depict Mohammad in an episode called "Super Best Friends," a pre-9/11 episode which has never been censored or pulled from re-runs.
Tags: Elliott David, Helen Arnow Simpson, Hipster Book Club, librarian sex, Sara Faye Lieber
11 Comments