January 1st, 2011 / 8:57 pm
Roundup
Mike Young
"Kill me outright with looks" : 139 Books I Read in 2010
MacGyver, that sexy-bellied genie show, and the show about California highway cops with the weirdly lowercase i—all of these television shows ran 139 episodes. In 2010, I read 139 books. I mean, I think I did. Most chapbooks I didn't include in this list, even really good ones, so there's that. Also there's always an also, so who knows? Here are 139 books I probably read this year and what I spontaneously remember of them. As a bonus, I am sometimes unexpectedly or tangentially "mean-ish" in my notes, so if you have an idea of me as being "unable to be mean," maybe this will change your mind (probably not):
1 John Updike – Couples
2 John Updike – Endpoint
Why did I start the year with two John Updike books? Maybe I had a pair of boat shoes whose soles were falling apart and I experienced this as its own brand of melancholy. "Daffodils grow leggy like young girls," indeed. Couples was about as sexy as a red pug-nose, but it's undeniable that Updike often has a command of syntactic puffery that I would equate with the word slurry and the way the word slurry manifests in physics.
3 Cormac McCarthy – The Orchard Keeper
Another beautiful Cormac McCarthy book that made me want to be a terrified old man who lives by himself with ghosts and shrewd cooking skills. Also there were some car crashes and whiskey running and a murderer offering dry socks to the son of the man he murdered.
4 William T. Vollmann – Riding Toward Everywhere
Read this on a bus. Flipped around a little looking to see how mentioned were the parts of Northern California I know personally. Got repetitive in its romanticism, but still made me want to be friends with middle-aged men who are train hopping enthusiasts.
5 Rudy Wilson – The Red Truck
Jesus, did I read this or did I take a bunch of weird Southern NyQuil? I can't remember, and that's a good thing.
6 Sinclair Lewis – Babbitt
Love Lewis's eye and the wit of prose that never had to compete with sitcoms, but this wasn't as much my bag as Main Street was.
7 Jim Harrison – In Search of Small Gods
I liked one or two poems. Made me want to look at frogs and have wise thoughts.
8 Frank Lima – Inventory
Really really enjoyed. Started in 2009, finished in 2010, which I say to explain why I'm just going to quote from a Best of 2009 list I did for Big Other:
Now my third for a holy trinity of Frank poets (the other two being Frank Stanford and Frank O'Hara, with CA Conrad's hero in the Book of Frank getting a wink), Frank Lima is a woefully underappreciated poet. He's got Cedar Tavern cred and chops that melt together an urban sizzle-drip, a bird-on-fire flight of Lorca/early Paz surrealism, and a caramel sensitivity and straightforwardness ala Kenneth Koch. Now a teacher at the New York Restaurant School, Lima is the author of a new book of selected poems, Inventory, that shivs me into shivers. I first heard the name Frank Lima in Lisa Jarnot's poem "Poem Beginning With a Line By Frank Lima," but it wasn't until I read one of Lima's own poems in a collection of work dedicated to John Wieners that I realized I had to rush out and click around until I found this book. Gawk these lines from his poem "My Heart": "My heart is the shyest object in the world … It blushes when / it dies or becomes a monster when it loves. Imagine / the size of it when you undress. It becomes a periscope / each spring. It would like to be a lighthouse instead of being / in my chest." Lima's all mustache and truth.
9 Catherine Wagner – My New Job
I remember liking this and finding it really innovative, but I can't picture anything specifically besides the cover. I remember a feeling like the feeling of an insanely smart Married With Children.
10 Seth Landman – Parker's Band
Hot damn is Mr. Landman a smart Melville lover. Sadly unavailable chapbook, but watch out for Landman's full length, whenever it comes, because his poems keep getting better and thornier and truer and speaking to the blear of today's logs and log-ons.
11 Kuzahu Manickavel – Insects Are Just Like You and Me Except Some of Them Have Wings
I remember some cute sentences. Felt distracted by a lot of this somehow. Can't remember it very well, seemed to fade into a sort of cutesy indie lit obscurity for me, but that is probably unfair.
12 Josh Bell – No Planets Strike
Read this on an airplane on Sasha Fletcher's recommendation. Dog-eared a lot of pages. Emotional and contemporary.
13 Selah Satestrom – The Pink Institution
Wow, so good. A mindfuck of traumatized memory. I hear Satestrom's family wouldn't speak to her after she wrote this book, which is a standard we should all strive for.
14 Jordaan Mason – Synesthesia or The Power Is Out, Sing
Read this in manuscript form. Actually very similar to The Pink Institution. So dreamy and innovative. For fans of Dennis Cooper via Murakami via a homemade tuba. I hear some indie presses rejected this for not being weird enough, and to that I make a juvenile masturbation motion with my hand.
15 Kristina Born – One Hour Of Television
Red cover, very good, pushing the form, reminded me of Beautiful Losers, but maybe I am just associating Canadians. Read Bryan Coffelt's review of it here: http://lunchtimeforbears.blogspot.com/2010/04/kristina-borns-one-hour-of-television.html.
16 Shane Jones – The Failure Six
I sent Shane an email about this book: hey dude, just finished failure six. great stuff! some really lingering images and brain fire. your work makes me feel insecure about the entertainment value of realism, ha. kudos on another terrific book. =)
17 Timmy Waldron – World Takes
Not bad. Some of it felt a little contrived or sitcom-ish, but some fine flights of language and event.
18 Ofelia Hunt – Today & Tomorrow
I love this book so much I'm publishing it. When I put my $$ hat on I say this: "A stunning adventure of identity melting, ice skating, memory, and consciousness. Hunt's inimitable prose splays and pets its way to new skins of expression."
19 Alton Pryor – Classic Tales in California History
Did you know that gold was discovered in Mrs. Aram's aprons in the Yuba one whole year before at Sutter? Did you know  Snowshoe Apollo delivered chloroform and mail? Did you know the papers that allowed California into statehood were kept shaded by a silk umbrella?
20 Joey Comeau – It's Too Late to Say I'm Sorry
Bought this at Reading Frenzy in Portland. I remember finishing it on a Greyhound in Weed, CA. Very emotional and some well done, Etgar Keret-ish premises.
21 Michael Roberts – No More Poems About the Moon
Very David Berman-y. Some good poems. Bought it at Powell's.
22 Linh Dinh – Some Kind of Cheese Orgy
So smart and radical and good. Has a whole poem about the sociology of commenting on the internet that is way better than that sounds, that transcends the "commentary on commenting" aspect and ventures into indelible human truth. Meant to interview Dinh for HTMLGIANT and totally dropped the ball. I regret that.
23 Amy King – Slaves to Do These Things
Follows logic that melts constructs like gender and narrative into weird bits of scrap metal and makes beautiful animal shapes out of these scraps and doesn't even let them cool before handing them to you. Meant to write a review of this for a reputable publication and dropped the ball on this too. I suck.
24 Shellie Zacharia – Now Playing
Finished this on the same Greyhound I finished the Comeau book. This list isn't well-ordered. Oh well. A pretty good story collection with insightful, funny characters.
25 Lewis Nordan – Boy With Loaded Gun
A memoir I read on the recommendation of Kevin Sampsell. Explores feelings not endorsed by contemporary standards of manhood. Pretty good.
26 Ron Padgett – Great Balls of Fire
A funny, awesome, innovative poetry collection with an amazingly ugly cover.
27 Breece D'J Pancake – The Stories Of
Huh? What's this doing here? I read this book in 2006. Maybe I read it again in 2010. Whatever. He's so good.
28 Ann Packer – Mendocino and Other Stories
Don't remember this book at all. Probably didn't finish it and am cheating to have it on the list.
29 Derrida – The Politics of Friendship
Definitely didn't finish this and am cheating to put it on this list. But I adored what I did read, O my friends there is no friend, and so in. Made me think a lot about play and unspoken friendship and the unassailable distances between anyone and how we can['t] breach those distances by mucking around in between.
30 Larry Brown – Big Bad Love
So good and fine and gritted teeth and hearts beneath the tanktop. After I finished this, I watched a movie about Larry Brown where he locked himself in his room with his typewriter and his wife talked about how she thought he was still a firefighter until he came out with a book.
31 Catie Rosemurgy – The Stranger Manual
Ordered this on the strength of a few poems I read on the internet, but I remember my enthusiasm fading for some reason. Don't really remember why.
32 Ron Padgett – The Straight Line
Funny and breezy talk on poetry from a straight shooter. Really funny bit about "finding your voice."
33 Barry Hannah – Bats Out of Hell
Longwinded spurls of a master. Love the "Have You Got A This and a That" story. Justin Taylor does a decent enough job contextualizing this collection, I think, in his NYT reivew of Hannah's new Selected.
34 Sawako Nakayasu – Texture Notes
35 Travis Nichols – Iowa
Both of these from the new press Letter Machine Editions, both sturdy mindfucks. The Nakayasu was way "funnier" than I thought it would be, and the Nichols was more "experimental teen angst movie" (in a good way) than I thought it would be.
36 Jim Sheppard – Small Town Punk
Not bad, but kind of got stupid after awhile in the way Joe Meno get stupid after awhile.
37 Justin Taylor – Everything Here Is the Best Thing Ever
I wrote on Goodreads: "Openhearted like open all night, honest and going for it. Stories of the admittedly carbonated and flavored by corn syrup, but unapologetic and casting for a durable humanity, a huggable faith." Upon later reflection, I think this book has some strong stories and some stuff I thought was kind of waxy and homiletic in an unearned way, but then again so was that last clause in my Goodreads blurb.
38 Wells Tower – Everything Ravaged, Everything Burned
Hey man, I really liked this. Great ear.
39 Kevin Sampsell – A Common Pornography
My favorite parts were the ones where things got weirdly condensed. Made me think about life in the context of a year and in the context of many years.
40 Adam Haslett – You Are Not a Stranger Here
Some stuff that made me really emotional, some stuff I thought was treacly.
41 Frederick Barthelme – The Law of Averages
He's a master of capturing what it means to live next to someone and accidentally reach for the same thing they're reaching for and then not knowing what to do next except grin in fear.
42 Derrick Jensen – Endgame
This bro says "Duh" a lot. Very canny, interesting to watch his mind work. Bully and a blowhard, but he is a "world changer," so I guess it comes with the territory. I like the "society as one huge trauma victim" idea.
43 James Purdy – Cabot Wright Begins
Not my favorite Purdy. Kind of slow. As always, of course, some hilarious moments of terrifying manners comedy.
44 Pam Houston – Cowboys Are My Weakness
Hey, me too! I liked this book way more than I would admit if you asked me about it directly and not as part of this huge list.
45 Nicholson Baker – VOX
Gave me a hard on.
46 Gordon Lish, ed – Genesis West v1 n1
I wrote about this for the GIANT. If you're really interested, just Google "Genesis West" "HTMLGIANT."
47 Paul Siegell – Wild Life Rifle Fire
It would be fun to have some of the pages as full size prints instead of pages.
48 A.M. Homes – The Safety of Objects
Not bad, but not as good as Things You Should Know. (See #98).
49 Anne Boyer – The Romance of Happy Workers
Bought this from Tin Can Mailman in Arcata, CA. My sister got a shirt for Christmas this year called an origami shirt, and as you move it stretches into different patterns. This is a good analogy for Boyer's poetry.
50 Ben Lerner – Mean Free Path
Thought this was a let-down until I heard Lerner read out loud from it, then realized he was smart as ever.
51 Dobby Gibson & Matt Hart – Late Makeup Years and Decline
Just a couple of good ole boys having some fun. If they were a band Hart would be the melodramatic screamer (in a good way) and Gibson would be the wizardly keyboardist.
52 Adam Robinson – Adam Robison And Other Poems
Campy in the classic sense. A good start from a theologian in sweatpants.
53 Roy Parvin – The Loneliest Road in America
Some great sentences. One really good story about baseball in the woods.
54 Christopher Higgs – The Complete Works of Marvin K. Mooney
Weirdly reminded me of a campier David Mitchell? Does that make sense? This guy's got a brain the way some people have salsa recipes.
55 Ron Carlson – Five Skies
Got slow, but I do love novels full of well-described manual labor under beautifully-described skies.
56 Bret Anthony Johnston – Corpus Christi
Repetitive in its melodrama, if you ask me.
57 Thom Jones – The Pugilist At Rest
Re-read this book to write about the story "I Want to Live!" for an American Short Fiction blog thing. Is the sure-fired jawbone cant of Thom Jones very underappreciated, or is it just me?
58 Dorothea Lasky – Black Life
O yes. Yes yes yes.
59 Jay Gummerman – We Find Ourselves In Moontown
Some weird obscure 80s realism I bought at a little store in Northampton, MA. Well-wrought in the vein of Rick Barthelme, Mary Robison, etc. Got a good Michiko Kakutani review in 1989 in the NYT. Made me sad to think about how just doing things in a well-crafted, clever way isn't enough to keep your book from fading away. Was going to write a whole post about this book wherein I thought about "obscure realism," but all reality is obscure, so I dropped that idea.
60 Kate Greenstreet – The Last Four Things
As wise as a bamboo plant. Definitely check it out.
61 Matthew Pitt – Attention Please Now
Bought it on the strength of a baseball story I read in The Southern Review, but sadly a lot of the book seemed overwritten.
62 Jeff Parker – Ovenman
Boring slacker lit. Sorry. A lot of people I know and like like this book. If I were ten years older, maybe I would "get it." I mean, I don't like Pearl Jam either, sorry.
63 Elizabeth Crane – You Must Be This Happy to Enter
Some really funny paragraphs that turned emotional in surprising ways.
64 Kim Chinquee – Oh Baby
She made me pay a lot of attention to people on the bus. She knows what she's doing and she does it.
65 Anslem Berrigan – Free Cell
Not bad, but not as good as his other stuff? I dunno, I can't remember this book all that well.
66 Tom Drury – The End of Vandalism
The beginning of a love affair wherein I read all of Tom Drury's books. I remember walking home one night and seeing a pair of opera glasses hung on a street sign and I was like, cool, I'm in a Tom Drury novel, sweet. This guy needs to blow up so major. I'm afraid he won't get the recognition he deserves until he dies, which is sad, because from what I know he seems very much alive and in love with life and taking photos of Los Angeles.
67 Joshua Harmon – Scape
Holy shit does this guy know his way around a syllable. I read this on a bus to New York City next to complicated industrial machinery in Connecticut, and that's about right, even though a lot of this book is about snow and forests.
68 Clarice Lispector – Near to the Wild Heart
Wow, such a beautiful way of sneering and stumbling among the world. Anticipates the work of some of my favorite friends like Rachel B. Glaser.
69 Charles Portis – Norwood
The beginning of a love affair with Charles Portis. This guy is America and then some. The more our world turns into that Old Spice commercial, the more we'll realize how Portis knows us more than most.
70 The Feeling of What Happens: Body and Emotion in the Making of Consciousness
Really smart book about how consciousness arose to account for feelings, which sounds about right to me.
71 Charles Portis – The Dog of the South
Portis's best, IMO. Mexico, cars, rambling, and a very emotional chaotic scene in a hurricane near the end.
72 Scott Bradfield – The People Who Watched Her Pass By
I wanted to like this, but something about the tone was weird and I couldn't get into it.
73 Kate Schapira – Town
A cool project. I like how Schapira drew from hometown mythologies her friends fed in.
74 Martin Buber – Between Man and Man
An accurate summation of how I feel about this book would be a book-length quote of this book.
75 Adam Gallari – We Are Never As Beautiful As We Are Now
Lots of baseball. Kind of hit the obvious violin note sometimes, I think, but not bad.
76 Chris Offutt – Kentucky Straight
For some reason I'd never read Offutt. I corrected this. Down in the holler and doing it to it.
77 Sasha Fletcher – When Our Days Are Numbered …
Sasha sent me a lot of versions of this before it came out as a book, so it's kind of hard for me to contextualize this. Suffice to say very dreamy and with a nice touch of heart twang. If I were a girl version of myself, I would really want to be in a relationship with this book, but I feel like I'd be leery of its potential immaturity as a mate, but I would still probably be in love.
78 Ben Brooks – An Island of Fifty
Didn't like this at all. Sorry, everybody.
79 Peter Bowerman – The Well-Fed Writer
Hahahahahahaha.
80 Charles Portis – Gringos
Meandered. Sort of like sitting down with your favorite uncle on an off-day. Still your favorite fucking uncle, yo.
81 Betty A. Toole – Ada, the Enchantress of Numbers: A Selection from the Letters of Lord Byron's Daughter and Her Description of the First Computer
I love Ada Lovelace. I have maybe an essay forthcoming about her. We'll see.
82 Rachel B Glaser – Pee On Water
Glaser is the new Grace Paley, plus she makes guitar shaped pillows.
83 David Foster Wallace – Consider the Lobster
Feel like I'd already read most of these essays uncollected, but so nice to see this mind go. It's a mind that wants to be a mind with you and doesn't want to lie, ever, even with an awareness of that aspiration's impossibility.
84 Colum McCann – Fishing the Sloeblack River
Some overslick cello notes but some really genuine lyrical emotion. Liked this more than I thought I would.
85 Ben Mirov – Ghost Machine
I wrote a review of this book for NOÖ [12]. I liked it!
86 Juan Rulfo – The Burning Plain and Other Stories
87 Juan Rulfo – Pedro Paramo
I taught Pedro Paramo for an online creative writing class this summer. Innovative and dreamy and good. Rhymed with Sasha Fletcher's book now that I think of it. Rulfo's stories can be really funny and abrupt in a great way.
88 Grace Paley – Enormous Changes At the Last Minute
I want to sit next to Grace Paley on the bus of forever.
89 Eugene Marten – Firework
Slow start but so fucking good. This book is the new standard of American roadtrip novels.
90 Geoffery Nutter – Christopher Sunset
I swear I read this but I don't remember it at all.
91 Jordan Stempleman – Doubled Over
I wrote about this for the GIANT. I liked it!
92 Chelsea Martin – The Really Funny Thing About Apathy
Liked it, but why was it so short?
93 John Jodzio – If You Lived Here You'd Already Be Home
This book was trail mix. Thumbs up in an overall sense.
94 Nic Brown – Floodmarkers
There was a good story about a hot dog factory. Overall I had not a bad time. Sometimes hit some obvious notes or tried to hard to know what it was about. Bought on the strength of a really lovely and strange novel excerpt with hitchhikers that I read in the Washington Square Review.
95 Graham Foust – To Anacreon In Heaven
Absolutely. Fucking. Stunning. Foust's brain is a brain among brains. Want to quote the entire book. Almost cripplingly brilliant. I read this book while waiting to get my ears cleaned, and if life would've conceived a more cornily apropos analogy for the experience of reading this little book, I probably would've shot life in the balls.
96 Farrah Field – Rising
So sad and wise. A fine book of poems.
97 Paul Hemphill – The Nashville Sound
Winds rise cold off the Cumberland and once upon a time people came from all over to sing and sleep with cans of corn beef hash for pillows and go for it in one of America's more satisfying mythologies.
98 AM Homes – Things You Should Know
Um, so smart and good. There's a story about Nancy Reagen and stories with amazing endings. I didn't know Homes was so good, and now I do.
99 JG Ballard – The Day of Creation
Read this in Union Square. Ballard makes sentences straight out of a 70s sci-fi gameshow with the stakes of life and death, which you don't realize are the stakes until the bonus round.
100 Gary Shteyngart – Super Sad True Love Story
Hated this book. Worked for a while on an HTMLGIANT post about contemporary satire, schmuckiness, and why I hated this book so much, but I got tired and discouraged by my own negativity. I think the best word I could use for this book would be pathetic, and what's worse is that it seems to court that patheticness. No one with time in their bones for the world should bother with this bullshit.
101 Ben Spivey – Flowing In the Gossamer Fold
Not bad, pretty Lutz-y. Sort of strkes a pose sometimes when I'd rather it keep pumping, but not bad.
102 Julia Slavin – Carnivore Diet
Cheating to put this on here; didn't finish it. Just can't get into it for some reason; seems like I should like it, but I get a jokey whiff that slows me down.
103 Walker Percy – The Moviegoer
Definitely of its time. I see why people thought was so good.
104 Julie Doxsee – Objects For a Fog Death
Rhymes with the Harmon book for me, or the work of Joshua Marie Wilkinson. Really makes me consider how dizzying all our shapes are.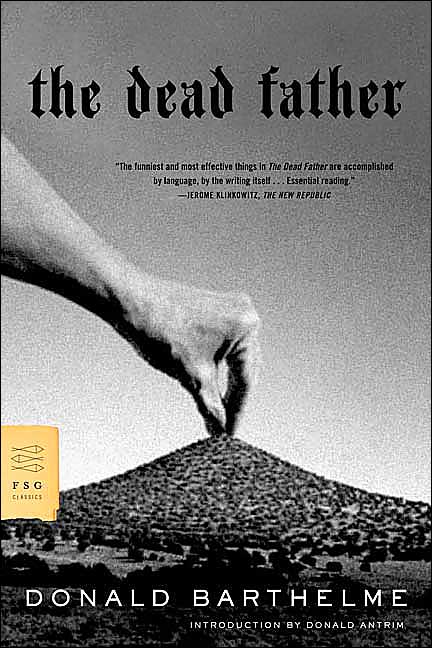 105 Donald Barthelme – The Dead Father
Ha, so good! Probably my favorite Donald Barthelme for some reason. I think I was in a jolly mood the whole time I read this. Reminded me of Beckett plus Monty Python plus the talking head from Legends of a Hidden Temple.
106 Grace Krilanovich – The Orange Eats Creeps
Texted a lot of people from a Laundromat about how amazing this book is.
107 Tom Drury – The Black Brook
Drury's most ambitious.
108 James Robison – The Illustrator
So hip (in a good way). Gabe Durham wrote about this book for the NOÖ blog.
109 Tom Drury – Hunts In Dreams
110 Tom Drury – The Driftless Area
Both minor Drury but still good.
111 Timothy Donnelly – The Cloud Corporation
It doesn't need my plug after it got Danny C's over at The New Yorker, but still I want to say this book is a feat of control and striving toward what it means to replace faith.
112 Matthew Zapruder – Come On All You Ghosts
Kind of thought I would hate this and ended up really liking it. Svelte and wise and frank about its I-ness.
113 Barry Hannah – Boomerang
Not his best. Sort of your other favorite uncle too sober at lunch. But hell, he's still Barry Hannah.
114 Richard Powers – The Echo Maker
This book was weird for me. In some basic ways, it was simply terrible. Terrible character development, often awful prose. Melodrama cranked to a putrid shade.  And yet I read the whole thing. I guess I really like to read about neuroscience, even in soap opera form. And some actually kind of vibrant lyrical passages of short-circuited brainwork.
115 Dennis Cooper – Smothered In Hugs
DC knows what he's fucking talking about, and in this book he talks about the late culture of the 20th century.
116 Danielle Dutton – Sprawl
A really great mosaic that reminds me of everything from Virginia Woolf to Mary Robison. I would at times put down this book and shudder with how smart it was. I have a review forthcoming in Jacket, I think?
117 Eileen Myles – Inferno: A Poet's Novel
Enjoyed hearing her read from this more than reading it, but still.
118 Mark Halliday – Selfwolf
Some poems were really good and some were as obnoxious as the cover photo of Halliday in a phonebooth with a binder of unfinished poems. Actually as I type that I feel sort of a tenderness toward how silly that photo concept is in its obnoxiousness, and I guess that's the same tenderness I feel toward this book.
119 Eudora Welty – The Optimist's Daughter
I feel like people such as James Purdy and Eudora Welty were unconcerned with being show-offy Writer writers and more concerned with the sort of small blow insanity and bewilderment of the world, and for this I keep them tucked close to my heart.
120 Alex Phillips – Crash Dome
A fine meditation on contemporary belief systems. Rhymed with The Cloud Corporation in a way. Was it just me, or was 2010 the Year of Belief Trials in contemporary American poetry?
121 John Brandon – Citrus County
A sort of more immature Tom Drury. Dragged plot-wise, but I liked a lot of the set pieces.
122 Trinie Dalton – Wide Eyed
This book was so weird in the way it condensed things. Reminded me of Kevin Sampsell's A Common Pornography, kind of. This book felt like someone who would tell you bits and pieces of an awesome story with no real reason for including what she included and leaving out what she left out, and then she'd go up about three sentences from the end and have a cigarette and forget she was telling you the story then remember and rush through the end in a totally surprising and weirdly eloquent way, and you would wake up the next week thinking "Do I have a crush on this story or not?" but then you'd forget all about it, which is maybe the flaw.
123 Lillian Ellison (with Larry Platt) – The Fabulous Moolah
My aunt is Johnnie Mae Young, one of the pioneers of "ladies'" professional wrestling. The Faboulous Moolah was her best friend. Learned some cool stuff, like Hank Williams once proposed to her! I know I should say which "her" to make that pronoun more clear, but I think it's funny to leave it.
124 Mark Anthony Jarman – 19 Knives
This book is so good. Thanks to Gene Kwak for recommending it. I'm working on something about this book for a different list, and here's what I say: "Stories of woods and hockey and self-destruction and rhapsodic wheeze. All the nouns and verbs have an urge about them. There's a concern for the word that names rather than refers. And the word that nicknames rather than names, which is even better. Even better—to step away from the clinic of language—I feel in the presence of a great bamboozler, one who dazzles while reaching for pretzels."
125 Kendra Grant Malone – Everything Is Quiet
I wrote about this book for HTMLGIANT, and some blunderspleens who don't know how to read gave me shit for it and some other dundersnoozes just wanted to talk about boobs. I guess the world is full of assholes, which is a fact this book knows a thing or two about.
126 Matthew Savoca – long love poem with descriptive title
Relentlessly introspective and self-critical—without not-so-secretly and boringly congratulating itself for simply having a self ala most "MuuMuu House" deadpanning. I recommend this book if you are between the ages of 20-30 and you've ever been in what you called a "long term" relationship and you don't own a time machine.
127 Jennifer L Knox – The Mystery of the Hidden Driveway
Another fine and funny book from Ms. Knox. If you have a stage and a dark room and some beer, you want these poems up there with a mic.
128 Matt Bell – How They Were Found
Lots of arch diction and going-for-it on a conceptual level. Early on I found it a challenge to transition into the right reading mindset for this book, but eventually I got to somewhere that reminded me of enjoying big, arcane fantasy novels as a teenager.
129 Chris Killen – The Bird Room
Actually pretty bored by the way the mundanity of this book took itself seriously, or "observed" itself or something. Sorry everybody. I know and like people who like this, but not my bag.
130 Lindsay Hunter – Daddy's
Nailed it story after story. Made me cringe in the best ways.
131 Michael Earl Craig – Thin Kimono
His best so far. The poem about coming back from doing work in the garden that starts with a jokey Robot Thor voice turns into something really emotional and wild.
132 Samuel Beckett – Molloy
I'm a nunce because I'd never read the Trilogy before 2010.  Okay, everybody. I see what the fuss is. Holy yes do I ever. "I hear from here the howl resolving all, even if it is not mine."
133 Tom Franklin – Smonk
Gory and perverted fun. Wish this book had been the plot of Red Dead Redemption.
134 David Ohle – Motorman
Read this on a bus to New York. I've had it for awhile without reading it. What the hell, Mike? So good and smart and weird.
135 Cormac McCarthy – Child of God
Kind of too episodic and sketchy for me in the context of all McCarthy, but obviously a triumph.
136 Frank O'Hara – Early Writing
So fun and insightful to read O'Hara being young and anxious. Also a great essay on WWII. Man this guy knew what was up. Relentlessly playful. Play as a moral imperative. Bought this in Chico, CA and read it in the rain at Peet's Coffee. The workers were making fun of a crazy guy who was protective of his bag, which was full of schedules and almonds. They were being douches, I feel. Frank O'Hara says: "Have you ever thought of how far away we are from each other? All your hair between us, all your flesh / and the whole air."
137 Walter Kirn – The Unbinding
Bought this on a whim in the same Chico bookstore. Kind of a thin Internet-era Crying of Lot 49. Not bad. Some clunky places where the ideas overtook the story.
138 Gordon Lish – Mourners at the Door
Bought a mint condition hardcover first edition with a dust jacket for $9 at a bookstore in Oroville, CA of all places! Showed the owner how lucky I thought I was and he patted my shoulder and said "I hope I don't get any mourners at my door." The first story is as good a story about ambition and death as I've ever read. Then there's some ranting. Then there's some more good storytelling. Rinse, repeat.
139 Gabriel Garcia Marquez – Chronicles of a Death Foretold
O 2011, if you're going to kill me, please kill me with the whole town watching.
UPDATE: I forgot Elisa Gabbert's The French Exit and Chris Tonelli's The Trees Around, both from awesome new press Birds, LLC. The French Exit made me think of how language gets embodied and how it's so hard to talk about thinking, but it can often be very clever, but clever can also be a cleaver. The Trees Around made me think of someone in a trench coat sitting next to you on a Ferris Wheel and pointing out very small details in the distance, but not to you, mostly to themselves.
Tags: the title is from sonnet 139 i am silly
62 Comments