Aaron Burch
For a limited time only, Keyhole Press is offering both Matt Bell's How They Were Found and Aaron Burch's How To Predict the Weather in a package deal for $19.99 including shipping. Can't wait to have these monsters in my hands.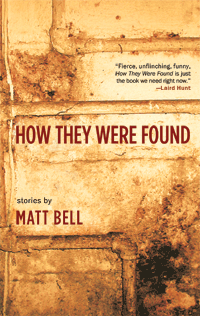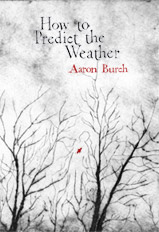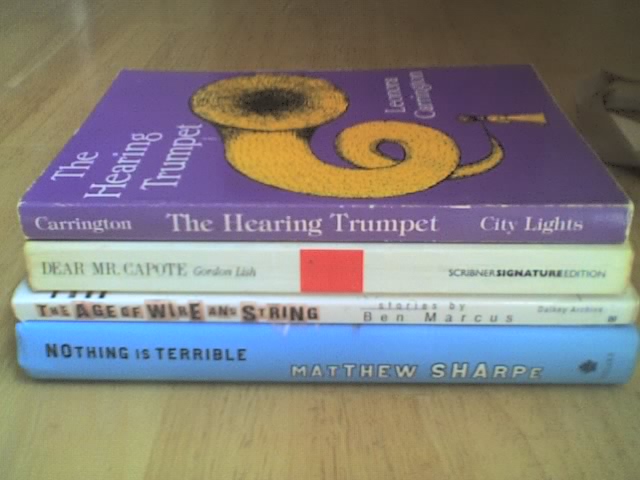 Today, at Community Thrift on 17th and Valencia, I bought these books for $2.50. The first page of Dear Mr. Capote says "Ed Seifert" in pencil. Wonder if he's related to George, who won the Super Bowl. Jaroslav won the Nobel Prize. My family farmed the rim of the Dust Bowl and nearly made it stinking rich off a bunch of black sand but didn't. It seems "Seifert" comes from "cipher." Encoding words is a form of mathematics. "Mathematics is the supreme nostalgia of our time." – Michael Marcus
Tomorrow I'm reading at Amnesia, at nine o'clock, with Lindsay Hunter, Amelia Gray, and Aaron Burch. Wearing a coonskin cap and a corduroy suit, I will read from my novel for the very first time. The novel is called A Dog On Onondaga. I vow to never finish writing it, but to self-publish new handbound editions whenever I feel like it. Maybe you think that's vain. Sometimes I stare in the mirror for oceans of time, for no reason. Your opinion of me is so much sand on the beach of yesterday. Three days ago part of me did something immoral; the rest of me has only begun to feel bad. Another part of me wants desperately to be lost in the desert with a backpack full of books; but that can probably wait until the winter of my content. I plan to go to the community pool tomorrow, so that my body will remember what it was like when it was a word. READ MORE >
5. Aaron Burch interview at new Word Riot. Glow like lung tattoos.
I don't know. I think one of the interesting things of having been writing stories for a good handful of years now is looking back at stuff and seeing what recurs and finding those fascinations that you weren't really aware of. I guess I could say something like I believe, often, you have to be taken apart, by yourself or something else, and then be put back together to really grow/change/etc., and so I guess that was kind of what the book became about, though that's the answer I put together just now for this interview; I've certainly never thought of it that prescriptively before, nor was it an intention when working the book.
1. You can buy Andy Warhol's turtleneck.The same people will sell you Martian Meteorites and Madonna's appointment books.
February 1999: Pick up dog at daycare. Do crunches. Run LONG! Select polymer for breast cone. Step into groove. Drink 3 ounces lemon juice. Tell Pepsi Co. to go fuck themselves. Wax.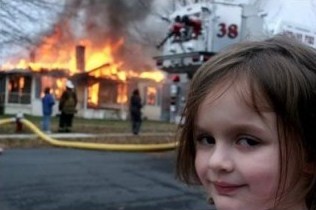 7. If every single poem you wrote was published in mags would you gather those poems and send out the mss? Aren't they already out in the world?
213. Prime Number Magazine is open for submissions starting now. You miss 100% of publications you never submit to, blar me, rosy tunnel, etc.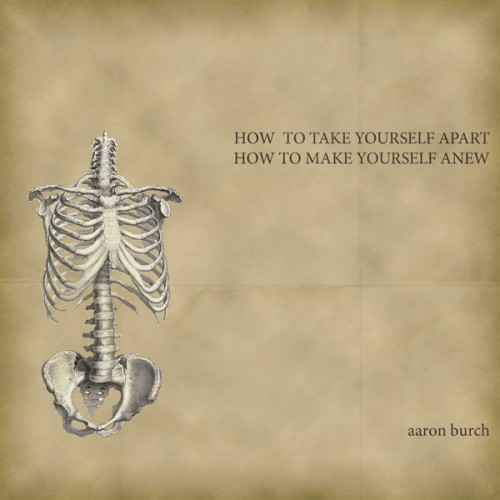 Aaron Burch's How To Take Yourself Apart, How To Make Yourself Anew is now available and is currently shipping. All proceeds from sales between now and 2/13 will be donated to the American Red Cross or Médecins Sans Frontières but this isn't about that, necessarily. A generous benefactor has purchased five copies of the chapbook for us to giveaway.
To enter the drawing, leave a comment on this post between now and Friday at noon answering the question "How Do You Take Yourself Apart?"
We'll choose our five favorite answers and those individuals will receive a copy of this sexy little piece of work.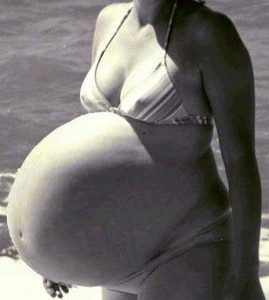 Wow. ML Press announces their next 6 months of titles, and it is quite an onslaught:
we are very excited to announce the next 18 ml press authors:

BE NICE TO EVERYONE by sam pink
MISERABLE FISH by colin bassett
DON'T GIVE UP & DIE by james chapman
A HEAVEN GONE by jac jemc
LIKE IT WAS HER PLACE by kim chinquee
SOME OF THE LETTERS THAT WERE CUT by michael kimball
IN ENVY OF GLACIERS
& THE UNIVERSE OF THE BODY by norman lock
THREE ACTS WITH VINCENT by kim parko
WHAT I SAW by randall brown
THEY by brian evenson
BLUEBEARD by michael stewart
(forthcoming) by peter markus
ISN'T THIS WHAT YOU WERE LOOKING FOR? by ken sparling
THOSE BONES by david ohle
MOLTING by aaron burch
DA VINCI DIED BEFORE CIGARETTES by p. h. madore
ALTRUISM by matthew savoca
(forthcoming) by johannes göransson

six-month subscriptions will be available until the dec. 08 trio is sold out.

$36 / 18 volumes, beginning with the dec. 08 trio.

want to order? click to the here.
If you have interest in these, I recommend you get on it. They go really fast, and with a line up like this, you don't want to miss a line.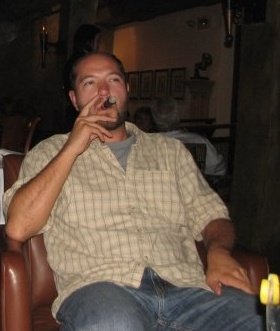 I first met Aaron Burch at AWP two years ago. I had read some issues of Hobart before and really liked the stuff he'd published, so it made sense to me that I should talk to him. I anxiously introduced myself to him at the Hobart table and babbled to him, asked him many questions about the journal, and felt very sweaty the whole time, especially after I ran out of things to say. I'm glad that he did not punch me in the mouth.
Not that he would have, for Aaron Burch is a kind and gentle human. He grows his beard and keeps it tidy. He smokes cigars and drinks whiskey. He publishes the fine literary periodical Hobart, and he administers the web version as well as the mini-books division.
Aaron Burch lives up north somewhere.
Aaron Burch also does some of his own writing. He is a fine fine writer. His work can be read both online and in print at various publications: Eyeshot, Pindeldyboz, Storyglossia, Phoebe, elimae, MonkeyBicycle, etc. He's currently reading/writing in the MFA program at the University of Illinois at Urbana-Champaign, where he also teaches composition.
I emailed him some questions when I was drunk. They seem 'aggressive' now that I'm looking at them again, so I have edited out some of the aggressiveness.
1. Lots of people shit on the MFA. You've decided to go for it at UIUC. Why? Tell us some pros and cons you've noticed about the program, if you can.