APOLOGY
Note: This is a small handful of books that I've either recently enjoyed or merely received in the mail, a more extensive review is probably in the works for a few of them, but for the moment I wanted simply to list the things themselves with notation where it seemed apt.
***
1. APOLOGY Magazine #2 I actually wrote the magazine's editor Jesse Pearson about this one because I'd read that in the first issue they featured a Frederick Exley piece and that made me very happy. He was kind enough to send me the second issue and I'm planning to review it in a similar fashion to that tome I wrote about Out of Nothing, as these two things (Apology/OON) are some of the most exciting printed literary journals/magazines/etc. I've come across in quite some time. #2 features work from noir master David Goodis, as well as an interesting photo/essay from Richard Kern; and hijinks from Tim Heidecker; work from Steven Moore, Jerry Hsu, Anthony Berryman, and many others. I love the way this magazine feels very much.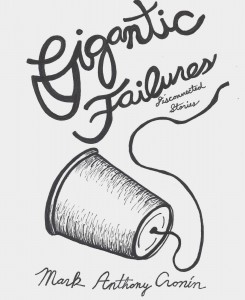 2. Gigantic Failures by Mark Anthony Cronin. I bought this collection of short fiction (Disconnected Stories, the cover reads) awhile ago because I'd read a bit of Cronin's work here and there online and was curious about the effect of one continuous block of his headspace. I was not disappointed. This is probably my favorite collection of short fiction put out by a small press this year, and reading it I was reminded of a younger version of myself voraciously reading through Jesus' Son or The Big Hunger. I spoke with Cronin once about his appreciation for P.T. Anderson and since then can't shake the notion that the absurdist-yet-highly-emotive world depicted in these stories connects easily to the fragments of a Magnolia or Boogie Nights. I fucking love this book. Amber Sparks, another author of a fascinating recent collection May We Shed These Human Bodies, had this to say "'The Man's name was erased, totally forgotten. He became something beyond himself: a sermon given unto the world…' Make no mistake: Mark Cronin has given us a collection born of myth and archetypes. Despite the modern settings, despite pop culture references sprinkling the stories, despite the piles of Walmarts and McDonald's and AK-47s—these are stories that get at the heart of very simple, age-old truths, and the dream of what it is to be human in any time." An excerpt was published at Volume One Brooklyn, and you can order the thing here.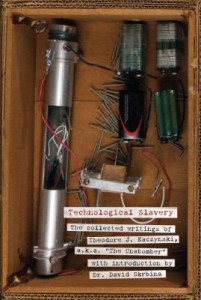 3. Technological Slavery: The collected writings of Theodore J. Kaczynski, a.k.a. "The Unabomber" introduction by Dr. David Skrbina Over the summer I had the immense pleasure of reading Mailer's The Executioner's Song, and as a result have since kept my eye out for the occasional potentially-fucked narrative pressing the reach of reality that much farther. For awhile I was convinced there was something deeply profound in the connection between the Beach Boys' Dennis Wilson and Charles Manson, and as a result purchased Wilson's solo record and spent several weeks researching that element of the Manson ordeal. I came up with very little, but that isn't really the point. Lately, a research obsession has been Kaczynski, and it's largely due to my ignorance of the trajectory of his life thus far. When I was younger "Unabomber" was simply something people said when you wore a hoodie up and a pair of sunglasses, but since then I've realized that Ted Kaczynski is easily one of the most striking and disconcerting figures America's ever seen—akin to Howard Hughes, I'd say, or the entire Kennedy family and all intertwined in their narrative rolled up into one man. Entering Harvard at sixteen, he then went on to become UC-Berkeley's youngest professor before entering the woods to eventually embark on a mail-bombing spree that baffled the country until his "manifesto"—featured in this volume—"Industrial Society and Its Future" was published by the New York Times and a family member noted his writing style and he was locked away. He's still alive, and recently sent his address in prison to the Harvard Alumni Association along with a list of accomplishments including his prison sentence. All that aside, because the list of Kaczynski's criminal charges isn't nearly as fascinating as the rest of his life, I bought this book because it felt like a source of information regarding our world that won't even be considered for years to come. I think of entire college classes devoted to studying the Nazis in Germany in small Midwestern Universities and the prospect of this happening in 1950 being completely preposterous. I think of years to come when entire disciplines will exist devoted solely to the analysis of the Zapruder footage, say. I applaud Feral House for publishing this and other highly important titles. I am very excited that I as a living human animal am able to read this sort of thing without being arrested or something and that information is out there for us if we desire it, I dunno. I'm an idiot.