Barefoot across america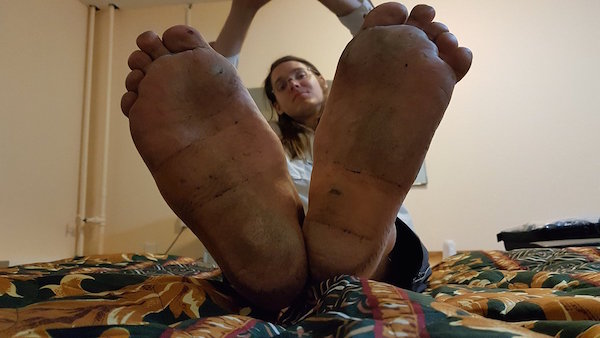 It is 19 days after the election. I go to the gym. I run on a treadmill. There are 26 screens. As I gaze into them, I enter podcasts where Americans speak about how they want to be seen. My body propels itself forward in place. I stare at a yellow wall, practicing Zazen. I want reality to fall away so that my listening and movement are symbiotic. In spite of this, I experience a cavernous feeling. It is a feeling like an architectural rendering where the edge of a building blurs into the sky.
On three of the 26 screens, CNN reports that the President-elect may terminate the agreement between the United States and Cuba. This possibility was announced in a tweet.
My body, running in place, accumulates miles.
Before and after the election, Mark Baumer is walking. Mark Baumer is crossing America with his bare feet. In a Snapchat message to Mark, I type: Do you have shoes with you, and if so, what kind are they? Slip ons called fit kicks, he says. I only put them on when I go into stores.
This is not the first time Mark has walked across the country. He did so six years ago, but not without shoes. Walking is part of Mark's writing practice. Have you ever seen someone write with their feet?
As he walks, Mark nonviolently protests. "My goal […] is to stop the earth from dying because of climate change," he writes. "I'm sure a lot of people don't think I can make it across America barefoot and probably even more doubt I will be able to defeat climate change with this journey, but something deep inside of me is telling me to do this so I will do my best to listen to this voice inside of me and ignore all the voices outside of me who don't believe in me."
In a time of black mirrors, cavernous feelings, and running in place, Mark's project strikes me as both very funny and dire in its seriousness—a source of light in the dark. If anyone can perform the super-heroic act of stopping climate change without shoes, it's Mark. READ MORE >