Because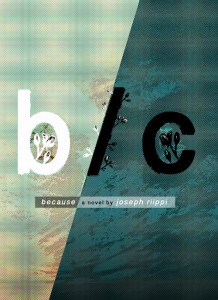 Because
by Joseph Riippi
Civil Coping Mechanisms, February 2014
175 pages / $13.95   Book page at CCM / Buy from Amazon
It only takes about seven pages to begin to feel pained—even offended—by Joseph Riippi's Because. This is primarily because every single sentence in the book (spoiler alert: except the last) begins with the words "I want." A structure like this poses serious problems for a reader like me and like most of us, hyper-aware of the sins of heavy-handedness and bared authorial intention as we are. Because's offenses against a readerly sensibility include:
1) Narcissism. It's hard to like a book authored by someone who seems to speak only about himself.
Caveat: Riippi knows this. He says:
I want to feel less narcissistic for writing this.

I want to be honest in writing this, even if honesty means narcissistic feelings.
2) Melodrama/naïveté. The battle of the genuine vs. the ironic has been played out on many fields in the last few decades. I'm most acquainted with David Foster Wallace's part in the battle for a post-postmodern literature that might be honest with the reader without being formally regressive. People mostly cite his "E Unibus Pluram" essay from A Supposedly Fun Thing I'll Never Do Again when referring to this tension.[1]
Caveat: Riippi also knows this, and he is willing to own it.
I want you to know I mean this completely and sentimentally but unabashedly and honestly and without shame.
3) The economics. What right does a white American male with the wherewithal to write a book have wanting so many things? It would be easy to tee up Because as a "typically American" book, so focused on personal desires that it fails to consider the actual hardships of the external world.
Caveat: I'm pretty sure Riippi knows this too. Not quite as explicitly, but his desires are so robust, so myriad, that such an acknowledgment often seems implicit in them. In this section, for example:
I want better cellular reception. I want an espresso machine. I want espresso to be good for me. I want health to be delicious. I want all that is delicious to be good for me and all that is disgusting to be good for me…I want a self-filling refrigerator and self-cleaning pans and pots that never stain.
All of which is to say that Because feels to me as if it is kind of supposed to be painful to read. I came in knowing the "I want" premise of the book, expecting Because to be an experimental novel that would be a little difficult to get through. And it is that, but not in the way you think of experimental—distant from the reader, difficult in terms of breaking the code of its linguistic tricks. Instead, it is so open, bleeding, and honest that it is almost impossible to stand. This is its own kind of experimentation, I think, and an extremely valuable one—both in making us examine our readerly biases and in urging us, time after time, to transcend them by sticking with the narrator on a project, he admits, he is so unsure about.
All that said, there's more to Because than just "its simple mantra-like structure," as Kevin Sampsell's blurb calls it. The book is split up into segments that are usually between one and four pages long, titled with the first line of each section. The "wants" often shift dramatically within a given section, from college-ruled paper to grandmother's grocery lists to bioluminescent flowers, for example. But the book really begins to stride when Riippi stays on a subject for the entirety of a section, or longer. In one segment, he speaks of his friend Jenns; how as the only freshmen on the high school football team he and Jenns had their heads shaved by a guy named Gator; how Jenns took the fall after the team TP'd a cheerleader's house; how Jenns shot himself, later, leaving an indelible mark on the narrator's life. The narrative continuity of sections like this is striking in a work that usually shifts desires and subjects rapidly. The Jenns thread and a few others like it almost constitute a sort of home, reminding us, suddenly, how welcome such a narrowed focus can be.
But perhaps the most interesting strand that comes out of Because is a certain kind of "want" peppered across the book, especially in its later pages: the desire to live fully and dangerously in a world where our lives can often feel sanitized and certain.
I want to narrowly escape an explosion. I want to hear the sounds of falling bombs. I want to drop for cover and pray, to dig inside my helmet for a rosary or talisman, to hear over the cataclysm the prayers of all my brothers who surround me.

I want to tie tourniquets and grasp bloody hands. I want to learn the Last Rites by heart.
Passages like these feel odious at first, wildly privileged. They seem to make tragedy into a tourist attraction, commodify suffering instead of rejecting it as those who have experienced it would urge anyone to do. But upon encountering this sentiment again and again, the reader has no choice but to begin to understand it. Riippi's speaker wants to live—and so might you, if you're warm and safe somewhere now. It is only that Riippi is not afraid to say so.
This is a sensation that occurs more and more as you enter the book's later pages: Riippi simply has no fear of how he will be perceived.  Perhaps the most recurring image in Because is the narrator's grandfather pounding a nail into a cedar tree with his bare hand. It is a fitting metaphor for the work Joseph Riippi has done with this book. It hurts, a lot, to read something so raw, composed with few tools besides human desire. But once you have finished—once the proverbial nail is in the tree—it is even more difficult to get it back out, to forget a book as open and rending as this.
***
[1] In another example from 1997, Wallace called David Markson's Wittgenstein's Mistress "a magical book, not because it alternates between incredible intellectual stunt-pilotry and pathos but because it manages to marry the two in a way that—I mean, that's what my dream is, to someday be able to do something like that." KCRW Bookworm interview, 1997. ~20:30.
***
Dennis James Sweeney
is the author of
What They Took Away
, winner of the 2013 CutBank Chapbook Contest. He lives in Corvallis, Oregon. Find him
here
.