Black Sparrow Press
Hello Big John:
Here is further from the novel FACTOTUM. I feel it is picking up now and getting lively. I felt it would if I gave it a chance. Some things must begin slowly and build up their own steam. If it stays lively enough for me I will finish it. I include an excerpt I am sending out as a short story. It runs a little smoother, just a touch, which shows that minor re-writing has its value.
I am also including a poem which I don't believe I sent you a carbon of but which is in the current issue of INVISIBLE CITY, Vangelisti's rag.
My spirit is back up for a while. I don't know why. But when I feel good I allow myself to.
Vangelisti who was about out on his ass at S.C. tells me he has won a Fulbright and will be teaching at univ. of Rome (?) come Sept. and that he intends to translate Bukowski to Italian. Heat up the sphagetti, pardner…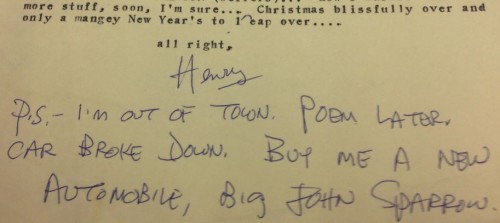 Sometimes I really enjoy writing…like the excerpt, SOMETHING LESS THAN ANGEL, I grinned all through it, glowing, flipping out the words, feeling damned near immortal like Dante or somebody, or anyhow, feeling fair enough, knowing it could probably be better written but I couldn't write it better without that exact strain of work like changing a tire, and I don't like the to change tires.
So, hang in, Old Black Sparrow and tell Mrs. Sparrow, Bukowski says good things are possible if you don't fight the sun too much…which reminds me of some good told time titles—KNEEL TO THE RISING SUN (Caldwell), and better yet, BE ANGRY AT THE SUN (Jeffers)…how I warble on…more stuff, soon, I'm sure…Christmas blissfully over and only a mangey New Year's to l eap over….
All right,
Henry
P.S. –I'M OUT OF TOWN. POEM LATER. CAR BROKE DOWN. BUY ME A NEW AUTOMOBILE, BIG JOHN SPARROW.