Carl-Michael Edenborg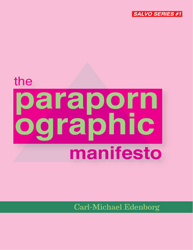 The Parapornographic Manifesto
by Carl-Michael Edenborg
Action Books, 2013
38 pages / $8  Buy from Action Books or SPD
Author's Note: This is a failed review. I think by definition you can't really write a review of a manifesto. If you read a review of The Communist Manifesto or The Surrealist Manifesto how would it go? "A little dry, kind of pedantic, I wish there were more pictures?" Here Edenborg lays out some ground rules for a new category of pornography that, by the end of the work, aims to be a new critical and theoretical lens. Like other manifestos I think you can reject it, adopt it, or stand somewhere, critically, in the middle.
***
Commence regular review:
The Parapornographic Manifesto from Carl-Michael Edenborg is the first Salvo from Action Books, in I assume, a series of chapbook size manifestos or mini-treatises on theoretical or critical concerns. Over the course of the book Edenborg outlines some history of pornography and proposes the parapornographic as a thing that is not post- or anti- but some other more complicated, unclear, way of understanding the genre.
As far as Google is concerned, most of the discussion of Parapornography takes place at Montevidayo, which makes sense, since it is on Action Books, and bears something of a resemblance to the poetics as it were, of that website.  The parapornographic of Edenborg exemplifies a kind of post-post-modernity, as far as I can tell. Where the goal/intention/desire isn't rooted in furthering or transcending history, but a Deleuzean? Deleuzional? kind of entanglement – and alternative to teleological progression.
Frankly, I think it's essential to ask about a concept like Parapornography whether it is necessary, essential, or most importantly, useful to understanding what it describes. Edenborg writes that while anti-pornography and post-pornography, and even, pornography pornography, can be parapornography; they don't always make they cut:
"The Antipornographic-pornographic complex can be seen in itself a parapornographic phenomenon, filled with frightening pleasures.
The producers, distributors, and consumers of pornography and its critics – including the pornographic material in itself and the more or less violent, legal or extra-parliamentary attacks on it – form a machine that multiplies and turns bodies inside out. Only talking about the instrumentalization and objectification of people is not going far enough in the reflection: parapornography is strictly discursive and presupposes that the All arises as a bug in the game of emptinesses."
Every Being is divided into a variety of instruments and objects in this game, her sides are finely ground and placed in four-dimensional machines that have a peculiarly autonomous function. Parapornography affirms this, by converting objectification into multiple fetishization."
Edenborg outlines these features of what he called "the parapornographic technology":
Mechanical repetition
The infinity of revealing
The exploded affection theory
The critical will to power
The violent pollution
Protesology and displacement
I've been working on this review for weeks – and I've read the book several times, along with just about every single mention of it on the internet – and I still have no idea what "protesology" is. I can take a crack at "exploded affection theory" but that too isn't defined in any way in the work or in any external place that I can find – and I assume to explode a theory of affection you'd have to have one first. Is protesology the –ology of protes, Swedish for prosthesis? I just don't know.
Edenborg claims that, "The Nietzschean superman can be said to be the protagonist of the majority of all of pornography, both through his erect penis and his master's gaze." Parapornography must depart from the Nietzschean ubermensch. Edenborg says that one of the first parapornographic works comes by way of Guillaume Appolinaire in Les Onze Milles Verges in 1907. Apollinaire apparently edited a publishing house that published erotic literature – and Edenborg sees Les Onze Milles Verges as a kind of deconstruction / reconstitution of the pornographic – "pornography is ridiculed and affirmed in the same prismatizing motion."
To answer the question I asked earlier, that parapornography is useful, and perhaps essential. I do not know whether it is our salvation, as Edenborg grandly puts it at the end of the Manifesto. I think that it can offer some important insights:
"To those who try to sell or protect a religious delusion such as the idea of 'nudity,' parapornography pushes its own revival: the insight in the limitlessness of unclothing, in non-Euclidean anatomy, in the darkness of excitement. That law creates desire means loneliness. The fact that those things that prevent desires also create our desires means loneliness. Consuming pornography or exciting oneself with antipornography means loneliness."
"Against these solipsisms, parapornography proposes the absence of self."
This proposition is not so different from the intention of some spiritual orders and some poetry – think of Emerson's invisible eye-ball for a minute and you've got both covered.  Of course, parapornography seems to come at 'self-less-ness' in a distinctly different way.
***
Leif Haven lives and writes in Oakland.