chapbooks of beauty
Jac Jemc has a rejection blog, though it often includes acceptances.
Jac Jemc's These Strangers She'd Invited In arrives at my door with fragments of maps and playing cards and a GREYING GHOST pin and a belly band. The paper is of very high quality. The front matter includes some drawings of a nautical bent, possibly mid-19th century in feel, several fish and then several paragraphs—possibly found text—explaining the economic superiority of trawl fishing (thank you, dear Britain, for inventing the otter board). I feel an aesthetic immersion here, to wet my toes, to enter the water, to prepare myself for the feelings of shift or chill or floating or to hold breath. To be caught? The cover is the color of the Bering Strait (known to natives as Imakpik). Hand pressed love like vodka trains. Siberia is 1/12th of the entire earth. Belly bands are generally cool.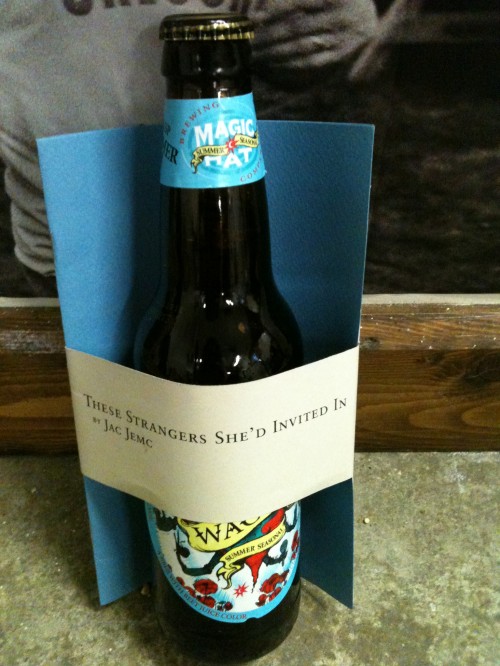 Magic Hat Wacko claims to be the liquid song of summer but it is damn well not the liquid song of summer.
It is an English Ale (otter boards!) with Appolo hops, pale malts, and a gravity of 11.00 Plato.