ear eater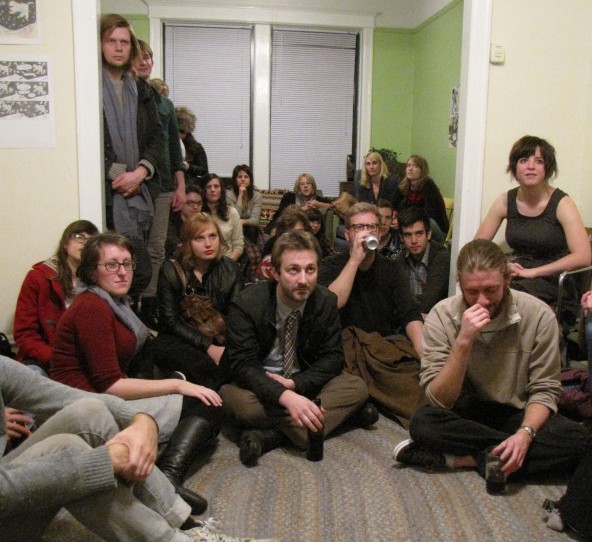 Cassandra Troyan & Sara Drake run a (somewhat) monthly reading series out of their apartment in Chicago. Having attended a few of the readings myself, I found myself particularly interested in what Troyan & Drake have accomplished: each reading series brings together (mostly young) people from various backgrounds (though mostly related to the arts/humanities) into an enclosed space to hear 4 or 5 readers. The events straddle the line between house party & art opening (and indeed, at one event there was art displayed on the walls), but it's the words that get center stage here. I sent Cassandra a few questions through Facebook about the reading series, and hey here they are:
M: I am always interested in the way that people who take a D-I-Y approach to life manage to turn private spaces (the home, for instance) into public, communal spaces. Living in a "college town," as I've spent my entire life doing, it seems more likely to find people at a huge house party than a bar or "club." When it comes to event spaces, I also often find the non-affiliated to be more comfortable, even more rewarding. People have art shows in their apartment to escape the realm of an institutionalized sense of curation, people have bands play in basements to crowds of many to avoid booking agents and dealing with venue crap, and now you & Sara Drake have opened up your apartment as an area for readings, something that seems to happen most often at bars or academic spaces. What circumstances found you guys deciding to start the Ear Eater reading series?
Cassandra: Much of the circumstances you mention are similar to the experiences and situations shared by Sara and I, which all influenced the desire to create EAR EATER. I went to undergrad at the behemoth institution, Ohio State University, in the notoriously college-run town of Columbus, Ohio. I think precisely because of this, most of my social interactions turned more traditionally private spaces into sites of collectivity.