Eimear McBride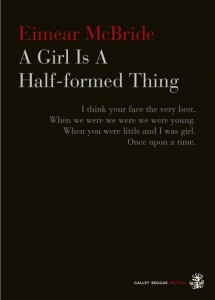 Girl Is A Half-formed Thing
by Eimear McBride
Galley Beggar Press, 2013
240 pages / Buy from Amazon or Gallery Beggar Press
We were on the sofa one evening and I was typically glued to my book when my boyfriend leaned over and read aloud:  Feel the roast of it. Like sunburn. Like a hot sunstroke. Like globs dropping in. Through my hair. Spat skin with it. Blank my eyes the dazzle. Huge shatter. Me who is just new. Fallen out of the sky. What. Then he rolled his eyes and asked me how the hell I was following that. The TV was on. The lamp was making a weird buzzing noise. The dog was loudly slurping her bits. To be perfectly honest, I've no idea how I was following A Girl Is A Half-formed Thing. The language is extravagantly jumbled. The pace is disconcertingly broken. The chain of events is peripatetic. Nevertheless, it had somehow managed to draw me in, to hold me. Each tiny sentence was blaring louder than the TV, louder than the buzzing lamp, louder than the slurping.  And I understood perfectly; I knew exactly what was happening.
Last week, A Girl Is A Half-formed Thing won the inaugural Goldsmiths Prize for fiction. The prize, initiated by Goldsmiths University of London, is unlike any other I'm aware of in the UK. According to the official website, it has been established 'to reward fiction that breaks the mould or opens up new possibilities for the novel form,' celebrating 'creative daring' and 'the spirit of invention.' Eimear McBride might have instigated her debut novel intentionally for the prize, had it not been written almost a decade ago. The story of the book's journey to publication makes the author's victory all the more significant, albeit bittersweet. Originally rejected by publishers, presumably on the basis that it was too strange, too difficult, it was ultimately taken up by Galley Beggar Press, a small, independent publishing house. In the months which followed its release this summer, A Girl Is A Half-formed Thing has been reviewed to widespread acclaim. McBride has been variously declared a genius and her writing compared to James Joyce and Samuel Beckett.
The book begins with childhood in a gloomy and petty-minded version of rural Ireland. The half-formed girl of the title narrates. She is a reckless, fractious person, and the story is driven by her anger. She has no father to speak of and her mother is a pious, resentful woman. It is the strength of the bond with her elder brother that gives the half-formed girl her humanity. It is to him that every impassioned sentence is directed, even though it's not with him that she is angry. Took me hot hand to the bathroom then and water on my face. Gentle wiping, saying there now it's alright. Cleaned blood from me like I saw at school. Head back gulping the thickly flow. Now, you say, we'll be good. Now we'll do what we are told. Maybe she'll forgive us if we'll be good. Alright? We'll be good now. After surviving a brain tumour in early boyhood, he is condemned as a dullard, his options stealthily shrinking as the years slip past. Handicap. Handicap. One from back gets the ball. Kicks and aims. It strikes your face. Bleared with mud. And knock you over. Laughter. Laughter. He is the character I cared about, the one I wanted to read on for. The story continues into the narrator's twentieth year, her voice growing incrementally strained. The end is incalculably devastating.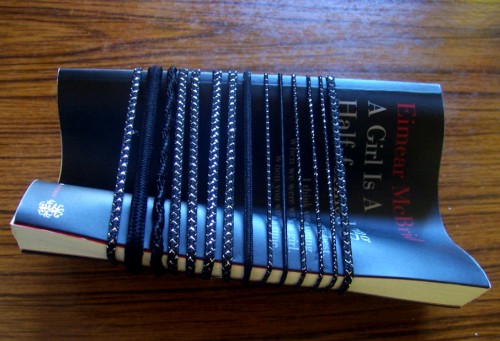 I went to art school. (This may seem like a somewhat circuitous way of attempting to make a point but please bear with me.) I made colourful, wooden things, but my best friend made remarkably distressing video pieces. She'd perform actions that hurt, and film them. These actions weren't necessarily physically painful, even still they proved excruciating to sit and watch. For example, in one piece, she used her chin to drag her naked body across a flat-weave carpet. In another, she manically licked tiny stickers off a white wall, and in another again, she bound her hand and forearm in elastic bands and then scrabbled to remove them using only the bound hand. Once I challenged her on what exactly was to be achieved by creating such unsettling work. So long as I made you feel something, she said. Feeling uncomfortable is better than feeling nothing at all. I recalled this conversation many times while reading McBride's debut.
To say that I 'enjoyed' A Girl Is A Half-formed Thing would be lying. I thought it was a spectacular book, but it made me feel thoroughly horrible. McBride won the Goldsmiths Prize last week because, in the words of one of the judges, her debut is 'boldly original' and 'will stimulate a much wider debate about the novel.' It certainly encouraged me to contemplate the boundaries of traditional prose, and to reconsider the rules of grammar and punctuation. But the book's greatest feat is that it outstrips the intellect and becomes foremost visceral in effect, a matter of the stomach and soul instead.
***
Sara Baume is a writer, of sorts. Her reviews, interviews, articles and stories are published occasionally both online and in print.  She lives on the south coast of Ireland and can be found at www.sarabaume.wordpress.com