Family Romance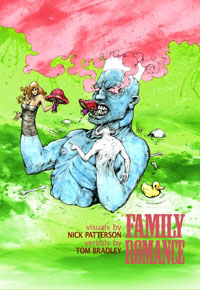 Family Romance
by Tom Bradley
Visuals by Nick Patterson
Jaded Ibis Press, Fall 2012
CYE JOHAN interviews TOM BRADLEY:
CJ: How did Family Romance get made?
TB: In just the opposite way from most illustrated novels. Nick Patterson's ninety pictures came first, and I wrote the novel around, between, underneath and through them. One day I came upon a great stack of his artwork, and was instantaneously locked in. Each image presented a climactic moment in a strange, unspoken, yet definite story.
Nick's drawings and paintings are like the hallucinations of epileptic mystics as preserved in icons and illuminated hagiographies. They rear up in the aether before your eyes, bristling their spikes of light, needing no context but themselves. Yet they insist that a whole chronicle be imaginatively filled in, to perform the impossible task of explaining how these bizarreries came to be juxtaposed.
CJ: One of Nick Patterson's online fans asked him how he came up with his stuff, and he replied, "I pay attention to random thoughts."
TB: A perfect motto for him. That single sentence gives a vivid glimpse into the head of such a visual artist. We all have dreams and daydreams that are so utterly without rational context that they vanish before we can recall anything but the most general outlines. Even those dissolve within seconds. Nick not only remembers all, but he draws it in meticulous detail. He gives a perfect anatomical rendering of something that never had anatomy in the first place, at least not on this plane of forms.