guide to starting your own private library and reading room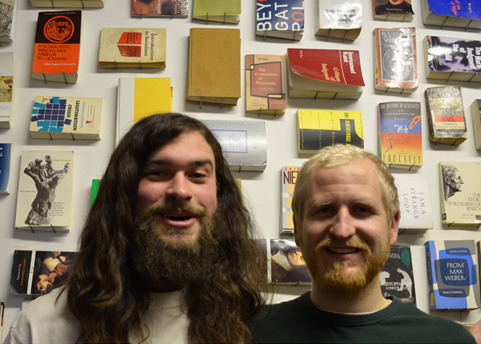 So in case you don't shake the rain out of your New York Times or anything, let me introduce Mellow Pages to you.
Mellow Pages is a sweet new community-sourced library, reading room, and gathering spot for readers/writers, started by two gnarly beardboys from the Pacific Northwest—Matt Nelson and Jacob Perkins, at left—in a chill and genius way.
You can find it on Tumblr and Facebook and Goodreads and Instagram. Mellow Pages lives on Bogart St. off the Morgan L stop in Brooklyn, NY, but that shouldn't stop you from letting its idea live everywhere.
Because what Jacob and Matt have done is written up a guide (Jacob writing, Matt editing) to making your own very 2013 library/reading room wherever you might live.
Ever since I heard about Mellow Pages, I've felt impressed not only by its duh-that's-a-great-idea quality, but also by how cleanly and smartly and warmly Matt and Jacob have executed their idea. They've provided a non-academic space where readers can stroll in and sample all that weird shit they read about on the internet in a tangible, welcoming, human, affordable way. A curated library and reading room offers a model that doesn't sub out public libraries or independent bookstores but instead supplements and supports them; the guide talks/thinks more about this relationship between bookstores/libraries/etc. What I want to say is that Mellow Pages' living room gallery/house show/come-one-come-all/zine culture vibe really appeals to me and feels consistent with what I think of as independent literature's better angels.
The walls of Mellow Pages are speckled with portrait-style books facing cover-out, all donated by patrons/presses/authors and handpicked for display; the atmosphere has nice couches and coffee; it's small enough that you can't be a timid shypants but cozy enough that you don't feel spooked. And it has an elegant Goodreads-based system for keeping track of what they have, what they want, and where all the donations have come from.
So of course when I asked Matt and Jacob if they felt like writing up a guide to "mellow paging," they were like: "We don't call it that because that sounds dumb, Mike, and actually, wouldn't you know it, we just wrote up a really comprehensive guide for our friends in Portland and our friends at  Paper Darts in Minneapolis." They are that on the ball, Matt and Jacob are. The ball is mossy and you can eat it for emergency lunch. So HTMLGIANT is very happy to share this guide with you on behalf of Mellow Pages. You can find it in full at this public Google Document: Where You Are Is Where This Library Goes.
I'm not joking when I say it's comprehensive. If you're feeling energetic and wishing your town had a Mellow Pages-style spot, and you feel like you could do it but you're not sure how, this guide will seriously put you in a well-what-are-you-waiting-for position. The guide covers space acquisition, funding, building/designing your library, dealing with the internet, acquiring books, checkout and membership models, sanity maintenance, events, and community interaction. Download this guide, print it out, get together with your friends, make shit happen.
—> Go to Google Docs for the FULL AND MOST READABLE AND CONSTANTLY UPDATED VERSION OF THE GUIDE
—> Below the jump you will find A SHORTENED HTMLGIANT EXCLUSIVE MAY 26th EDITION of the guide with a bunch of pictures I added from the Mellow Pages Facebook feed.
—> I repeat: FULL AND MOST READABLE/SHARABLE GUIDE ON GOOGLE DOCS /// FACEBOOK PICTURES AND HIGHLIGHTS BELOW THE JUMP