Jim Beam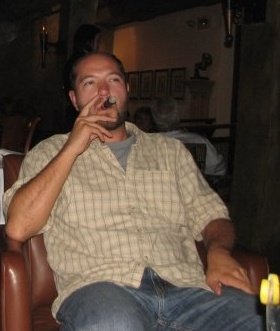 I first met Aaron Burch at AWP two years ago. I had read some issues of Hobart before and really liked the stuff he'd published, so it made sense to me that I should talk to him. I anxiously introduced myself to him at the Hobart table and babbled to him, asked him many questions about the journal, and felt very sweaty the whole time, especially after I ran out of things to say. I'm glad that he did not punch me in the mouth.
Not that he would have, for Aaron Burch is a kind and gentle human. He grows his beard and keeps it tidy. He smokes cigars and drinks whiskey. He publishes the fine literary periodical Hobart, and he administers the web version as well as the mini-books division.
Aaron Burch lives up north somewhere.
Aaron Burch also does some of his own writing. He is a fine fine writer. His work can be read both online and in print at various publications: Eyeshot, Pindeldyboz, Storyglossia, Phoebe, elimae, MonkeyBicycle, etc. He's currently reading/writing in the MFA program at the University of Illinois at Urbana-Champaign, where he also teaches composition.
I emailed him some questions when I was drunk. They seem 'aggressive' now that I'm looking at them again, so I have edited out some of the aggressiveness.
1. Lots of people shit on the MFA. You've decided to go for it at UIUC. Why? Tell us some pros and cons you've noticed about the program, if you can.