Johan Jonsson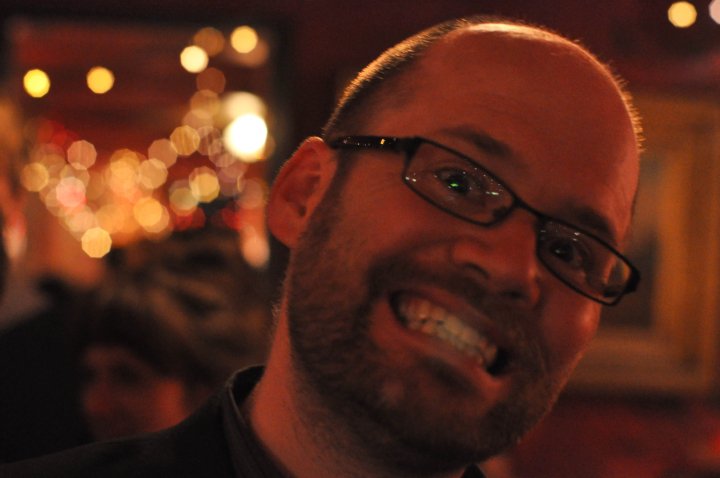 I can't say enough about how important the work of Johannes Göransson has been to me, both as a field of language and image, and as a person. Besides co-editing both Action Books and Action Yes, two places where you can always depend on reading work that is new, singular, challenging, and actually fun, he has published four full length books of his own work, including Dear Ra, A New Quarantine Will Take My Place, Pilot, and most recently Entrance to a colonial pageant in which we all begin to intricate from Tarpaulin Sky, as well as translations of important Swedish writers like Aase Berg and Johan Jönsson [if you haven't read his Swedish issue of Typo, holy shit], and wrangling of the insane machine that is the hybrid litblog Montevidayo. Not to mention being a teacher (which, when reading some of his students' work, and what mechanisms he gets out of them so early, equals a particular feat), a father, a husband, and a person. In no small words, a fucking force.
Over the past few weeks I exchanged emails with Johannes about all of the above and more.
* * *
BB: I remember reading pieces of the Pageant years ago I think under the name New Torture Operations, yeah? How did this project begin and manifest itself into the book it is, on an assemblage level?
JG: Yes, I think that was one early version of what became, among other things the pageant. It also became the second half of the performance piece The Widow Party and my novel Haute Surveillance (which is not published). Assemblages do play a big part in the way I compose these. In part they come out of a piece I wrote over a couple of years a few years ago, The Black Out Sessions or The Secessions (it has many names), and which I haven't and won't publish (well I did publish some of them before deciding that it wasn't the right thing to do), but from which I create various assemblages – such as in The New Torture Operations, The Widow Party and Pageant, all of which form assemblages between torture and fashion, the anorexic body and performance, atrocity and kitsch, colonialism and the nuclear family.
When I was working on these Black Out Sessions I was also studying Brazilian-Swedish artist-poet Oyvind Fahlstrom's work from the 1950s and 60s and he uses this funny pun – he doesn't make "collage," he says he makes "kalas," which is Swedish for "party". And the way this works out is that his artworks parties (though it's usually translated as "feast") on other works of art or texts. So there's a party on Mad Magazine, or a party on Burroughs etc. So the Black Out Sessions were parties on just about anything I could find. I was both very creative and totally unfocused so I decided this wasn't a finished text but something that I would party with/against/on with these other manuscripts. The Black Out texts became a kind of "party" energy which I used on other texts and subject matters to form assemblages. In the particular pieces that are in The New Torture Operations and pageant are parties on this 19th century antique textbook a student gave me years ago – what every student needs to know about the world. This includes chapters on astronomy, "The Vasty Deep," and "The Flowery Kingdom" (China). A lot of what a student needs to know, it turns out, is about the morality of various colonial ventures (Stanley and Livingston get their own full chapter). Interestingly my home country of Sweden gets I think one sentence in a paranthesis and it's something like "… (in difference to the Scandinavian countries, about which not much is known other than that they are the ugliest and least intelligent of people)."