John Gallaher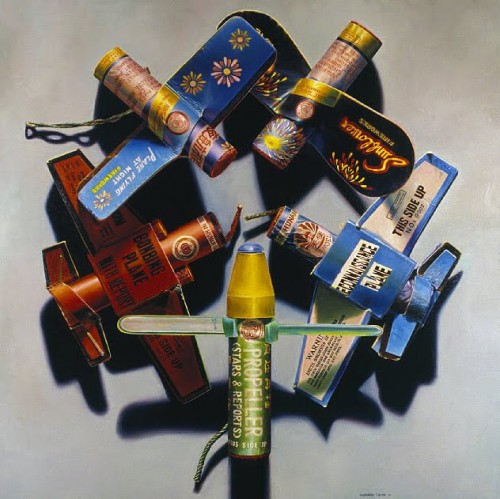 That's right–many things; one bunch of them.
Faster Times books editor and commenter-in-good-standing-here Lincoln Michel takes on David Shields's Reality Hunger over at The Rumpus. I have to say that Lincoln's review is thorough, even-handed and thought-provoking; but after reading it, I can't imagine anything I'm less interested in reading than this book. I say read Lincoln's piece and call it a day.
Julia Cohen went to a small press festival in Boulder, CO. Then she ate some crappy pizza from a place called Sexy Pizza. She also talks about the new issues of Horse Less Review and Ugly Duckling's 6×6. Plus, you know, other stuff–flowers, her brother, March.
Valleywag blows the pickles off the Cheezburger empire–sort of.
Also, Borders is firing lotsa people.
And what the hell has John Gallaher been talking about lately? Well, he likes the new Double Room, he's interested in the new Sawako Nakayasu book from Letter Machine, he says the Laurel Review is looking for reviewers, and he digs the paintings of Glennray Tutor (see above), whom you know as the guy whose works adorns several of Barry Hannah's Grove-Atlantic covers. Here's Tutor's site.
Stephen Burt reviews Mark Bibbins's The Dance of No Hard Feelings at Coldfront. He gives the book 8.5 out of 10 stars, and declares the poet "inescapably sexy"–this pretty much sums it up, but probably you should read the whole review.
Found this blog recently, via can't remember what. It showcases what purport to be genuine letters from notable cultural persons. They offer a copy of each letter as well as a typed transcription. Letters of Note.
Ever since Jeremy Schmall turned me on to John Gallaher's blog, my feelings about poetryland have been just a little bit brighter.
Last week I went to see Jonathan Lethem read from Chronic City at NYU. The reading was enjoyable, but the real standout for me was the Q&A, which I found especially powerful. JL talks with Darin Strauss about influence, composition, struggling to get that first book done, and the responsibility you feel to re-issued books that you write the introductions for. (Lethem recently prefaced Nathaniel West's Miss Lonelyhearts / Day of the Locust for New Directions; first time that book's ever had an introduction.) Anyway, while you're over at the NYU page, you might want to check out some of their other recent podcasts- Lydia Davis, Forrest Gander, Colum McCann with Padgett Powell, which in fact I'm going to enjoy with my breakfast right now. The main page for the series is here.
Last but hardly least, I'm going to make a semi-concerted effort from now on to illustrate these posts with the work of visual artists I admire, instead of just random shit I Googled for. So pleased for you to meet J.L. Schnabel, an old friend of mine and a fantastic artist and writer and jewelrymaker. She blogs here, and writes for the more-SFW-than-it-sounds art website Fecal Face. Her most recent piece is a studio visit with John John Jesse.