kiwi is exotic these days
1.
The end result, depending on where you stand in the ongoing debate about appropriation and erasure, is either inspired or provocative-to-the-point-of-insulting to the original (which, in this instance, is one of the most revered photography books of the 20th century).
14. Grab your Orlistat and breast tape, folks. xTx wants you to join the Super Model summer!  Submit, Beotch.
5. Talk about overdue for serious consideration. Anyone checked out the new Brautigan biography? Is this finally a real one?
7. John Lennon's most famous book is up for sale.
Lithographs of Lennon and Yoko, on Honeymoon, done and signed by Lennon, as you can see below: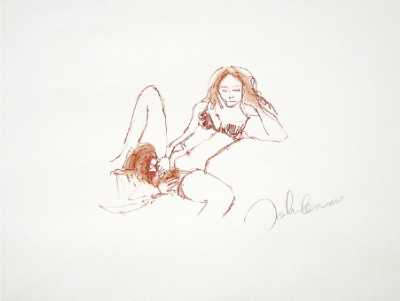 11. Yo, yo, any of you Midwest motherfuckers (or just visiting for the flatness and the mayonnaise?). Check this out. Need to find freedom in poetic restraint? Join Kathleen Rooney at the Midwest Writers Workshop.
12. At page 355 I just gave myself permission to stop reading Homicide by David Simon. Why do I keep buying books with a ton of positive Amazon reviews? Because I'm an idiot. What? Because I am an idiot. What? Oh, never mind.
13. You into food and poetry? Poetry about food? Go right ahead and submit:
13. Flashback Tom Bissell: Grand Theft Auto and cocaine. Sort of makes one want to play. Play.
4. Another link in "leaving Facebook" trend. I've thought of it many times myself. Who here hasn't?