lovecrat
I.
On this particular evening, the musician allows his fellow lodger in the house on Rue d'Auseil to listen to his feverish viol music. "It would be useless to describe the playing …. He was trying to make a noise; to ward something off or drown something out—what, I could not imagine," writes H.P. Lovecraft in "The Music of Erich Zann." The listener, a metaphysics student at an unnamed university, is an interloper, a voyeur who, on hearing Erich Zann fill his garret room with this crazed playing, hopes to peak into the source of the music's beauty, to penetrate some "far cosmos of the imagination." On this particular evening, the cosmos stabs back. Lovecraft describes Zann's playing, which grows "fantastic, delirious, and hysterical …. [l]ouder and louder, wilder and wilder," until other-worldly chaos and pandemonium explode into the house on Rue d'Auseil and the listener flees. It is a bit much.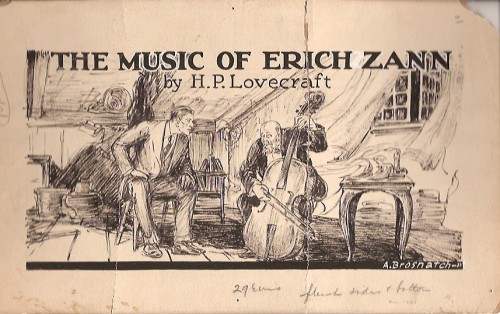 Howard Philips Lovecraft wrote "The Music of Erich Zann" in 1917. Over the next 20 years, he would go on to write his best known tales of horror and wonder, those involving Cthulhu, Nyarlathotep, and Azathoth, his mythos monsters, the Great Old Ones whose names you can't pronounce. The language in "Erich Zann" is toned-down, tolerable, a pale lilac compared to the rich purple of his later prose, where, as Michel Houellebecq writes, "the adjectives and adverbs pile upon one another to the point of exasperation, and he [Lovecraft] utters exclamations of pure delirium." Most readers would not consider anything by H.P. Lovecraft well-written in the traditional sense, and yet there is power in his work, a majestic and odd darkness that isn't matched by much else, an appeal to the unimaginable, our dread of looking into the night sky and hoping, only hoping, we're alone. Lovecraft's best sentences are always overwrought. There are excesses of bland fright words—"monstrous", "horrible", "grotesque"—mixed with archaic vocabulary, weird words that both in texture and meaning evoke the unusual, "eldritch", "rugose", "squamose"; there are extended hallucinations, delirious exclamations, and dream descriptions of nightmare cities, all of which are the antithesis of subtlety. All stylistic restraint has been set aside. Lovecraft eschews any kind of linguistic modesty so he can unleash his unmistakably curious vision of cosmic horror and god-things—this is the source of his style.
"HPL would probably have considered a story a failure, if in writing it he did not have a chance to go overboard once at least," Houellebecq writes in H.P. Lovecraft: Against the World, Against Life (published in France in 1991; translated into English by Dorna Khazeni and published by Believer Books in 2005). Houellebecq, a French novelist who writes about sex, brand names, technodystopian malaise, and ennui-ridden postmodern consciousness (very French, yes), sees Lovecraft as an American original whose uncompromising weirdness and "stylistic explosion[s]" lead to a unique body of work, the sole goal of which is to fascinate the reader. Houellebecq sets Lovecraft up against more mundane sci-fi and horror writers and against all realism. Lovecraft, Houellebecq argues, whose style is defined by precisely that which it's easiest to criticize, is interesting not in spite of his grandiose and ridiculous prose, but because of it.