Luis Chitarroni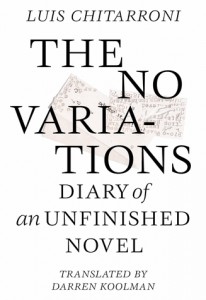 The No Variations: Diary of an Unfinished Novel
by Luis Chitarroni
Translated by Darren Koolman
Dalkey Archive Press, April 2013
220 pages / $15  Buy from Dalkey Archive or Amazon
An unsettling sensation welled up from time to time, as I ventured into and struggled through Luis Chitarroni's The No Variations, a novel disguised as the journal of an author working on a novel, a novel which, if completed, would have been disguised as a journal—a literary journal, to be precise. Somewhere, I fretted, in this dense and demanding assemblage of notes, narrative fragments, author biographies, etc., was a concise and scathingly satirical portrayal of this very review, which was then obviously unwritten. I had been reading too carelessly to notice it; somehow I'd forgotten where I saw it. How would I ever find it again? And there it would be for everyone to see, blatantly undermining everything I could possibly write.
This anxiety might be pre-coded into the flesh of the Argentine's first work to be translated into English. The persistent recurrence of an all-caps "NO," often interrupting passages, also seems to be aimed directly at the reader, abruptly ending, not only the contents of the book, but also the just-budding bits of response that might rise while the reader wades through the thick torrents. Fitting that the literary journal around which the unfinished novel swirls should be called Agraphia, named for a type of aphasia resulting in the incapacity to write. My first instinct was to submit for publication a diary of an unfinished review—how else to contain all the reasons to read, to read and—well, if you're lucky, not to write about, this fucking book.
Although Agraphia provides a kind of nexus for the text, the journal—like the novel, like the diary—never arrives at a full instantiation. Instead, Agraphia hovers like the memory of a dream emptied of any recollected content, evoking naught save the fact that something significant has been lost. Which is not to say that the book is about nothing, or even that its subject plays second fiddle to its form. Indeed the brash cacophony of narratives without beginnings or ends, names without characters, pseudonym's without names, antitheses without theses ultimately meld and form into a kind of formlessness perfectly suited to depict the "writers without stories"—a pejorative appellation applied to the exclusive, illusorily erudite clique comprising Agraphia's contributors and editors.
These "characters" are the real satirical targets of Chitarroni's prose: authors like Marina Ipoustedguy, in whose books there appear not "a word that couldn't have been dispensed with," or Remi Sabatani, whose final book is described as "a wondrous achievement of arrogant display and inanity." These are editors like Nicasio Urlihrt who would like to "transform this journal, which is a pandemonium of columns and pillars with no personality or style, into a paradise where calumny is warranted and pillory is praised."