magic for beginners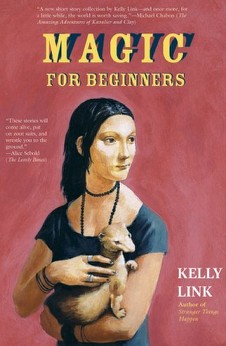 Kelly Link, in celebration of her new collection just released, PRETTY MONSTERS (of which I am stoked), has released to the reading public and online freakshow free digital copies of her incredible collection MAGIC FOR BEGINNERS.
MAGIC FOR BEGINNERS is one of my favorite story collections ever, so if you haven't read it yet, maybe this will give you the push. 'Stone Animals' is easily in my top 5 stories ever, for its weird magical listmaking and supreme creeps, but all of the stories in MFB are pretty damn fantastic.
The newer PRETTY MONSTERS book also has a website which makes me excited for the book. Here is what it is said to contain:
# A phone booth in Las Vegas
# Aliens
# Unhelpful wizards
# Possibly carnivorous sofas
# A handbag with a village inside it
# Tennessee Fainting Goats
# Dueling librarians
# A statue of George Washington
# A boy named Onion
# Pirates
# An undead babysitter
# A nationally-ranked soccer player
# Shapeshifters
# An unexpected campfire guest
Kelly Link can eat you. Read free then buy.