nouveau roman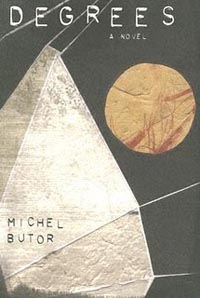 Degrees
by Michel Butor
Trans. Richard Howard
Originally published: Simon and Schuster, 1961
Reprint currently available from Dalkey Archive Press, 2005
351 pages / $13.95  Buy from Dalkey Archive
[Read Part 1 of this review here]
"I should like to be able to restore to your memory this moment, this hour which is already so far in the past for me that, despite the attention I was paying to you, to your whole class, I am capable of recovering with certainty which gestures you might have made, at which moments you were listening, at which you were distracted.
To help you realize what you yourself have been, in other words, where you come from, in other words where you are going—what is the vector of your present—I must already make a great imaginative effort of reconstruction, I must put myself in your place, try to see myself through your eyes and consequently let you speak, thereby destroying the equilibrium of this narrative."  (104) READ MORE >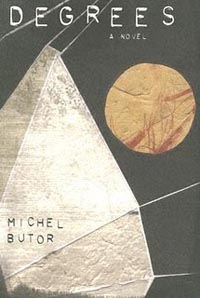 Degrees
by Michel Butor
Trans. Richard Howard
Originally published: Simon and Schuster, 1961
Reprint currently available from Dalkey Archive Press, 2005
351 pages / $13.95  Buy from Dalkey Archive
It is painful to report as much, especially here at the outset of this review, one of whose ostensible purposes is to attract readers to a classic of first-generation French postmodernism, a nouveau roman that was for many years unavailable in English and, even when it was, was not widely discussed. Yet it necessary to reveal that this is a novel [1] concerned with writers and writing. Its main character / protagonist / hero / narrator is a writer, and every dramatic action in the book both originates and terminates in "the literary." The aesthetic, social and moral quandaries all authors face are accorded some reflection in its pages, and, with the turn of each page, the novel grows in self-consciousness, as if such awareness-of-being-aware could accumulate in measurable deposits, like the nacre in a pearl. And make no mistake: objects matter in the world created by this novel. For this novel proposes to be a manuscript, and a rescued one at that; this manuscript's (re-)assembly in the form (one both ideal and literal) of a book is not just a plot point which the reader is asked to mark, a scope through which the reader is to track and focus the novel's action. The making of this particular book (that is, the manuscript "within" the novel) is something only we, as disinterested yet absorbed readers, can achieve. We aren't just reading pages, reading in the sense of digesting them. A page of this book, once read, is much like a page once it has been written upon. It grows in thickness under the influence of our attention, just as it must have swelled with ink and sweat and  the pressure of the author's hand as it was being composed. Each page thus acquires a distinct texture and profile, and can be stacked, will lay flat, but each page lends its own disarray to the sequence of pages being so collected. Each page will lay less "true" than it did when it was only blank, and the array of pages each reader puts aside (or places behind him/herself) rests disjointed and askew.