paperhero press
the new paperhero chapbook collective, foxforce 5 is available for preorder. shit looks yucky. finna pick it up when i go to ann arbor. it contains these works:
SUZANNE BURNS
THE WOMAN-WHO-WANTED-TO-BE-A-MAN MARRIED THE MAN-WHO-WANTED-TO-BE-A-WOMAN and OTHER PERFECT LOVE STORIES
ELIZABETH ELLEN
MOUTHFEEL
ANDREA KNEELAND
DAMAGE CONTROL
BRANDI WELLS
A PICTURE OF SOME CLOUDS
LYDIA COPELAND
HAIRCUT STORIES
COVER ART FROM:
CHRISTY CALL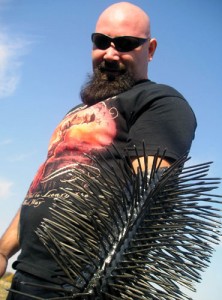 barry graham of paperhero press has grouped together
SUZANNE BURNS
ELIZABETH ELLEN
ANDREA KNEELAND
& CHELSEA MARTIN
in a chapbook collective and will be trading american dollars for their writing at a future point.
according to me, "barry graham looks like kerry king from slayer."
the book will have words in it.
and careful, because sources say "if you put this book in a fireplace, it will burn up and be gone".  word is, most of the writing was done on a computer.
says chelsea martin, "you made up this quote."
i will probably try to fool barry into giving me a copy for free.
i will say, "barry, baby, i work for the motherfucking internet giant now.  i own your ass."