selling out
(via Sampson Starkweather)
what is your definition of selling out in the context of writing?
also: watch this.
it's really funny.
I think these new rules should be enstated, on HTMLGiant if nowhere else. They both have to do with terms we use and how we use them.
THE FIRST.
From this day forward, if you want to use the term SELLING OUT, you must needs be able to identify
(a) what is being sold out,
(b) to whom it is being sold, and
(c) what you believe the sale garners the seller.
If you don't know all three of those things, or aren't prepared to defend your choices, then you should stop talking/typing right now. 
THE SECOND.
I think the terms "innovative" and "avant-garde" and "experimental" writing are often just code for one of two things. The first is  "non/anti-narrative"–which are both fine, if that's what you're into, but why not just say so? The other thing those words are often code for is "this bullshit I cranked out in 20 minutes and am going to start submitting as-is, and I guess one of these fourth-rate online lit journals is bound to pick it up." (I think a lot of writers today go through a phase where they do shit like this—it's a function of the age we live in, when submitting is usually one-click free, and every third person with a blog claims to be a "review" of some kind or other. The question is whether you grow out of it. And just to prove that this is the voice of bitter  experience speaking, rather than a claim for my own intrinsic betterness or intelligence, I invite you to go search for the stuff I published a few years ago in Mad Hatters Review. Just don't tell me about it after.)
Anyway, from now on, if you want to describe writing as:
"innovative" – I want you to be able to tell me in plain English what exactly is being innovated. It doesn't need to be an exhaustive critical essay. A simple, "I think this opens up the possibility of ____ and/or shows a new innovation in the field of _______ literature" will do fine. In college I took a literature course which examined Marilynne Robinson's innovative use of spaces–especially the domestic space–in her novel Housekeeping. My teacher also mentioned that the book actually includes a neologism- the word "lucifactions," used to describe light on water, in the scene where the girls are out on the lake. 
"experimental" – you should be able to describe the experiment. "I wrote this to see if I could fabricate the feeling of a Burroughs cut-up without writing a text and cutting it up, so I made up three storylines and forced myself to switch off between them mid-sentence, twice a paragraph." It also works when you're talking about somebody else's writing. "Dennis Cooper said that one of the 'rules' for his novel, Try was that there had to be action in every single moment of the book."
"avant-garde" – is a military term, which literally means "advance guard." As Donald Barthelme once pointed out, the function of an advance guard is to protect the middle. It would probably be useful, when thinking of things that are avant-garde, to think of them in this way. What body are they advancing out of? What middle is it that they (or you) are protecting?
I'm not saying every use of these terms has to come with an attached explanation. I'm just saying these are things you should think about when deciding whether—and how—to deploy them. If you were also capable of discussing your thought process in conversation, well that would just be jimmies on the sundae, wouldn't it?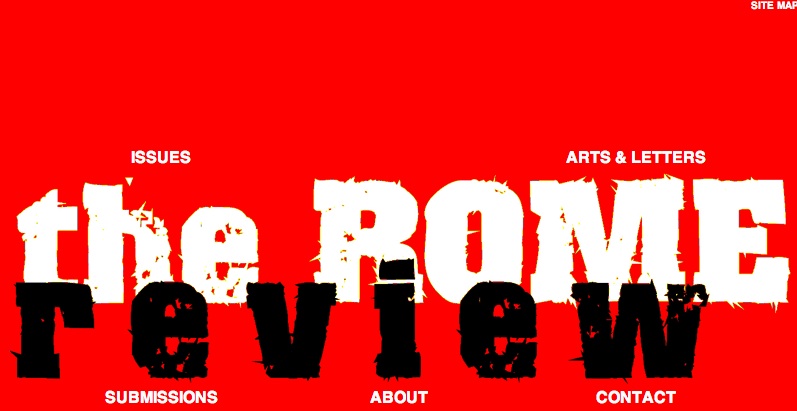 Via some other lit blog, I found this article, titled "Finding Tomorrow's Hemingway," about a new literary journal based at George Washington University. The new literary journal is called The Rome Review. Its founder, junior English major Tarek Al-Hariri, says, "It's like the New Yorker with 1/100th the circulation."
Other quotations from Al-Hariri include:
You can print today's Hemingway. That's not an accomplishment. We want to print tomorrow's Hemingway.
And:
We tend to not stick with a formalist writing style.
I first thought to post about this because Al-Hariri claims that The Rome Review is an "avant-garde publication." He wants to highlight "writers who use language in innovative ways." This sounded promising to me: an innovative journal based out of a university. The article even mentions Ninth Letter as one of Al-Hariri's influences. Exciting, right? But the first issue will include pieces by Junot Diaz and Seymour Hersh, which doesn't strike me as either 'avant-garde' or 'innovative.'
Sorry if I am, like Andrew Rigefsky, current editor-in-chief of the George Washington Review, a little skeptical. Rigefsky writes, in a letter to the editor, the following:
…it seems as though "Finding tomorrow's Hemingway" is an advertisement for al-Hariri, not his magazine.
Side note: I'd love to see a feud develop between those two journals.
I realize I'm criticizing a new literary 'venture' without having first read an issue, and for that I am sorry. And I'm all for new lit journals and stuff, but I feel like a lot of literary journals seek to publish innovative writing and then fall back on 'safe' and 'famous' names when they realize how hard it is to stay afloat. It's hard for a new journal to 'make it' without having some sort of claim to fame (balancing budgets requires seling issues, selling issues means building up some sort of audience, audiences tend to respond to big name authors), which is why so many solicit famous authors. I think I am trying to say something about intentions versus reality, but I'm not sure. 
Anyhow, I hope The Rome Review proves me wrong.
Here's the website. Submissions are now open. Send innovative work.
I don't know. What do people think?