tan lin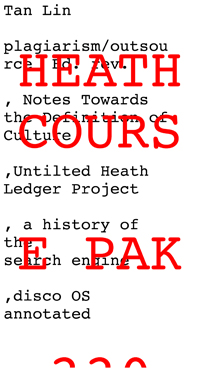 HEATH COURSE PAK
by Tan Lin
Counterpath Press, 2011
120 pages / $17.95  Buy from SPD or Amazon
In HEATH COURSE PAK Tan Lin continues his exploration of the ambient novel, focusing on the idea of how a book works and how a reader reacts to a book (literally a printed object) when its content bears no direct progression from A to B and instead offers tangential and obliquely-linked plagiarisms, outsourced ephemera, and meta-content.
Without a vague curiousity towards the book as an object, and how the book as an object works, there is little of interest here–this is a mass-produced artists' book, battling with the world of conceptualism, occasionally tittering into poetry via the banality of its content (this is not surprisingly as Lin himself 'began,' shall we say, as a slightly-more straight-forward poet). It's certainly interesting in theory, but in practice there's no way to avoid the fact that reading the book, in the way one reads a traditional novel, is boring.
But, perhaps that's a moot point. Lin's intent seems to be related to, as he explains in an interview both in the book and in interviews various places over the internet, an interest in developing an ambient novel, in the way that Eno accidentally created an entire genre of music by releasing Music for Airports (though this in itself is also an arguable point, it draws an interesting point of comparison– Eno's ambience still carried a significantly melodic mode, perhaps we could insist that 'melody' in music is 'narrative' in The Book–there is no melody in Tan Lin's work, unless we stretch the metaphor to extend towards serial music, perhaps we can find something).
The book is interesting in that it's specifically not interesting, it's successful because of the way it fails, it succeeds so adequetely at what it sets out to do that as a book it becomes a mere chore, an exercise. But the stamina required is beautiful, and Lin's trajectory through the world of literature, as an outlier questioning things completely different than anybody else, is entirely necessary.
Comments Off

on HEATH COURSE PAK by Tan Lin
October 9th, 2012 / 12:00 pm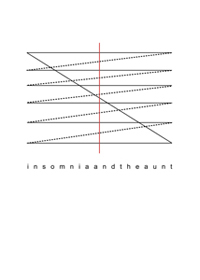 Insomnia and the Aunt
by Tan Lin
Kenning Editions, 2011
44 pages / $10  Buy from SPD / Amazon
It would be a mistake to state outright any kind of thumbs up or down regarding Insomnia and the Aunt because that would mean there's something there to judge, and while I'm not suggesting that the book is empty, I'm arguing that the book lives up to its promise billing itself as an "ambient novel." Both words in that phrase are tricky when dealing with a fifty page novella studded with postcard and TV photos and posed as a very hazy memoir mainly about the unnamed narrator's relationship to his aunt, though.  This titular aunt used to run a motel with her husband in rural Washington for an uncertain span of time across the final third of the 20th century and the first decade of the present one, information delivered to you sometimes in sometimes matter of fact announcement but sometimes in what could be called "ambient" fashion through slowly accruing tossed-off-seeming information. And "ambient" and "novel" normally sit askew from each other, which makes both terms problematic and the reading experience an uncertain one but in the case of the book ambient and novel work together in tandem, both forms present throughout.
These are some books I bought or otherwise acquired recently. A hill of words.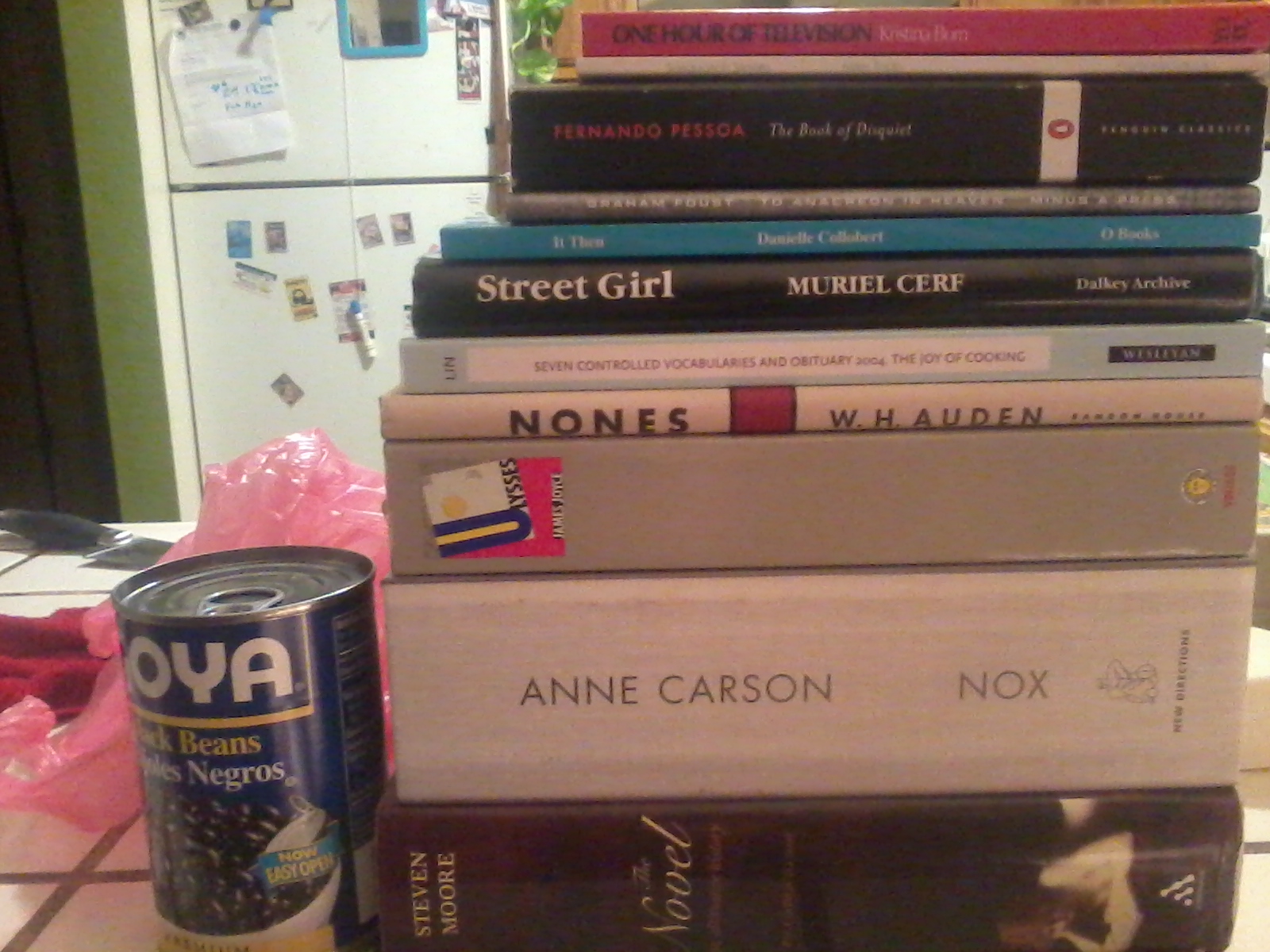 & that is a can of beans.
Ben Mirov
Ghost Machine
(not pictured)
Caketrain
Pittsburgh, PA — 2010
I read most of this book at the park that is in the book on a pretty much perfect day and it was a hell of a pairing I have to say. It has the kind of restraint my own work lacks a lot. Makes me jells but not bad way. Read the rest at my ex's apartment who is no longer my ex while she made me dinner, which I could not believe was happening and yet there it was happening. I often felt breathless and thought maybe that's not such a dumb name for a movie after all. READ MORE >
The above text comes from the front cover—which coincidentally serves as the backcover—of Tan Lin's Seven Controlled Vocabularies and Obituary 2004. The Joy of Cooking. The text is only half of the metadata supplied, an excerpt from the Library of Congress "tags" that establish the content of the book officially. Lin's book is a rhizome, a network, it is a book as a book, it is a book as a network as a book, it is a book as a book as a book.
Okay, let me start over. There are two ways one can approach Lin's book. Of course, there are actually an infinitude of entrances to Lin's book, but for the sake of this blog post, to ensure that it does come to an end, I will discuss two: the way I expected to enter the book and the way I actually entered the book.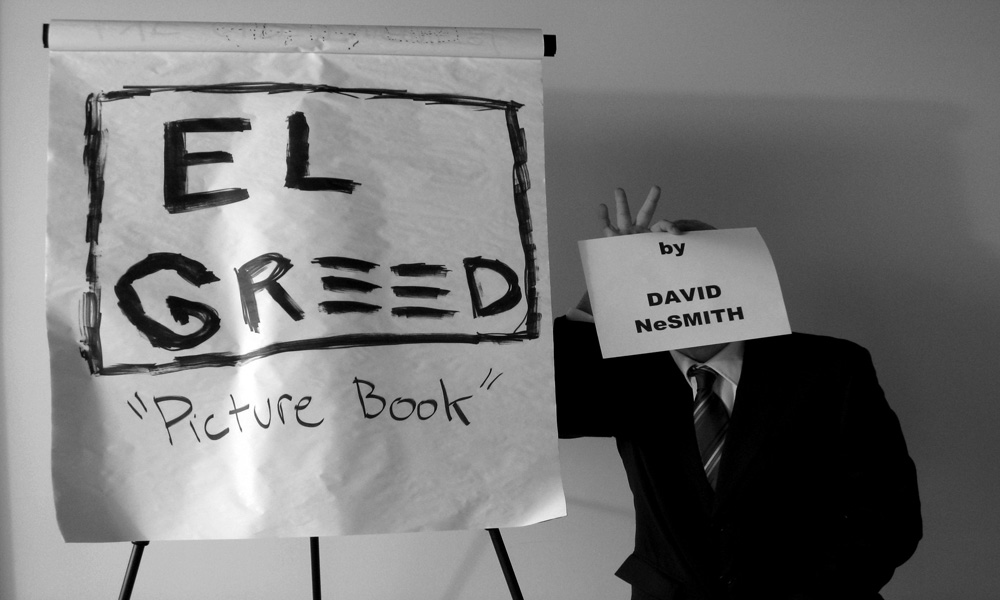 David NeSmith has epublished a new haiku thing, from his El Greed comics. He's taking comics and haiku off the page. He's putting wardrobes on the page. I don't know, you figure it out.
It's been up for a bit, but Maureen Thorson's review of Tan Lin's Seven Controlled Vocabularies and Obituary 2004. The Joy of Cooking (Airport Novel Musical Poem Painting Film Photo Hallucination Landscape) is so good that I read it and immediately bought the book. Now the book has arrived, and I'm trying to like it as much as I like the review. It's ambitious in its extratextuality. Its beautiful in its conception. But its wtf in its words. I don't know, you figure it out.
Gee whiz, here's an exhaustingive Bookslut interview with Dorothea Lasky.
Karen Lillis on working at St. Marks Bookshop.
Don't forget: Telephone Journal giveaway ends tomorrow. Leave a comment, win a book.