The Hour of the Star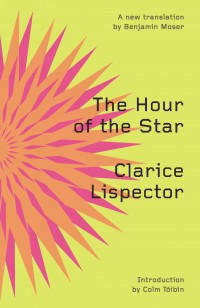 The Hour of the Star
by Clarice Lispector
New Directions, 2011
128 pages / $12.95 buy from Amazon
Rating: 7.1
The Hour of the Star is about a poor, unattractive Brazilian woman named Macabéa who seems unaware of the doom and misery which (according to the author) characterize her entire existence. Did Lispector know a woman like this? Was Lispector like this when she was young? Was she like this even until her death? Nobody knows. Even if you don't know anybody like this, you can imagine one, thanks to this book. The miracles of fiction. The glories of speculative mimesis.
Is it conceivable that the thoughts of readers will lead them toward sympathy for women in unenviable circumstances? Yes. Is it conceivable that the thoughts of readers will be unaltered and the book will act more as an acknowledgment of extant attitudes rather than a catalyst for new attitudes? Yes. Is it possible to know which is more likely? I don't know. Consult the afterword. Compose a letter to the publisher in which you refer to the afterword.
The style will not appear new unless you haven't read much 20th century literary fiction. Meta-flowage, what-have-you. It is easy to read, unlike some meta-flow-ers. Not that style matters. Style doesn't matter, because it is indistinguishable from anything else. One can only distinguish things because they have been styled in a distinguishable manner. Therefore, when we talk about style, we only talk about the thing which is styled and nothing else. "Style" therefore might as well be just another word for "thing." The atoms are gathering themselves back together again and before you know it, we'll all be psychic skateboarders on mysterious Egyptian vert ramps. Lispector won't be there. Macabéa might be though.