the impossible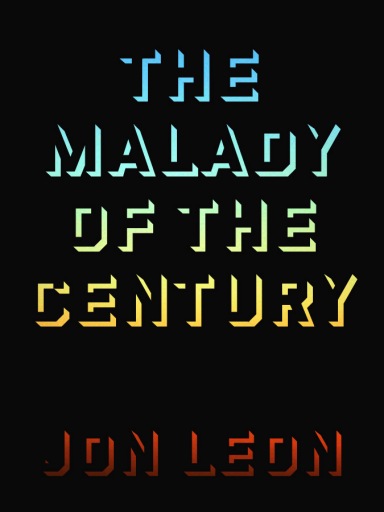 THE MALADY OF THE CENTURY
By Jon Leon
Futurepoem Books, May 2012
88 Pages / $16.00 Buy from SPD
In consideration of the work of Jon Leon, it is necessary to consider Jon Leon, the poet, simultaneously as an apostle and a construction. Anna Kaven (nee Helen Emily Woods) ended up, at a particular point in her career as a novelist, changing her name from that which she was born with to a name she had invented for a character in one her own books—Jon Leon has always simply insisted on living as a character in his work, as the character in his works.
His poetry.
There is a level of both the inter-textual and the extra-textual interaction present throughout his entire oeuvré; something that becomes apparent throughout his career. As Dan Hoy points out in his case-study of Leon, there's a particular overlap of reality with a poetic construction of reality:
"We mixed agitprop, erotic dance, and horror to construct a total environment of focused bliss." Jon Leon, Hit Wave

I'll risk substituting tropes here and suggest the above sentence from Jon Leon's Hit Wave could be taken somewhat literally as a nod to his overall objective (construct a total environment of focused bliss = enable and induce the experience of the impossible) and strategy (mixing agitprop, erotic dance, and horror = forming a triangulation of world, life, and nothingness).
STEP TWO ON A SERIES OF POSTS DEVELOPING A THEORETICAL-FICTION TOWARDS WHAT I WILL COIN A 'RECKLESS UTOPIANISM'
httpv://www.youtube.com/watch?v=lQ3SVpE9LTQ
On Friday night I read Dan Hoy's post over at Montevidayo entitled THE PIN-UP STAKES: Poetry & The Marketing of Poetry. Approximately 2 hours later I was wasted in a bar across the street from my apartment, yelling at my roommate (who doesn't really read poetry) that it was the best thing ever, insisting that she read it on her smart phone. About two hours after that I tweeted the phrase "If you take the lyrics to pop musick seriously they become the map of utopian society" (the "k" at the end of "musick" is my own superfluous nomenclature that surfaces mostly while "under the influence," tying music to "magick" of course).
What was in my head, still, other than Hoy's essay itself, was the video above, and more particularly, the song within the video.
httpv://www.youtube.com/watch?v=bw2o_Go4QWI