Tweaky Village
YOU MUST CONTINUE AT ALL COSTS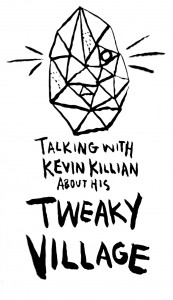 Kevin Killian is a prolific novelist, poet, playwright, photographer, and Amazon-reviewer known as one of the original New Narrative writers. He's also the author of the new poetry collection TWEAKY VILLAGE from WONDER, 2014. It's a wild and ranging collection of poems/narratives that deal with the author's response to free-market capitalism, the constraints of the English language, the repetitious nature of porn, and much more.
I first met Kevin whilst TAing for Dodie Bellamy's infamous "Writing on the Body" class at San Francisco State University. Kevin Killian taught (and still does) at California College of the Arts. One day Dodie was absent and her partner, Kevin, arrived as the substitute teacher. (What a pleasant surprise!) We performed one of his plays featuring Kylie Minogue and a host of 90's celebs, unpacked some abject bodily poems, and left with our minds forever altered. I remember Kevin engaging a student who had very conservative/fundamentalist views about sex and drugs. Kevin kindly and patiently explained that sometimes you need those kind of experiences to figure out what kind of life you want to have. Here Kevin discusses making up for lost time, neoliberalism, genre collapse, loving Arthur Russell, San Francisco's shifting economic landscape, Santa Claus as Bill Clinton, his photo project "Tagged," and on and on and onward.
***
Matt L. Rohrer: Hi Kevin! Thanks for doing this interview! I LOVE TWEAKY VILLAGE Could you tell a bit of the story behind this book? What was going on in San Francisco, in your life, in the world that spawned these poems?
Kevin Killian: Thank you Matt. I suppose it is a book of defeat really.  Just as while writing ARGENTO SERIES I came to realize how little I had done to stop the march of AIDS, TWEAKY VILLAGE is me wrestling with how little I did to combat neoliberalism, which manifests itself visually every time I walk out my door and see the new, hyperwired global capital that is San Francisco today.  Another thing that happened is that I began teaching and thus mixing with younger people and the contradictions of their beauty (or youth, which is the same thing), and the shrinking possibilities our world, our country holds out to them makes me feel implicated in the very system I detest.