Ryan Call
Stephanie Johnson Reads Online at Keyhole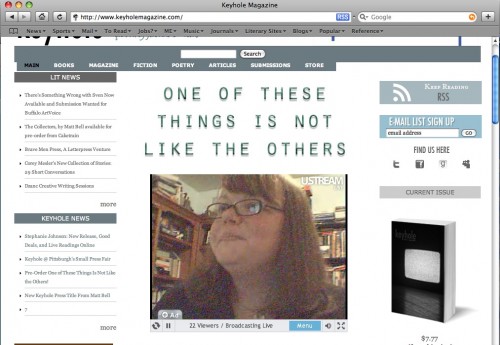 Just caught the last few minutes of Stephanie Johnson's live web-reading over at Keyhole to promote her book One Of These Things Is Not Like The Others and general good-feeling web-literature emotions. Great stuff; I enjoyed it a lot. She read two pieces (one was the title piece of the collection).
Stephanie will read again tomorrow at 8pm CST and Thursday at 8pm CST. To watch live, access Keyhole's website or go to the UStream link. It's pretty simple to figure out; I didn't have any trouble.
You can also chat with Stephanie after the reading, though you may have to do it through a UStream account.
You can watch an archived version of tonight's reading here.
Tags: keyhole press, Stephanie Johnson
6 Comments