Catherine Lacey
Vicarious MFA: Home stretch
Informal survey: Are writers with MFA's the only writers who give a damn what people in other MFA programs are reading? If so, thanks to all you non/anti-MFA HTML giant readers who put up with the all this MFA chatter. Here is your last dose of Vicarious MFA hoo-hah.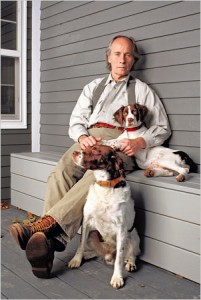 + Surprise guest class with Richard Ford!
Before the class, everyone who signed up for it read Indian Uprising by Donald Barthelme, Louis Menand's New Yorker article about Barthelme , and an interview with Umberto Eco. Richard Ford talked about Barthelme for a little while and we asked him a lot of questions about his writing process, philosophy and ideas about the collage element that is innate in all forms/types of writing. He brought his "notebook" to class, which, in fact, was not a notebook at all. It was a huge, purple, three-ring binder in which he collects quotes, thoughts, facts, research, etc for whatever novel he's working on at the time. He told us about how he's dyslexic and how that effects his writing. At one point Ford said, "Rick Moody, who I deeply disrespect, once said something about how there are only two kinds of writers: writers like Hemingway and writers like Beckett. I disagree with that… It's too narrow a perspective on what a writer can be…Writing is supposed to broaden your world, open things up… Rick is probably a nice boy, he just says silly things." I got to chat with Ford for a moment afterwards, just to say thanks and hello. I was excited about this because we are both from Mississippi and we've both lived in New Orleans, which is the nearest refuge for people born in Mississippi. We talked about New Orleans for a minute, how easy it is to get nostalgic about New Orleans and how we both want to buy houses there.
More Highlights:
+Amy Benson made strawberry-rhubarb pound cake for our last meeting of Non/Fiction. I turned in a monster crazy-weird essay that I will be excited to get her feedback on.
+Last workshop is kicked off with a few bottles of champagne, which went straight to everyones' heads, loosening a hysteria of honesty. It was a good group, but I will be happy not to have to read anyone else's first drafts for a while.
Tags: Richard Ford, rick moody
70 Comments