Ryan Call
Classic Word Spaces (3): Maxim Gorky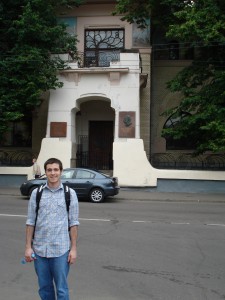 One of the writers' houses/flats that I visited in Russia was that of Maxim Gorky, born Alexei Maximovich Peshkov (b. 1868), who would later become a significant influence upon Soviet Russian literature and socialist realism. I had not read any of Gorky's writing before visiting his house; however, I had become familiar with his name in the other books I had read before the trip. I recall reading, for example, that Gorky had intervened on Yevgeny Zamyatin's behalf, convincing Stalin to allow Zamyatin to leave Russia after the publication of We, which saved his life. Ronald Wilks, the translator of my edition of Gorky's book My Childhood, writes in the introduction: "As a close friend of Stalin, he had immense influence on the progress of literature and arts in Soviet Russia and there is no doubt that he was the driving force behind the creation of a modern Soviet literature." Gorky's house, then, to me, was an important landmark, and I'm thankful that my wife's family tolerated my insisting we visit the place.
A quick bit about Gorky, which I've picked up from Wikipedia, Wilks' introduction to My Childhood, and what I remember of the house tour: Gorky was orphaned at a very early age, after which he lived with his grandparents (I hope to read My Childhood soon and will post in depth about it). His grandfather was a 'deviant' and forced Gorky to leave the house at like age nine or something. Gorky fended for himself, working odd jobs and so on, and began writing, took up his new name, Gorky, which translates to mean 'bitter' in English, and began placing stories in newspapers. Along the way, he became active in the Russian revolutionary movements of the early twentieth century. But the savagery of the movements, especially post-WWI, discouraged him and he settled in Capri, Italy to escape the Bolsheviks. It was only after his own financial ruin that he returned to Russia in late 1920s/early 1930s to serve Stalin (and regain his own financial stability). Stalin provided for him a house (an art noveau mansion designed and built by Fyodor Shekhtel in the Moscow arts district), awarded him the Order of Lenin, renamed a Moscow street after him, and promised him a steady income. In return, Gorky monitored the Soviet arts scene and wrote treatises in favor of Soviet policy. He died under mysterious circumstances in 1936 while in the hospital for treatment of his pneumonia; supposedly, our guide told us, a nurse and her child died after taking home a box of chocolates meant for Gorky. If the chocolates didn't work, whoever wanted him dead may have found another method. I don't know how true that is; I'm just repeating what our guide said.
Please be aware that I have glossed over quite a bit of Gorky's life here.
Okay, so, the house itself. As previously stated, it was built in the art nouveau style with an under-sea theme. The iron fences around the yard and garden appear to be the waves of the ocean, the parquet wood floor mimics the flooded interior of a ship's cabin, and the impressive staircase seems to be an enormous waterfall; a jellyfish lamp stands at the end of the banister (see below).
The first room we visited was Gorky's secretary's room and office. In a bookshelf on the wall were numerous journals Gorky edited, farming journals and other Soviet trade magazines. On the desk in the middle of the room was a phone that, presumably, could directly connect him to Stalin. I'm sorry I don't have any solid pictures of the study or much else; if we wanted to take pictures, we had to pay another 100 roubles ($3), which I stupidly did not do because I thought I'd find plenty of pictures online. Ugh.
The second room was the library. Our guide told us that Gorky often loved to give to his visitors gifts from his own library, the full shelves of which lined three walls of the room (the fourth wall was devoted to the ornate windows of the house). Gorky would often talk with his visitor until he could get a sense of the visitor's interests before scanning the shelves for a book that he thought might please his visitor (so said our guide).
On our way up the flowing staircase, we walked past a small landing, accessible by a 'secret passageway.' Our guide told us that upon renovation of the mansion to make the museum, officials had discovered microphones in the walls. You can see the landing in the above picture of the jellyfish (up in the left corner).
On the second floor was a room devoted to portraits and sketches of Gorky, manuscripts of his work, and other papers. Exhibited in the room was a manuscript on which Stalin had written, "This piece is stronger than Goethe's Faust (love defeats death)." Below is one of the pictures that I saw in the mansion. I believe the original is what I saw. It's a wonderful picture.
Additionally, Maxim Gorky was honored by having the largest bomber at the time, the ANT-20, named after him. The painting, Maxim Gorky ANT-20 by V.V. Kuptsov, currently hangs in the Russian Museum in St. Petersburg. It is a beautiful painting (I stared it at for some time), and probably a great example of socialist realism from the Soviet era (I think).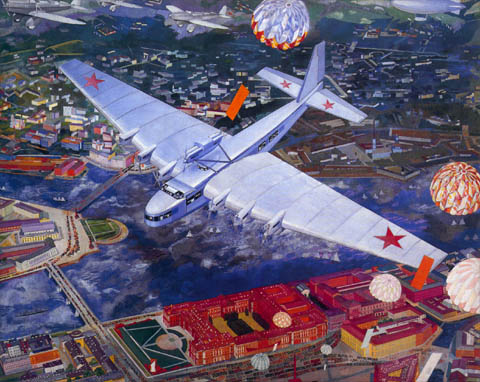 I realize now that this Word Space has sort of descended into chaos. Again my apologies for not having enough pictures of the interior of Gorky's house. If I go back to Russia ever, I will not be fooled and will take many more pictures.
Look out for more Russian posts in the future: I should soon have a bit on Ivan Goncharov's moving novel Oblomov, Maxim Gorky's My Childhood, and a few more Word Spaces features on Tolstoy's Moscow house, the St. Petersburg flat in which Dostoevsky wrote The Brothers Karamozov (and died), and Nabokov's childhood mansion on Morskaya Street in St. Petersburg.
And, as usual, if someone has corrections or more information/pictures, let me know.
Tags: Maxim Gorky
20 Comments