Ryan Call
Classic Word Spaces (5): Vladimir Nabokov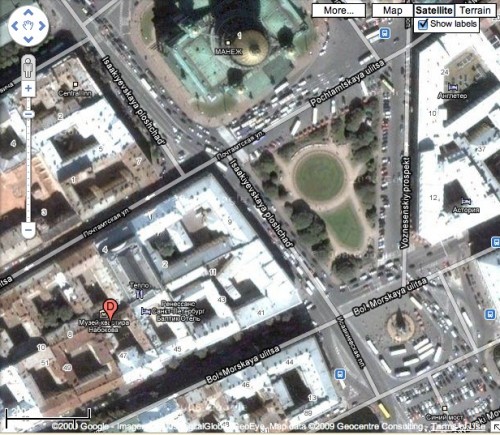 On the last morning of my summer stay in St. Petersburg, I briefly left my wife and her family to walk to 47 Bol'shaya Morskaya, the childhood home of Vladimir Nabokov. The building, originally the mansion of the Nabokov family, houses on its first floor a museum, which I entered and was allowed to tour on my own for 100 roubles
To celebrate the publication of The Original of Laura, I'd like to post an illustrated account of my visit to the Nabokov Museum. I stupidly did not pay the extra 100 roubles to take photographs, so what follows are pictures I have lifted from around the web, sorry. I've also tried to explain, as best I can, what I learned of Nabokov's life in this house – I consulted the museum website and Wikipedia when my memory failed me. I hope you enjoy, and please, if you have corrections/additions/Nabokov stories, share in the comments.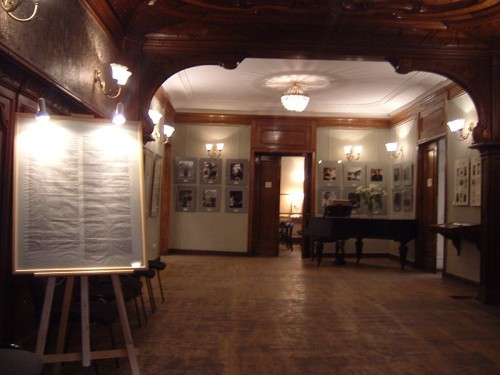 This is the entry to the museum. This is basically how the museum looked when I visited, though the door to the right of the piano was closed so that they could renovate the room — I believe it was a sitting room? The door directly straight ahead is a library/study area that the museum uses to host readings and conferences.
Here is the North end of the library/study. The bookshelf left of the door is full of first editions of Nabokov's books.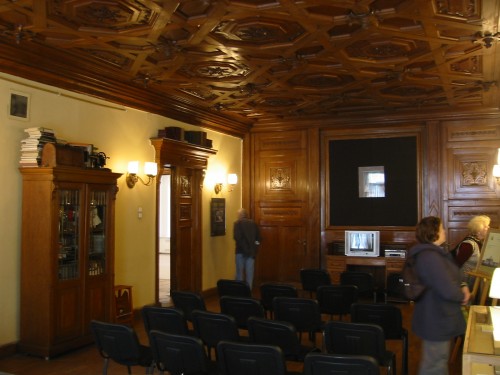 And here is the South end (sorry for the pixellation).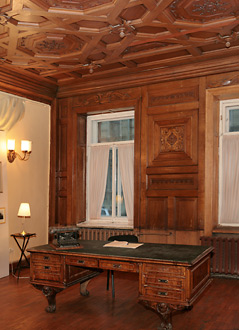 Now please go back to the first picture of the entrance to the museum. The door to the far left of the piano is an art gallery; the museum regularly hosts shows in that space. There is a door to the immediate right of this picture that you cannot see, which opens to what was an old dining room, I think. The photographs around the piano are all of Nabokov and his wife, Vera, at various stages of their lives.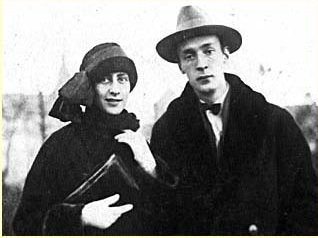 And many of the photographs are of Nabokov and his butterfly net.
Here are some basic notes about the house that I pulled from the museum website: Nabokov, the first of five children, and his family lived in this house — his parents moved into it in 1897 — until 1917, at which time they fled to the Crimea and then to England in 1919. Nabokov's father, Vladimir Dmitrievich Nabokov, was politically active in St. Petersburg and a leader of the Constitutional Democratic Party. He and other representatives signed the Vyborg Resolution in 1906 after Tsar Nicholas II unexpectedly dissolved the Duma (sort of like a congress?); the resolution called on citizens to resist the government. He was imprisoned for three months and barred from politics; however he continued to work politically through his editorship at Rech, a daily in St. Petersburg. As a result of the family's stature in St. Petersburg, this house hosted many political gatherings, literary and arts gatherings, and a library of 11,000 books. In this house, Nabokov studied under a series of governesses and tutors. In this house, Nabokov wrote his first book of poetry, which was published in 1916. And, unfortunately, due to the revolution, the family left Russia in 1917. Nabokov was 18 years old.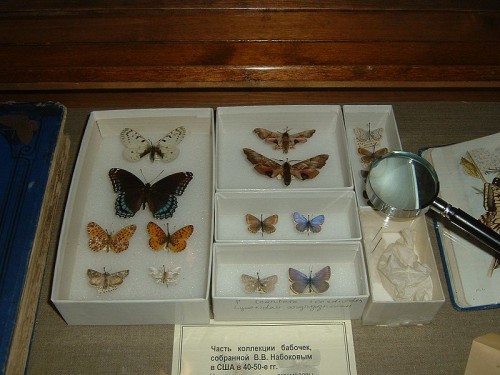 Above are some butterflies from Nabokov's collection. I was surprised they had lasted so long. The colors of many were still vibrant; they were pleasant to look at.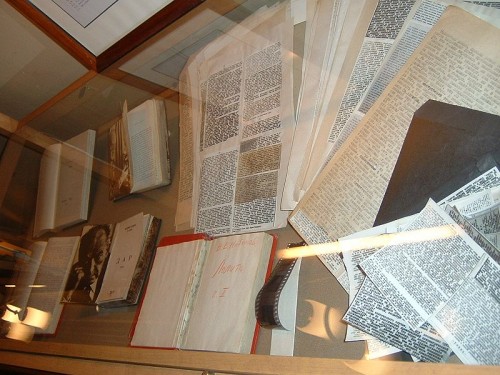 Above are some samizdat editions of Nabokov's writing. The ingenuity of those who distributed these texts was pretty amazing. A lot of them were photocopied and pasted into other books, or bound by hand under original cover art. Others were simple photocopies. If anyone would like to read an essay on samizdat, email me and I can pdf you one. It's called "The Material Existence of Soviet Samizdat" by Ann Komaromi and it appeared in The Slavic Review (Autumn 2004). It's pretty interesting to see how much effort was put into these sorts of underground publications.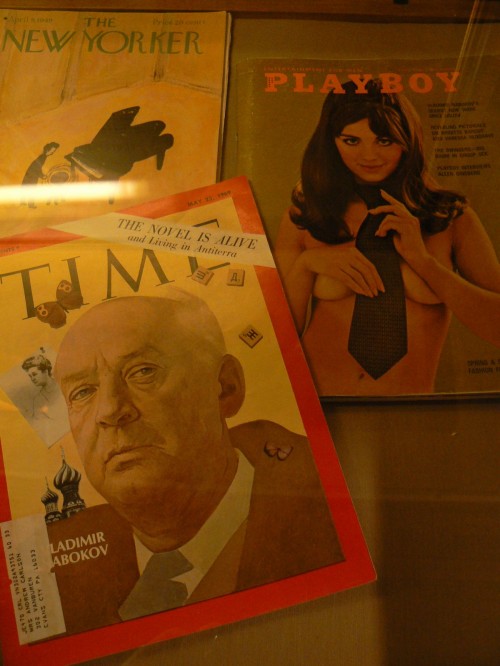 An interesting contrast to the samizdat editions of Nabokov's work are these examples of Nabokov's reception in the United States: Time, The New Yorker, Playboy. I think Playboy recently published an excerpt from The Original of Laura.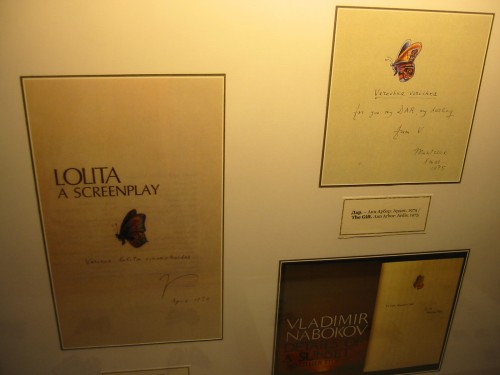 I don't know much about this screenplay. Was it used by Kubrick? For some reason, I doubt it; I feel like Kubrick really liked to write his own screenplays. But then again, I could be wrong. Anyone?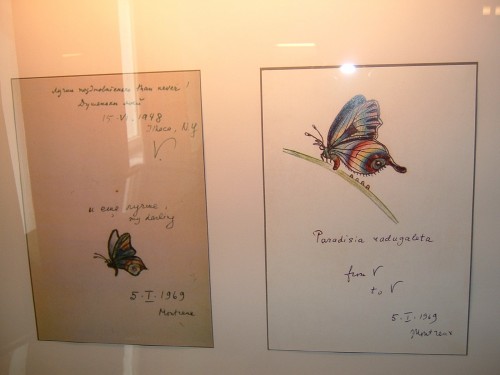 These are illustrations of butterflies that Nabokov drew. I can't read the inscription on the left, but the one on the right says: 'from V to V,' his wife.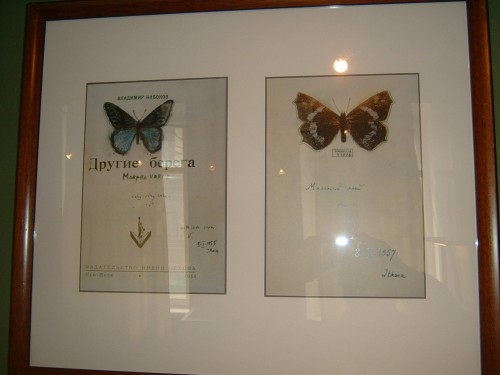 I don't know what this picture is of. The one on the left looks like a book cover, but I can't remember, sorry.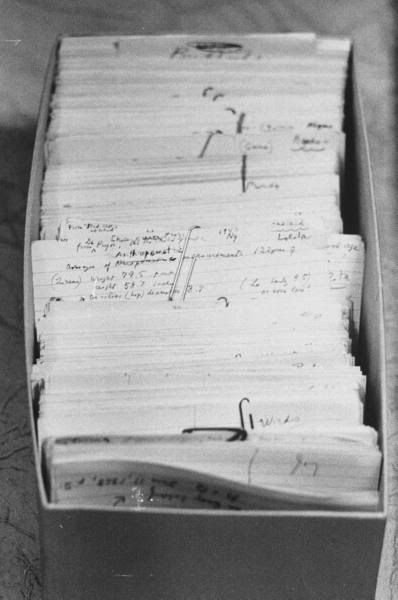 This picture is not from the museum; it is from TIME's photograph archives. However, in the museum, there was a case that held a stack of note cards in a box similar to the above. I stared at it for a really really long time.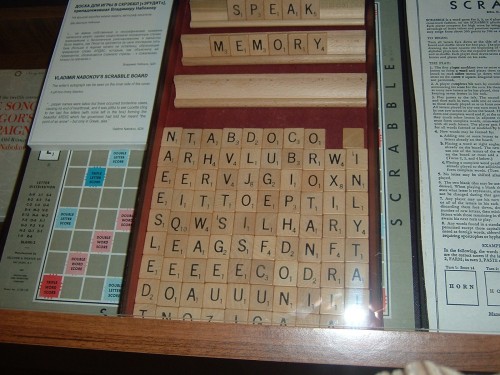 This is Nabokov's Scrabble game set. Enough said.
So that's all to this post; I couldn't find any more pictures. You'll have to fly to St. Petersburg to see the rest of it; if you do ever visit the city, you should contact writer Olga Zilberbourg. She splits her time between San Francisco and St. Petersburg.
I should say, though, that I really enjoyed visiting this literary museum, despite its being the smallest of the ones I saw while in Russia (Tolstoy, Gorky, Dosteovsky, about which I will post soon, hopefully). I had not previously known much about Nabokov's place in Russian history, I mean, how close he was to all of it, and so to see evidence of that was fascinating. This was the last thing I experienced in Russia before I left. I remember dawdling about in the museum, reading everything very carefully, and looking through it all twice just because I didn't want to leave. I think Nabokov's story, the little I know of it anyhow, gave me a tiny connection back home, and that was comforting to me.
Finally, here are some Nabokov links for you:
The original The Original of Laura note cards to be auctioned off December 4th.
92Y is having a party tonight in honor of Nabokov, and it will be webcast live.
Classic Nabokov interview in The Paris Review (pdf).
Audio of Nabokov reading in 1964.
Tags: The Original of Laura, vladimir nabokov
21 Comments