Ryan Call
Word Spaces (10): James Scott
I met James Scott at Sewanee last summer. He was my suitemate. He is from Boston, but I don't hold that against him; one of the first things he told me was a story about how he had gotten into a bar fight a few weeks earlier. This frightened me. Our rooms shared a bathroom, so I was careful to lock my door that night.
James Scott is a former fiction editor of Redivider, leads workshops at Grub Street, and has stories published in American Short Fiction, One Story, Saint Ann's Review, online at Lost Magazine, Flatmancrooked, and other places too.
The following is his Word Space with text and photos.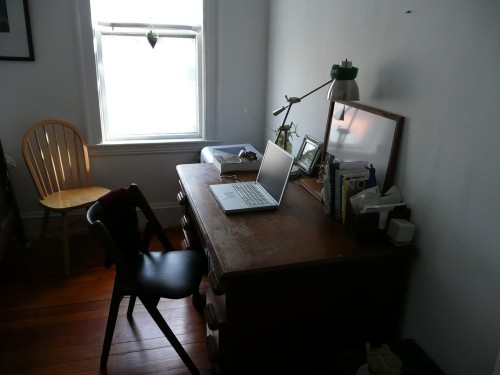 This is the room where I do most of my work. It's been a difficult adjustment. When I first moved in, I was in another room that was too loud and too television-y. This is my fourth place in four years, and it's kind of exhausting setting up and getting comfortable when it seems like the very next day it's time to move out.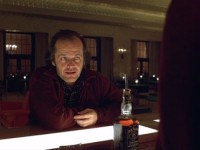 Lately it's been working out okay, although in this photo it looks a little like it's from a Stanley Kubrick movie.
I love my desk. I liberated it from the basement of a local college. One of the drawers is broken and won't open, but you can access it if you pull out the drawer above it. Kind of like a very low-budget Narnia. Only my hand can visit. But it comes back with the most wonderful tales. I am pretty convinced this desk is magic, because every door I've ever had to move it through has not been very accepting, but somehow, it always manages to fit. Now it won't fit into my next place. Shouldn't have said that.
I tend to rotate the pictures on my dry erase board, but right now they are of the Frost Farm and Cabin, which my alma mater is preserving; the statue of the bear outside the Ogonquit Museum of Art; and my grandparents opening presents.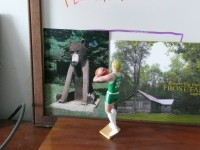 Sometimes, the bear plays basketball with Larry Bird. The bear often commits frustration fouls. I almost always have a picture of Bread Loaf or Sewanee (or both) up; they've meant a lot to me, and it makes me feel like I'm doing the right things to get back. It also makes me feel like swimming.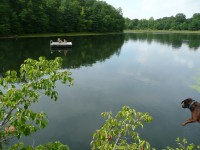 I usually keep my queue of books to read on my desk. Right now it's Paul Yoon's excellent Once the Shore, Kevin Wilson's brilliant Tunneling to the Center of the Earth, J. Robert Lennon's Castle, Adam Braver's November 22, 1963, and Michael Dahlie's A Gentleman's Guide to Graceful Living.  I must admit to sneaking a peak at the collections while I am still in the middle of a novel, which is why I can lend adjectives to them.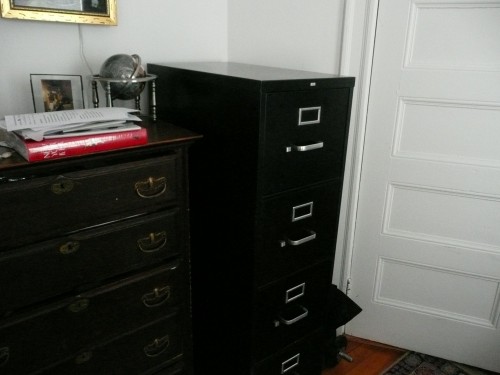 My filing cabinet is the newest addition. I love it, but I haven't gotten totally organized in there yet. This my old filing cabinet.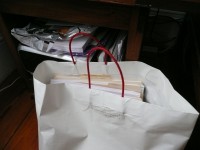 My next wish is a new desk chair. My current chair is giving me terrible posture. Feel free to send me one! 
That other chair is where my fan sits. I used to charge for season tickets, but now I charge night-by-night. Last night I was writing a new story, and the fan was getting restless, until I came up with a great metaphor that really made the story. I'm hoping to keep attendance at capacity (one) despite the economy.   
But late at night, I often work in here. I like being surrounded by books.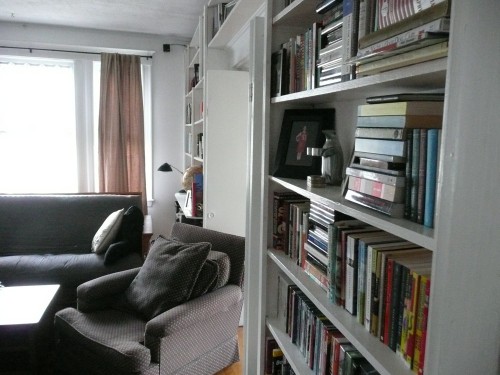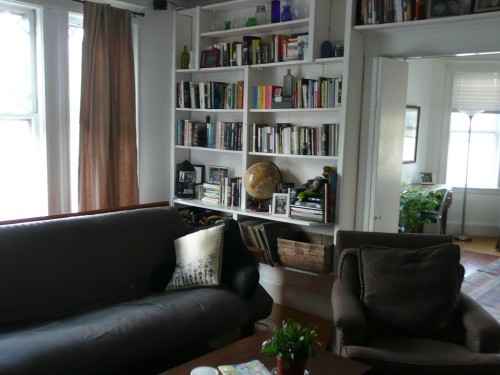 Thanks to James Scott for sharing, and thanks everyone for reading. Feel free to email us with suggestions for future Word Spaces features. I've been pursuing a few authors, but don't have things yet organized due to recent busyness problems.
***UPDATED to say that next week's Word Spaces will feature Lily Hoang and that I've linked to two of James Scott's online stories in the first paragraph.
Tags: James Scott
9 Comments