Ryan Call
Word Spaces (12): Amelia Gray
Amelia Gray is the author of AM/PM (featherproof) and Museum of the Weird (forthcoming from FC2). She recently won the FC2 Fiction Prize. I've linked to a page on her website that lists many publications online that you may read over. Also, here's an audio recording of Amelia's reading from AM/PM in Tucson for a reading thing at Congress, I think.
Various information about her and her work can be read here:
AM/PM reviewed at Literary License
Amelia Gray's favorite novellas
Below is her word space. Enjoy.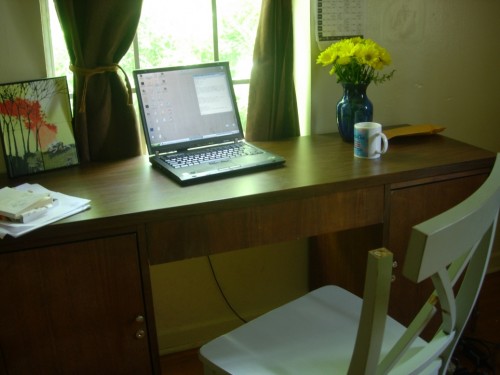 My desk is actually a credenza, given to me by some friends who couldn't fit it into their new place. I never got into those lightweight Ikea desks that break apart when you try to move them anywhere. In college I had a desk made of solid oak from an office sale of the First National Bank of Wichita in 1951. It was so heavy, it nearly killed the guys who tried to move it out down a flight of stairs.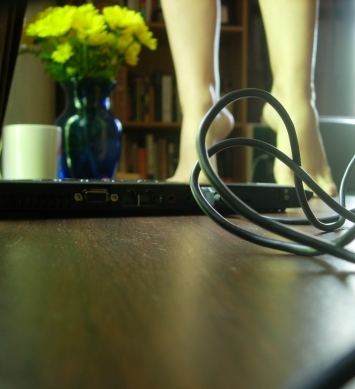 You wouldn't know at first glance but my credenza desk is the heaviest piece of furniture on the planet. It is heavier than the banker's desk. I could dance on it without it budging. That is the sign of a good desk.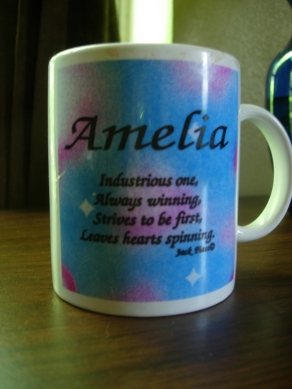 This coffee mug was a gift from my mother. The poem is attributed to Jack Piatt and is copyrighted.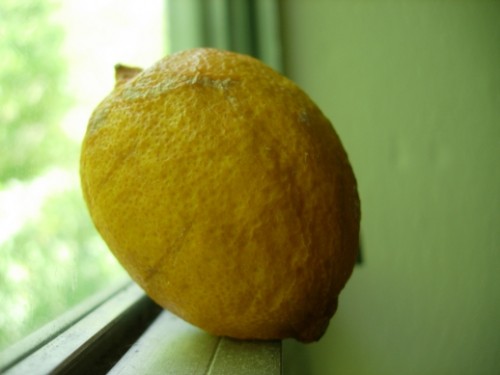 On the windowsill is a lemon I took from my parents' house in Tucson. They have a lemon tree in the backyard and if there's fruit when I'm visiting, I'll come home with thirty or forty lemons. I juice and freeze most of them but this one escaped and gets to perch on the windowsill for the remainder of its days.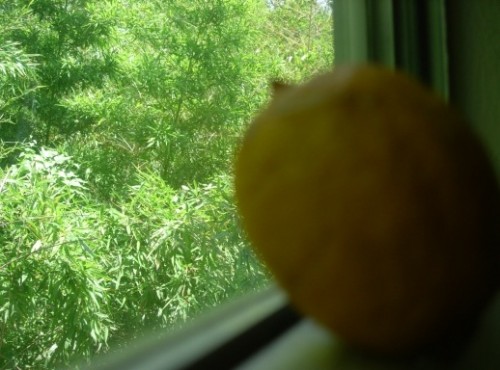 This is what the lemon sees. There's a great tree right outside my window that is home to lizards and squirrels and all manner of birds. Once I saw a squirrel eating a pancake there. Last week, there was a baby cardinal who hung out there for a couple days while his feathers dried. This week, three baby doves. All the baby birds hang out in this tree and ask me if I'm making the right choices in life.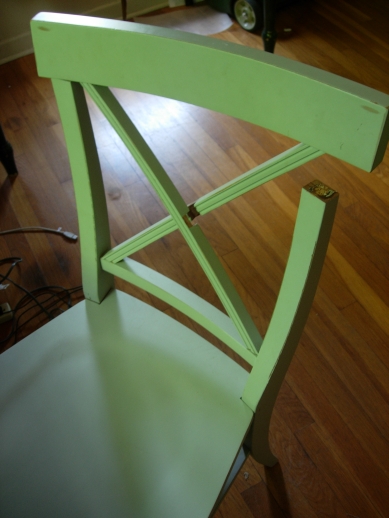 This is what happens when you get into writing fiction, kids. You have to sit in a broken chair you found on the side of the road. Let this be a lesson.
____
That is all. Thanks, Amelia.
You can order AM/PM from featherproof here.
Tags: am/pm, amelia gray
40 Comments