Ryan Call
Word Spaces (15): Stephen Elliott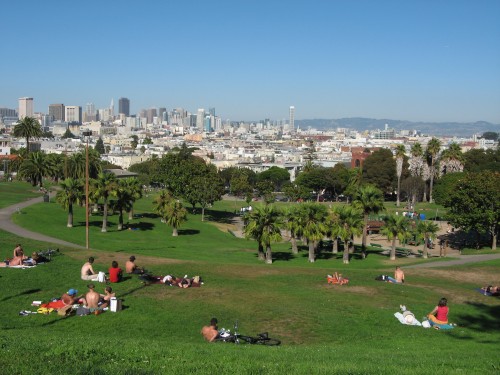 Stephen Elliott's post here makes me realize that I should reevaluate some of my assumptions about writers' work spaces. Because I often write in one room at one desk at a certain time, it's very easy for me to assume the same about others. This assumption is obviously flawed, but I cannot help myself. Having seen/read this bit about where Elliott gets his work done, I'm reminded that others' habits can be quite different than mine.
Here's Stephen Elliott's essay on his word space.
I don't always have a "writing space." I mean, I have an office in the Writers Grotto in San Francisco, that I share with Isaac Fitzgerald. A lot of times there's empty offices so Isaac sits in Jason's office, and a lot of times I'm not here, especially recently when I was working on a television show and when I'm traveling, which is more often than I really like.

I do most of my real writing away from my office. Like this morning, at six a.m., in Dolores Park. I edit an online magazine but I'm really a pen and paper person, or not. I don't know what I am. But the point is I sat on a bench in the playground with my notebook and stared across the city to the Oakland Bay Bridge. It was an incredible morning. Theoretically, I was out for a run. There were some people walking their dogs, and down the hill about eight people were exercising for one of those boot camp programs. It was t-shirt weather, ever so slightly cool.

Sometimes I work in cafes. If I'm working on a book then I want to be in a cafe that doesn't have internet access. I wrote much of Happy Baby on Caltrain, commuting between Stanford and San Francisco. And I probably wrote most of Looking Forward To It on planes and the rest of the book in campaign busses and hotel rooms.

I share a one bedroom apartment with two people so it can be hard to write there. I think the only true luxury item I own is noise canceling headphones. My roommates are loud, but they sleep late and I'm an early riser. So this picture is of my office. It's where I edit The Rumpus and get my mail, but I don't know if it's accurate to call it my "writing space." For that I'd need a picture of the world.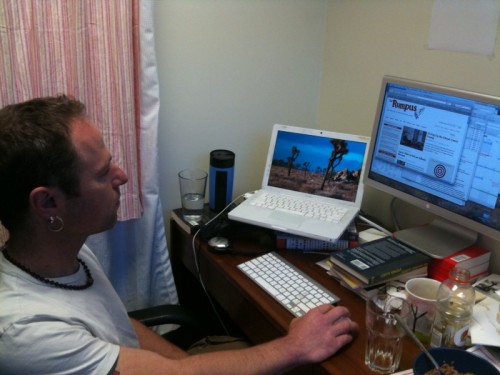 Tags: Stephen Elliott
8 Comments