May 2013
Even if you've never showered with me (hey ladies!) you know some weird things are going on in there. READ MORE >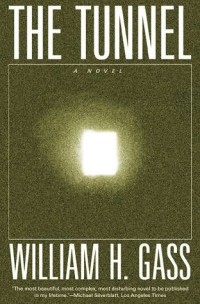 The Tunnel
by William Gass
Dalkey Archive Press, 2007
652 pages / $15.95 buy from Dalkey Archive Press or Amazon
1. It took the man 26 years to write this thing. Let's just get that out of the way now.
2. Semi-autobiographical, with an ornate use of language, penis obsessed, full of stupid limericks about horny nuns. It's in the vein of Joyce and Pynchon but maybe not as annoying, not as smug–though maybe I'm wrong about that.
3. I did find the book unusually satisfying. Just sitting down and reading Gass's prose out loud is really enjoyable: rhyming and alliteration are present at all points but Gass weaves the sounds into the thought and plot without being gratuitous. He does it joyously, gallopingly. He moves things along at a decent pace and lets you feel every increment.
4. The narrator William Kohler is a terrible person who you learn to love. He's a fascist, misogynist, grumpy fat old fuck and you get to see inside his head and understand why he is all of these things. If you are the sort of person whose life can be changed by books this may change you so you can appreciate the shittiest people on this planet.
5. Plot is minimal. If anything "happens" it is the digging of the eponymous tunnel though that whole part is really pretty minor anyways. The majority of the book follows Kohler examining his childhood, his education, his marriage, family, coworkers and anger. Always the anger, the disappointment.
6. Kohler has two kids. Throughout the book he can only remember one of their names. Genius.
7. The descriptions are, without a doubt, beautiful. Candy, flowers, interiors, and people especially. Gass builds the characters up from thousands of scraps, always describing over and over, adding and sticking on and plugging holes. The characters come off as straddling an incredibly thin line between being fully developed and total caricatures. It works because we are inside Kohler's head the whole time, and don't you always caricature those you are forced to be around?
8. Degenerative sickness strikes a number of those around Kohler. Those he loves and hates. These depictions are gut wrenching and we get to see the characters before and during, before and during, before and during their declines. Seeing Kohler's brilliant mentor go through sickness then back to health is particularly rough for we know that soon enough he will be back on the sick bed twitching and jerking. It's like Gass gives them a reprieve just so he can suck them back through their crumbling one more time.
9. There is this depiction of academic life toward the beginning of the book which (though never having lived it myself) seems entirely appropriate: "Life in a Chair." Kohler looks back and realizes he's spent his entire life just sitting, reading, sometimes looking out a window. He never succumbs to sadness or regret, just puts it out as a solid fact and meditates on it to great length. This section should be read by anyone who wants to go into academia I think.
10. There are few people in Kohler's life who are not totally insane. READ MORE >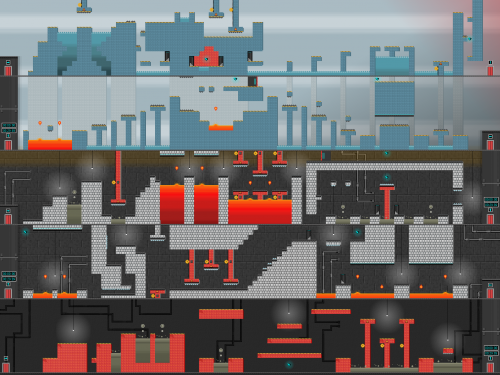 I first stumbled across Pixel Press via a Fastcodesign article that described Pixel Press:
Even as games have adopted incredible graphics and physics, we still love to play 2-D side scrollers. One reason is that, for independent programmers, they're now relatively simple to code. The other, bigger reason is that they're still fun.

Pixel Press combines the best of both of these worlds: creation and play. It's a Kickstarter-backed iOS app with hopes to allow anyone to draw their own Mario-esque sidescrolling levels on paper, then photograph those levels to play on screen. Once digitized, users can add textures and preset skins. They can even tweak the hero, the music, and the level's general physics before sharing the levels with friends. And it's all easy enough to do without ever learning to code.
I was immediately sold. I was already feeling nostalgic about drawing our own side-scroller levels on paper and navigating through them with paper cut-out characters. And too I was thinking of possibilities of using such an app in the classroom.
The app is currently seeking funding through Kickstarter. The Kickstarter page and their website have tons more information on the app, but here's also this video that gives an overview of what Pixel Press is all about:
I recently had the opportunity to pose a few questions to Pixel Press creator Robin Rath. Here are his responses: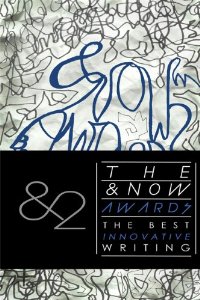 Just out: The &NOW AWARDS 2: The Best Innovative Writing…
This second volume of The &Now Awards recognizes the most provocative, hardest-hitting, deadly serious, patently absurd, cutting-edge, avant-everything-and-nothing work from the years 2009-2011. The &NOW Awards features writing as a contemporary art form: writing as it is practiced today by authors who consciously treat their work as an art, and as a practice explicitly aware of its own literary and extra-literary history—as much about its form and materials, language, as it about its subject matter. The &NOW conference, moving from the University of Notre Dame (2004), Lake Forest College (2006), Chapman University (2008), the University at Buffalo (2009), the University of California, San Diego (2011), and Paris (Sorbonne and Diderot, 2012)—sets the stage for this aesthetic, while The &Now Awards features work from the wider world of innovative publishing and serves as an ideal survey of the contemporary scene.
The anthology features:
Harold Abramowitz (.UNFO)
Shane Allison
Dimitri Anastasopoulos
Daniel Borzutzky
Rachel Gontijo Araujo
Garrett Ashley
Joe Atkins
Jesse Ball
Lutz Bassmann
Jose Perez Beduya
Matt Bell
Kate Bernheimer
READ MORE >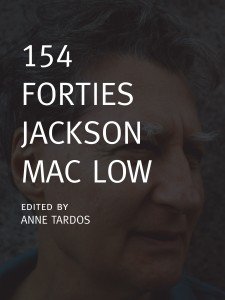 154 Forties
by Jackson Mac Low
edited by Anne Tardos
Counterpath Press, October 2012
328 pages / $22  Buy from SPD or Amazon
Mac Low created this book of poems from 1990 to 1999, collecting and editing as he went. He claims to have only edited the caesural spaces; everything else written word after word, as they came to him. The poems feel completely strange and alien, but at the same time intimate; the challenging poems are both alienating and enthralling.
"Jackson Mac Low
(September 12, 1922 – December 8, 2004) was an American poet,
performance artist
,
composer
and
playwright
, known to most readers of poetry as a practitioneer(sic) of systematic chance operations and other non-intentional compositional methods in his work…"
from Wikipedia
.
(I wonder if the writer or editor let practitioneer slip as a portmanteau of pioneer and practitioner.)
Mac Low participated in Fluxus, and his work, like other Fluxers, shows the requisite influence of Cage, Duchamp, and others. However, instead of the performance based art that Mac Low created for Fluxus:
Tree Movie
Select a tree* Set up and focus a movie camera so that the tree fills most of the picture. Turn on the camera and leave it on without moving it for any number of hours. If the camera is about to run out of film, substitute a camera with fresh film. The two cameras may be altered in this way any number of times. Sound recording equipment may be turned on simultaneously with the movie cameras. Beginning at any point in the film, any length of it may be projected at a showing. 
*for the word 'tree', one may substitute "mountain", sea", "flower", "lake", etc.
January 1961 The Bronx (Found at artnotart.com fluxus debris)
Whereas art like this from his Fluxus days tends toward the conceptual, the poems in 154 Forties are lyrical. They are primarily concerned with immediacy and music. As a way of categorizing, where Tree Movie, above, is a performance for the future, in un-rhymed, unmetered prose, the Forties abandon grammar, syntax, indeed, denotation, and instead adopt abstract music.  It works both ways; music is foregrounded because the sense has been, for the most part, left absent. The best demonstration of how these poems can be interpreted and performed can be found here at Counterpath Press. This project includes Mathias Svalina saying "colostomy falafel", and an all-star lineup including K. Silem Muhammad, Lyn Hejinian, Paul Hoover, Douglas Kearney, Juliana Spahr, and HTML Giant's own Janice Lee performing most of the Forties.
Comments Off

on Denotation Withered on the Vine
May 27th, 2013 / 11:00 am
A Review of A Questionable Shape, by Bennett Sims (Two Dollar Radio, 2013)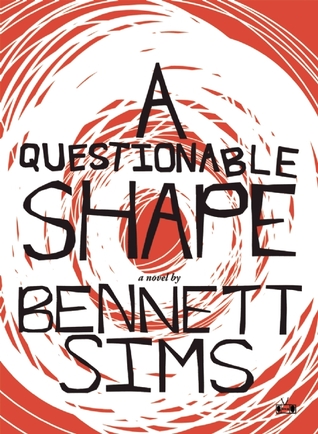 The first zombie in Bennett Sims's A Questionable Shape doesn't appear until page 161, and then only as a silhouette seen from across a lake. Most of the zombies have been detained, quarantined, or "put down" by a government that seems relatively more functional in its performance of disaster relief, especially in Louisiana, than in its earlier iteration, not so long ago, in the aftermath of Hurricane Katrina. The undead that remain roaming the bayou possess "roughly the same citizen status and legal rights, as, say, coma patients or the mentally ill." FEMA funds refugee shelters and welfare checks and undead search operations, although, by now, the term "undead" is increasingly frowned upon for being "dysphemistic and dehumanizing."
The search for the undead yet at-large in Louisiana has grown quite urgent by the novel's beginning, because in five days it will be the end of July, and the beginning of hurricane season. The story's narrator, a young bookish man named Vermaelen, has agreed to help his friend Matt Mazoch search for his undead father.
The five days they have left in their search–Monday through Friday–serve double- READ MORE >
what purpose did i serve in your life
by Marie Calloway
Tyrant Books, 2013
200 pages / $19.00 buy from Amazon or SPD
1. A link to Frank Hinton's review from a few weeks ago.
2. Sex Writer Marie Calloway Addresses Dr. Phil Controversy Live
3. "I started to wonder, and felt relieved that there might be truth to the idea of intellectuals all being frauds. I knew that I certainly was."
4. Some old links [TRIGGER WARNING: "journalism"]: 1, 2, 3, 4, 5, 6
5. I don't know if Marie Calloway's writing is unique, but I know I haven't read anything like it. Have you?
6. "I wondered if maybe men are incapable of understanding something like this as anything other than something that's meant to get them off."
7. I've been thinking about how subjective the idea of "degradation" is, unless we're talking about soil erosion or something.
8. 

9. I'd be curious to read a story that was "completely incomprehensible to men," especially if Marie Calloway wrote it.
10. It's funny how such clear, direct prose has resulted in so many people missing the point entirely. READ MORE >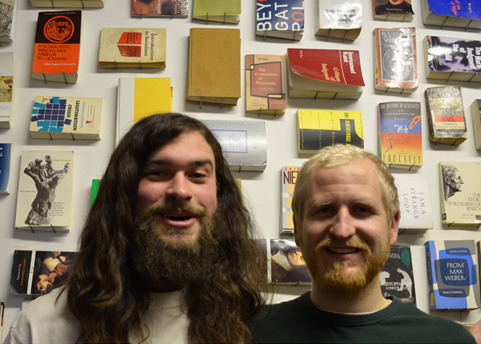 So in case you don't shake the rain out of your New York Times or anything, let me introduce Mellow Pages to you.
Mellow Pages is a sweet new community-sourced library, reading room, and gathering spot for readers/writers, started by two gnarly beardboys from the Pacific Northwest—Matt Nelson and Jacob Perkins, at left—in a chill and genius way.
You can find it on Tumblr and Facebook and Goodreads and Instagram. Mellow Pages lives on Bogart St. off the Morgan L stop in Brooklyn, NY, but that shouldn't stop you from letting its idea live everywhere.
Because what Jacob and Matt have done is written up a guide (Jacob writing, Matt editing) to making your own very 2013 library/reading room wherever you might live.
Ever since I heard about Mellow Pages, I've felt impressed not only by its duh-that's-a-great-idea quality, but also by how cleanly and smartly and warmly Matt and Jacob have executed their idea. They've provided a non-academic space where readers can stroll in and sample all that weird shit they read about on the internet in a tangible, welcoming, human, affordable way. A curated library and reading room offers a model that doesn't sub out public libraries or independent bookstores but instead supplements and supports them; the guide talks/thinks more about this relationship between bookstores/libraries/etc. What I want to say is that Mellow Pages' living room gallery/house show/come-one-come-all/zine culture vibe really appeals to me and feels consistent with what I think of as independent literature's better angels.
The walls of Mellow Pages are speckled with portrait-style books facing cover-out, all donated by patrons/presses/authors and handpicked for display; the atmosphere has nice couches and coffee; it's small enough that you can't be a timid shypants but cozy enough that you don't feel spooked. And it has an elegant Goodreads-based system for keeping track of what they have, what they want, and where all the donations have come from.
So of course when I asked Matt and Jacob if they felt like writing up a guide to "mellow paging," they were like: "We don't call it that because that sounds dumb, Mike, and actually, wouldn't you know it, we just wrote up a really comprehensive guide for our friends in Portland and our friends at  Paper Darts in Minneapolis." They are that on the ball, Matt and Jacob are. The ball is mossy and you can eat it for emergency lunch. So HTMLGIANT is very happy to share this guide with you on behalf of Mellow Pages. You can find it in full at this public Google Document: Where You Are Is Where This Library Goes.
I'm not joking when I say it's comprehensive. If you're feeling energetic and wishing your town had a Mellow Pages-style spot, and you feel like you could do it but you're not sure how, this guide will seriously put you in a well-what-are-you-waiting-for position. The guide covers space acquisition, funding, building/designing your library, dealing with the internet, acquiring books, checkout and membership models, sanity maintenance, events, and community interaction. Download this guide, print it out, get together with your friends, make shit happen.
—> Go to Google Docs for the FULL AND MOST READABLE AND CONSTANTLY UPDATED VERSION OF THE GUIDE
—> Below the jump you will find A SHORTENED HTMLGIANT EXCLUSIVE MAY 26th EDITION of the guide with a bunch of pictures I added from the Mellow Pages Facebook feed.
—> I repeat: FULL AND MOST READABLE/SHARABLE GUIDE ON GOOGLE DOCS /// FACEBOOK PICTURES AND HIGHLIGHTS BELOW THE JUMP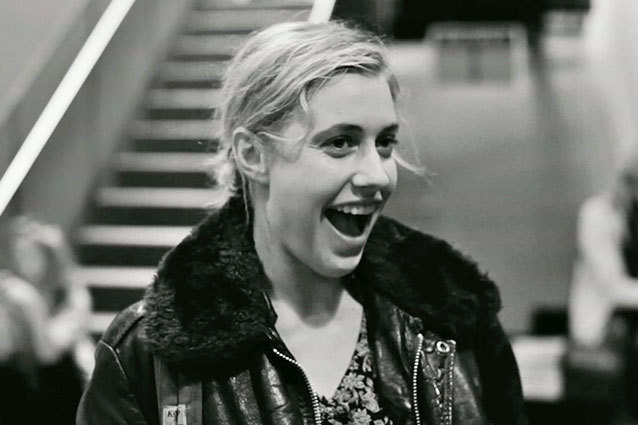 Instead of attending an opening for a collective of internet/new media artists in Red Hook, probably cutting edge, funny, with free alcohol—perhaps some level of thought-provoking, also maybe I would've known some people there—I decided to go see Francis Ha. Something said it was like Baumbach meets Girls, and since Lena Dunham and the aforementioned filmmaker (whose notoriety is mainly based on a 2005 family drama and his friendship with the more marketable and visually stylistic Wes Anderson) both, in the shallow arc of their careers, mark an acme of New York indie-cum-commercial, I figured I'd get more pleasure and cultural experience out of going to the movies. I've always been attracted to the medium's commercial roots: the amount of money it takes for a 90-minute feature to be made: the amount of money it costs to finance advertising: the amount it costs to see it once in theaters. Counteracted against the mutable possibilities for distribution and audience now made possible by the internet. It's a weird time to consider one's self an artist making movies, probably. Weirder than posting photos of a MacBook in a bathtub to a Tumblr.
Even weirder to film your movie in black and white. A bold choice, it actually succeeds, raw and captivating rather than kitschy and meaningless. Baumbach creates a Manhattan-like air to parts of the city heretofore unexplored in traditional analogue (i.e., Brooklyn). Its passé, but really more pastiche, approach to the cinematography feels enhanced by the literal quality of the film print. I don't really know how that works, but certain moments feel faster, like World War II footage or old home movies. Frances (Greta Gerwig) runs down the crosswalks of lower Manhattan to "Modern Love" dancing and sort of fluttering. It's not dramatic; it's comic and natural and sort of frantic.
And that's how the majority of the film is. People in their mid-20s banter and talk around ideas (and the dialogue is good, not parodic, not pandering or striving to capture some extant zenith of hipster inflection). Everyone wants to be an artist, but nobody really cares or knows how. Frances, an aspiring modern dancer and graduate of Vassar, traverses six shared, and unsuitable, residences, not including a 48-hour stint at a friend of an acquaintance's apartment in Paris, over the course of maybe eighteen months. She fails at relationships, she sulks and hopes and talks like an intelligent person who doesn't care about being intelligent. Someone at a dinner party says something like, "Sophie—she's really smart," to which Frances replies something like, "Well, yeah, we're all smart." She claims her friend doesn't read enough, but we only see the protagonist flipping through the center of some thick book, ostensibly Proust, on one of her countless wasted days.
Frances is wildly unmotivated and expects a natural progression of success in the art world from minimal, obligatory efforts. She has basal talent, illusory goals and lots of beer. And she gets drunk a lot, fractiously speaking down paths of unrelatable and undetectable revelation amongst people either too mature for her company or just as immature and wanton, but rich. Frances isn't rich. By economic and social terms, she is absolutely poor, but addressing the harrowing nature and implications of this situation becomes increasingly difficult, as she admits, when confronted by her vague love interest and roommate, that she cannot be poor, essentially because she is educated, art-minded and white. The story really does seem beautiful. It is more honest and intense than Girls, more willing to quietly face the complications of inheriting a broken economy, a feeling and system of entitlement, privilege and unwarranted desire. Nothing could really be more current, topical, desperately vital to address.
Oh god, I'm so sad. Frances Ha comes so close.