Behind the Scenes
When I started DIY publishing in 1994, I didn't know what I was doing. My zine, .iota, which I published with friends, only lasted a few issues. The work I did in college, as the Arts editor for the school paper and the fiction editor for the literary journal, was insubstantial. When I offered cash for a fiction prize with The Kankakee Review, a journal I started in 1999, I only got a handful of submissions. I wasn't any good at it (although I did run interviews with Jacques Derrida and Cornel West and the band Buffalo Tom).
The internet since the early 2000s has made it possible to achieve a much higher profile, though the requirements are the same; you have to work hard, have reasonable expectations, and be cool in the world in order to be successful. But the potential for success in terms of readership is greater.
Prior to the 2010-2011 NBA season, I conceived of an ambitious project to write short, non-fiction prose poem biographies of all ~400 NBA players. I started with the Minnesota Timberwolves, who, at the time, had one of the more eclectic rosters in the league. After maybe 40 hours of writing, I finished nine biographies and gave up on the project as a whole. I tried submitting the results to prominent literary journals of the time (6×6, La Petit Zine, Diagram, jubilat), wistfully hoping someone would see some merit in them. No one did.
Two years later, Tim and Gene were kicking around an idea for an HTMLGiant newsletter-type publication, which would include original writing next to interviews and other articles (I think?). Tim asked if I had anything to contribute; I think the only guideline was "something chill re: style." I sent the Minnesota Timberwolves bios and they were enthusiastically accepted, but the newsletter never fully materialized.
Things change and things don't change. I still like these a lot and thought I'd share them. S/O Tim, Gene, and Blake.
2010 – 2011 Minnesota Timberwolves
Brian Cardinal
Brian Cardinal is the only player in Purdue University history to receive the "Mr. Hustle" and "Courage" awards four years in a row. In college he received the nickname "The Custodian." He has played for 5 NBA teams in 10 years. On September 18th 2009, he tweeted about being stuck on an airplane. As a member of the Minnesota Timberwolves, he was traded to the New York Knicks, waived from their roster, then re-signed by the Timberwolves 35 days later.
Corey Brewer
Corey Brewer is 6'9" and weighs 185 pounds. He is the son of Pee Wee Brewer, a garbage collector. In college, he missed 3 games due to mono. He recorded the first ever triple-double in University of Florida history with 15 points, 10 rebounds, and 13 assists in a 43-point blowout of Jacksonville University. He also drew 6 defensive charges in that game.
Michael Beasley
Michael Beasley attended 6 schools in 5 states during his 4-year high school basketball career. He was kicked out of prestigious Oak Hill Academy after writing his name on the headmaster's car. He has two sisters: Mychaela Beasley and Tiffany Couch.
Kevin Love
Kevin Love is a nephew of Mike Love, a member of the Beach Boys. His dad is Stan Love, a former NBA and ABA player. On November 12th 2010, he scored 31 points and grabbed 31 rebounds. He was named the 2010-2011 NBA's Most Improved Player. He was once featured in an episode of Sports Science making a 90-foot shot in 98 attempts.
Wayne Ellington
In his freshman year at the University of North Carolina, Wayne Ellington scored 19 points on his 19th birthday. The Tar Heels won that game, 89-98. The next year, in a Final Four game against Kansas, he scored 18 points. The Tar Heels lost that game. In the 2009 National Championship game, Wayne scored 19 points, the Tar Heels won, and he was named the tournament's most outstanding player. His girlfriend wears a shoe size 8.
Wesley Johnson
On March 4th 2010, he tweeted "Yeah I'm 22 get over it!!!" In an interview, he said if he had a time machine, he'd "go forward in time… hundreds of years."
Darko Milicic
Darko Milicic was drafted by the Detroit Pistons with the 2nd pick in the 2003 draft, ahead of future superstars Carmelo Anthony (drafted 3rd), Chris Bosh (4th), and Dwyane Wade (5th). Along with Sam Bowie, who was drafted ahead of Michael Jordan in 1984, Darko is widely considered one of the most regrettable draft picks in NBA history. On December 8th 2008, Darko tore his jersey in half after being called for a foul. The jersey was later auctioned off for charity, raising $927 for St. Jude Children's Research Hospital in Memphis.
Anthony Randolph
Anthony Randolph was born in Germany to American parents serving in the military. He is 6'11" and has been lauded for his length, versatility, and athleticism, but criticized for his on-court decision making. He is left handed. He has played for 3 teams in 4 seasons. One assistant coach said he is "still trying to find out who he is as a basketball player." On October 28th 2010 he attended his first hockey game.
Jonny Flynn
Jonny Flynn was drafted with the 6th overall pick in 2009. He is 6 feet tall and 185 lbs. On May 3rd 2010, he tweeted "Sitting, staring at a blank screen. Deciding whether or not I should sit in silence." On May 27th 2010, he tweeted "I wonder what kobe is thinking." On October 30th 2010, he tweeted "I HATE movies that have animals dominating humans in sports!" On December 9th 2010, he tweeted "Nas lost me after he started talking about the Solar system and all that." On February 6th 2011, he tweeted "Sometimes I don't understand the things I see." On February 10th 2011, he tweeted "I'm in a cab, in another city and the driver is asking me for directions." He hasn't tweeted anything since.
Just wanted to throw up one last post to say thanks to Blake for letting me write here, and to Gene for editing. And extra-giant-sized thanks to everyone who read and responded to the silly things I posted. I always had a great time perusing this site, and chatting with others in the comments. I was honored to get to contribute. See you around, I hope, elsewhere on the internet, and maybe even real life.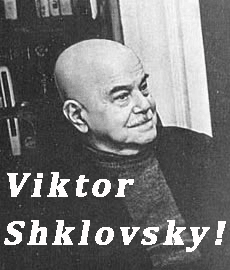 Today is a few days after our sixth anniversary. Blake Butler and I started this place because we wanted a hub for all of the writing we love, all of the people we enjoy reading, and to do it with a certain openness that we both appreciate. Along with everyone else that came along with us, we succeeded (and occasionally failed) at that for many years.
October 24th, 2014 will be the last day of operation for Htmlgiant. I'm going to step aside as managing editor effective immediately, and in the next few days I'll open posting up for nearly everyone that has ever been a part of this site. On October 24th I will disable posting privileges for everyone and leave the site up for as long as we can afford it.
The next few weeks will hopefully be interesting, because if there's anything this website deserves it's an uncontrolled flameout.
The amount of respect and admiration I have for so many of the writers and editors that we've worked with over the years cannot be overstated. There are so many special people I want to hug and thank, and I have a feeling I'll be doing it in person for years to come.
See you soon.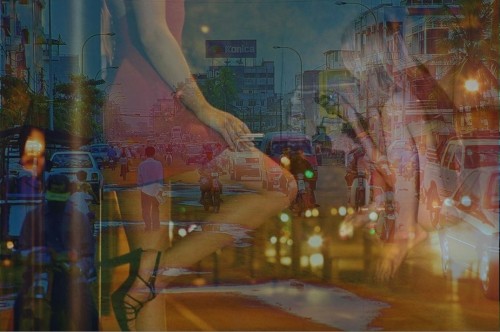 Rauan: Why did you come back ???
Greg: I won't have an answer to that question that I'll like, at least not until I find some stability back here. Cambodia's beautiful, warm, welcoming, collective, community-driven, adventurous, and so on. There are many magnets of ideas pulling you to stay, and you meet so many people who have stayed and after talking to them and hearing their story, you know, it makes sense. "Why go back to THAT?!" they say, referencing that capitalist hyper-consumerist society they once knew. One truthful reason I pulled away from the Kingdom of Wonder was to feel that reverse culture shock everybody talks about. That's the selfish end. I also wanted to graduate from UW in person rather than digitally (we need to harness our tangible humanity when we can, no?), and I wanted to see friends and family, both in Maine and in Seattle, who I missed dearly. And Ethiopian food. There's always that.
RK: You told me, in person, that it's a great place for Westerners to visit. And then you mentioned Sex, Drugs and Food. So, let's start with Sex. Can you please tell us about the sex culture and your personal experiences therewith?? (plz be as thorough as you can. gay/straight/trans.        animals??)
GB: There are a lot of stereotypes about Cambodia–Phnom Penh in particular–born from the even wilder situation in the '90s. Certain things, like laws, for example, have been created to narrow down the dirtiest, nastiest side of the wild, but you can still find the wild in all the dark recesses. I found myself following in the shadow of Burroughs and Bowles and other brutal, masculine READ MORE >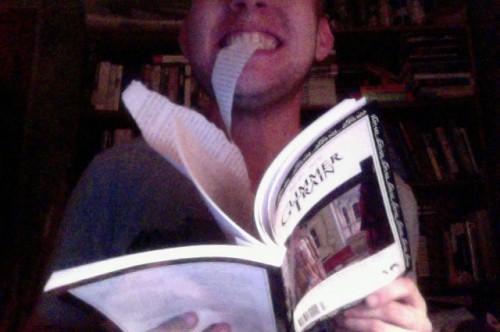 ok, Paul, so why should we read YOUR journal ???
I genuinely enjoy seeing someone's bogus sense of self-entitlement completely disrupted by the words or opinions of a Deluge contributor. I cannot help that this disrupted person is almost always a white heterosexual male.
I'm obviously not doing any of this for approval from others. I don't care if anyone disapproves of the kind of writing I'm distributing. I'm doing this to challenge readers. I'm doing this so people who are pissed off about a specific experience or situation have an outlet other than Facebook. I've been doing this since 2009 and I plan to continue doing this.
All joking aside, I think everyone should read Deluge because it is a celebration of bodies in the sense that I frequently choose to publish work by writers opposed to phobic violence against all bodies. I am sharing stories of bodies engaged with the resistance of corporate bodies.
And here let me quote myself:
The contents of an issue of Deluge is so many things at once. It might involve a critique of whiteness or the regulations that exist within sociality. It might contain work that is belligerently orgiastic and, at the same time, it might even contain work that is anti- male orgasm. Deluge is a bookshelf on which Solanas's SCUM Manifesto and Warhol's Blue Movie transcript both rest. Deluge is when Kim Vodicka writes, "Yes, I am a big 'ol bitch, and you best / stand behind me. / Feminist is next to godliness." It is when Roberto Montes writes, "I hear an October voice / Telling me to fuck / Is this racist / The white boys ask / When they grab my butt / Really wondering / How anyone could be different / Or turned like a gasket out." When Monica McClure writes, "But all I really want / is to live a good life / paid for by someone who feels / illiterate in symbolic systems of manhood / For him I will fill a bathtub / with expensive rosewater / that I got for free in swag bags / I'll stuff holes with pure sugar cane / bought with the IMF budget of countries / who failed to understand the compromising / nature of relationships." It is when you and Gary write lines like, "the wilderness knows i am a real fucking pig, and apples my mouth, over and over / i let myself get frosted by all the men dressed as trees."
Shit happens. Poetry happens. "Same shit, different bidet," READ MORE >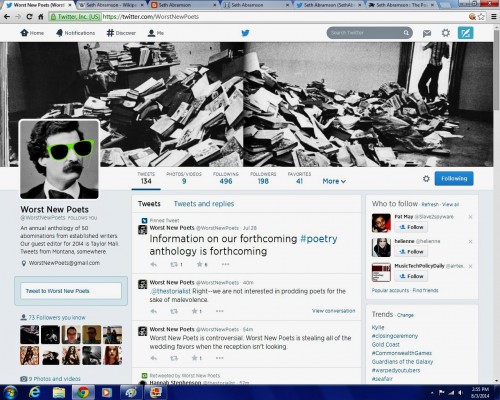 *******
There's nothing new about anonymous Twitter accounts taking shots at well-known writers. Some of them are funny. Some of them are mean. Some of them are neither. Some of them are both.
But what's got my attention about Worst New Poets is that they're engaging with their Followers (internet heavyweights like Elisa Gabbert and Rebecca Hazelton– but enough celebrity name dropping here) in a generally reasonable and intelligent manner. Plus, of course, how can you not show some interest in someone shoving pies in people's faces??  (But, I wonder, is this something we need?? … I dunno… And what's the deal?? … I mean, what's the deal ?? ..)
So, anyways I reached out to Worst New Poets, they responded promptly and politely, and here, now, is the transcript of a quick little Q & A that we did:
*******
Rauan: Please tell me what Worst New Poets is all about ?? (ie: what is it? why are you doing what you're doing? what good (if any) do you expect to come of it ??)
Worst New Poets: Worst New Poets was originally a spur-of-the-moment response to the annual release of Best New Poets (whom we admire very much). The impulse to start WNP, however, was not unfounded. These thoughts about the poetry landscape have been gestating in our heads—subconsciously maybe—for quite some time. We thought it was an interesting idea to call out some flaws published by established writers, instead of praising 50 "new" poets that were breaking ground in contemporary poetry. We don't have a set goal in sight, though we do enjoy the discourse that has been generated in the past week, so we don't think we'll stop any time soon.
Like we mentioned during the initial barrage of Twitter attacks (exaggerating), we like the idea of creating discourse within a community that far too often promotes from within. There seems to be a clear consensus among writers that the current literary landscape is extremely incestuous, READ MORE >
I recently read at an event organized by Peter Jurmu which took place at John Wawrzaszek's Chicago Publishers Resource Center
I chatted with John a bit before the reading and then asked him to send me a bit more info about the center:
Chicago Publishers Resource Center is a new community space in Chicago that focuses on literary and artistic projects. On Independence Day weekend, CHIPRC will celebrate its first anniversary!

We're fortunate in that Chicago has such a diverse and thriving publishing community, including a large self-publishing scene from indie comics to zines. There are multiple writing programs in area colleges and universities. It's funny how everyone is so compartmentalized – people don't realize the resources at their fingertips. There is not a dedicated space where all these communities can connect. The center is a community space that welcomes everyone looking for a place to meet others, learn a new skill, or simply to get to work.

The name is an homage to the IPRC in Portland, a wonderful resource to artists in that area. I took to focusing on the word publishing, allowing the community to define it as widely as possible. In the digital age, society is writing more than any other time in history. Programming has to include not only print, but digital media; it has to include film, music, theater, and comedy. It has to honor graphic storytelling in comics, animation, shadow puppetry, and design. Writing is not only influenced by all these forms, it is at their center.

CHIPRC's programming focus has been balanced between craft and projects. The idea of learning, honing, or improving a skill is important to establish a basis for implementation. In the first year, there have been workshops, discussions, meetings, readings, film screenings, work days and more. The ideas come from the community and are led by those in the community.

In the next year, I look to strengthening community partnerships and expand the types of programming offered. It's been great so far.
So, if you're wanting to host a reading, lead a workshop (how to make books, get published, do collages, etc, etc), or to find out about upcoming events, then please contact John at chicagoprc(at)gmail(dot)com.
Behind the Scenes
/
Comments Off

on Chicago Publishers Resource Center (CHIPRC)
July 4th, 2014 / 1:32 pm