Web Hype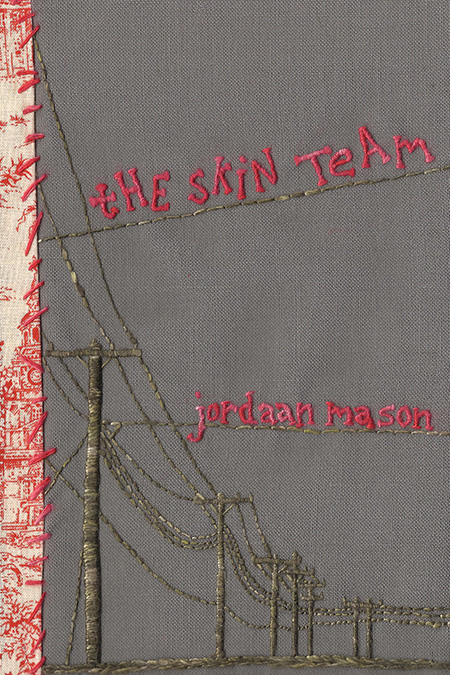 Hi, y'all. In June, I and my helicopter friends in our helicopter hats released a lovely weird novel called The Skin Team by a Canadian gentleman named Jordaan Mason. I haven't told you about it yet, but now I am telling you about it. There's a way you can get it for free at the end of this post. First read the post to see if you'd like it, right?
The novel is about three people, two boys and a girl, turning into each other and out of each other. Also touching. There are sick horses and a Power Company on fire. Sad dads and gone moms. Also some rivers and games of tag and lightbulb vomit.
What I've been telling people is that it's like if Dennis Cooper re-wrote The Virgin Suicides, and Dennis himself was all "Reading The Skin Team, you would never suspect how difficult it is to write even fairly about such things, much less with Jordaan Mason's radiant emotional grace and super-deft detailing and flawless style."
So far it's been called "a psychedelic, haunting, genuinely queer experience of adolescence" (Xtra!) and an "incendiary novel, impressive in both style and its poetic language" (Largehearted Boy) and that it's "carried in sentences that together feel close to the same long slow gravity you might have felt exploring a strange relative's house as a child" (our own Ryan Gosling at VICE). My favorite new lit blog Actuary Lit says "The Skin Team brims with flesh made electricity, of sick bodies warped by technology into health." And Vol. 1 Brooklyn says that it reminds them of a guy the FBI thought was the Unabomber: "Like William T. Vollmann, Mason tears apart familiar relationships and conflicts to illuminate them in some newfound fashion."
And you know it's real, because some people have said negative things too! They think it has too many metaphors or the prose purples or it gets too confusing ("when every sentence strives for preciousness, they risk monotony" from the Heavy Feather Review), which could also be true, who knows! Let it not be said that our helicopter isn't into dodging rockets. Evasive maneuvers are fun! Criticism is good. Hype is soda.
I tried to explain in a sincere and full disclosure way about why I love this book over at The Lit Pub in an interview with Jordaan. During his answers, he gives a great primer about the three characters, talks about bipolar disorder, destroying the logic of science through unnaming, and "trying to describe this complete separation of my body from everything around it and from itself. "
The reason I'm telling you about The Skin Team now is because you can get it for free if you want to play a little game where you get a map in the mail and you draw on it. Otherwise, you can get it the normal way, which would also be awesome. If you feel like it's weird we have bodies, especially when they're in the woods and inside other bodies, and you want to read about bodies in a book that makes their weirdness feel like it kind of works (like how a singing saw sounds), I'm guessing you'll like The Skin Team. Thanks!
Mike Young
—
"I'm not sorry, it was the kind of year I would have raised all of hell to keep him around." — raging hard as a hungry stomach noise on "How We Killed Whitney Houston" by Eric Tran at Hobart
I know there was a Tao Lin post x hours ago, but I don't care. I have books to give away. Want to win free books? Want to grumble? Comment on this post to get one of these: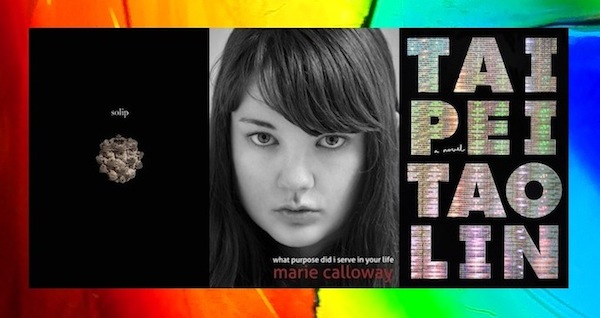 FIRST PRIZE goes to the commenter with the best* comment
SECOND PRIZE goes to the commenter with the worst* comment
THIRD PRIZE goes to the commenter who makes the MOST* comments (bonus for over 100)
each prize will be selected randomly from the (pictured) prize pool of:
Solip by Ken Baumann
what purpose did i serve in your life by Marie Calloway
Taipei by Tao Lin
*as calculated by me
(for the curious, the reason I have these books is that I pre-ordered two out of the three, then received ARCs. i bought two copies of Ken's because I knew it would be badass)
Over at Typo, Guillermo Parra has put together (with the help of many scholarly friends/friendly scholars) a collection of Venezuelan poetry (1921-2001) nuzzled-into-English. It really makes your hair feel softer, these poems. There are trails that crawl both uphill and downhill. There are fugitive instants that barely contain your breathing. There is the spooky insistence of overwhelming presence when you think you want to be alone. Like José Antonio Ramos Sucre explains: "I would like to stay between the empty dark, cruelty on earth hurts my senses, life an affliction." But "They followed me on horseback with their black dogs." Almond trees and leopards. Owls putting shirts on their fathers. Pistol vapors vs. peaceful sleep. Cañabrava wood and mangrove beams. Boats with chimneys, ham wrapped in aluminum foil. Selfhood as a long dark hike both inside and out. Or on its stomach to watch TV, or facing the ceiling to be loved. Patricia Guzmán, for example, has always wanted to learn how to sing, and she says so to her sisters:
I've told them to listen to me
I've told them to let me know I sing
I've told them not to kiss me on the mouth while I sing
Not to invite anyone to hear me
Girls are very estimable presently. Most of their comportments are catty, cute, and violent. For instance, Baby Marie-Antoinette composed a letter to the Boston Police asking them to kill her. Then there's Marie Calloway, who holds on to dear dead roses. Also, Baby Stephanie — she twirls her trademark braid basically all the time, even when she bruises.
Here are some other things that some other girls are up to:
Baby Carina, a girl who converses with rainbows and tumbles about the East Village in sashes, is about to publish her first book, Lemonworld. She made a trailer for it that features, among other things, my Portable John Milton and her harp version of Fleetwood Mac's "Never Go Back Again."
Mattie Barringer, who dresses like a warrior pixie, reads Anne Sexton and discusses her body image plights with awe-inspiring composure. She was recently interviewed by the constantly cutting StyleLikeU.
Lara Glenum's third book of poems, Pop Corpse!, concerns a Virgina Woolf-cum-Sasha Grey mermaid who can only caca out of her mouth: One of the loveliest lines from the book is: "Oops, I dropped my eyes inside yr boi panties."
Lastly, is Baby Ji Yoon colluding with North Korea?
Got some dollar dollar bills? Support six kicking poets kick it through the US.
The Line Assembly Poetry Tour and Documentary might even be coming to a city near you.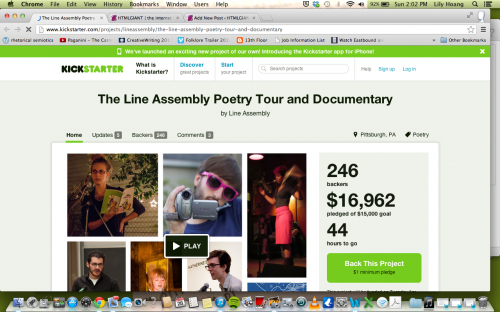 I love them. You should too.
Web Hype
/
Comments Off

on Support POETRY now
April 28th, 2013 / 4:05 pm
Hey, have y'all seen and heard this Story Tapes project that Eliza Smith and Faith Gardner have put together? They have a sweet logo, and they post interviews/audio/video of writers reading their own stories, or swapping and reading another writer's stories, and it's all really nicely produced and soundtracked.
Stories by people like Scott McClanahan, xTx, Delaney Nolan, Dylan Nice, Alissa Nutting, Mary Miller, Sarah Rose Etter, Amber Sparks, Matt Rowan, Lauren Becker, Casey Hannan, Tania Hershman, and some cool new-to-me people like Alicia Mountain, Sean Schlemmer, Josh Denslow, Owen Poindexter, Molly Laich, Megan Kruse, Berit Ellingsen, and more.
More people should do stuff like this. Is this a thing? Are lots of people doing well-designed and steady video/audio reading series things like Story Tapes? Can you post some links in the comments?