Monday, February 28th, 2011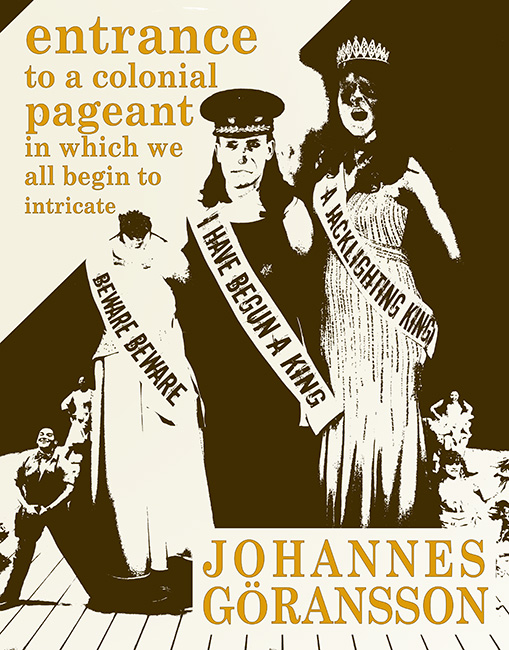 I first read Johannes Göransson's Entrance to a colonial pageant in which we all begin to intricate (Tarpaulin Sky, 2011), on a rickety train moving westward from South Bend, Indiana, to Chicago during the recent blizzard. The ride, which usually takes 2.5 hours or so, stretched into a nearly 4 hour-long, thunder-snow tour of rust belt America. This is not a review. This is a context.
As we chugged through locales such as Michigan City, Indiana, and Gary, I set my reading of this book on repeat. The book, itself a hybrid form somewhere between or among the categories of poetry, prose, essay, theatre production, and instruction manual, is also an exercise in engaging with the fluidity of self. Riding the train in such conditions, one identifies with the character of THE PASSENGER who states, acts, or otherwise embodies the following words in its opening salvo:
I was admitted. I had to answer questions. Are you gay? Are
you a terrorist? Are you a communist? I answered No to all the
questions. After a while I started noticing that the questions had
changed. What do insects have to do with cinema? Can you hear
me? Are we underwater? Can I kick you in the face? Why do
your spasms look infantile? Do you know how to break a radio?
But I kept answering No. Because that's what I wanted to hear
myself say with that bag over my face
and also is embodied by THE NATIVES who "ask these questions of the most beautiful people they can find in a mall":